the radio adapter's copy
LEWIS, Wyndham.
Tarr.
London, Methuen & Co. Ltd., 1951.
8vo, pp. vii, [1], 352; publisher's grey cloth, pale blue dust-jacket printed in blue, red and yellow to a design by Lewis and his wife; a very good copy in a very good jacket; laid in loose is a cutting of a review of the first paperback edition of Tarr (1968); the from the library of Lewis's friend (and collaborator on several radio productions) D. G. Bridson.
Added to your basket:
Tarr.
Third (second revised) edition, set up from a corrected version of the re-written text of 1928 – the details of the textual differences are outlined in 'Tarr V' by Bernard Lafourcade (Enemy News 15, Winter 1982). The dust-jacket features Lewis's last drawing before his blindness (see Meyers).

Bridson's adaptation of Tarr, produced with Lewis's assistance, aired on 18 and 20 July 1956 and included a new scene written especially for the occasion.

Pound & Grover A2g; Morrow & Lafourcade A3f.
You may also be interested in...
JUVENAL, Decimus Junius, and Aulus PERSIUS Flaccus. 
D. Junii Juvenalis et Auli Persii Flacci satyrae. 
Baskerville's celebrated edition of Juvenal and Persius in its earliest state with no cancels, in splendid contemporary red morocco.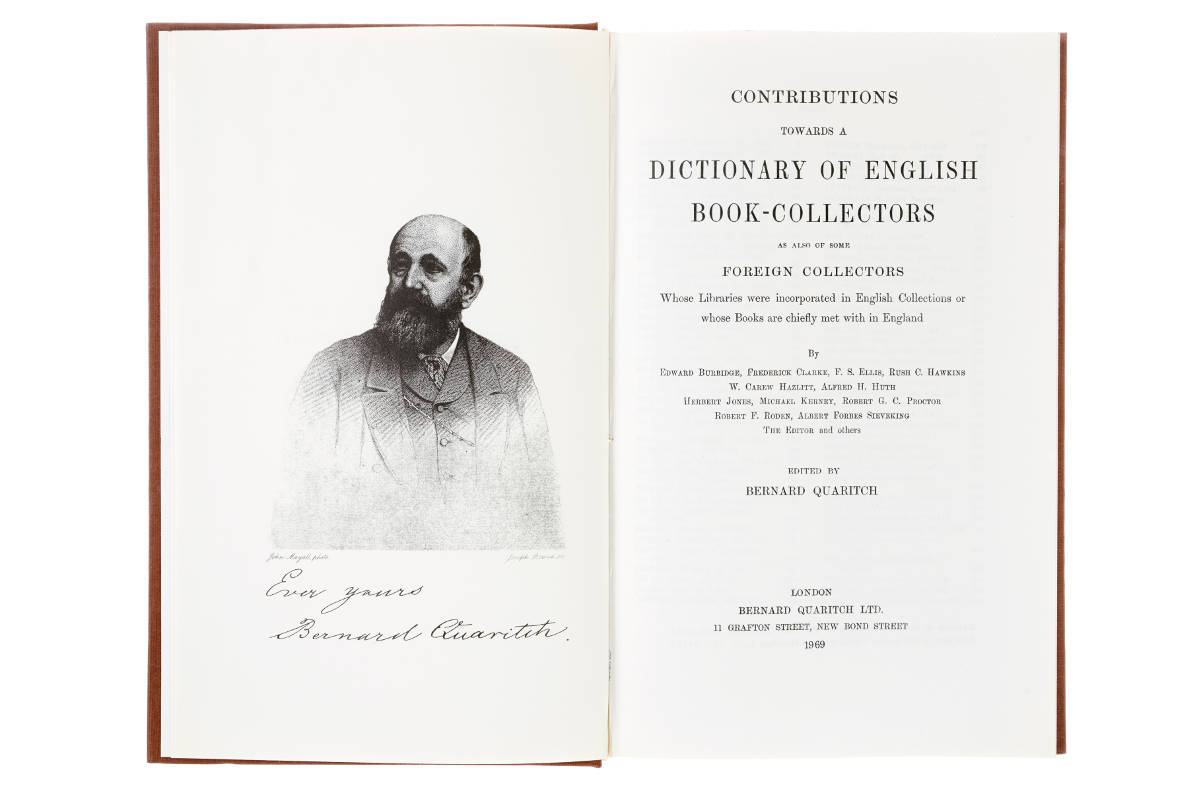 QUARITCH, Bernard Alexander Christian, editor.
Contributions towards a Dictionary of English Book-Collectors as also of some Foreign Collectors whose Libraries were Incorporated in English Collections or whose Books are Chiefly Met with in England.
A facsimile reprint of Quaritch's series of profiles of bibliophiles, with brief lists of the treasures of their collections and notes on their dispersal at auction or in the trade, which remains a useful resource both for the history of book-collecting in Britain and for provenance research. Contributions towards a Dictionary of English Book-Collectors was originally published in fascicules between 1892 and 1921, and the contributors included F.S. Ellis, W. Carew Hazlitt, Alfred H. Huth and Robert C.G. Proctor – however, as Arthur Freeman states in his biography of Quaritch in the ODNB, Quaritch's contributions were 'largely ghost-written'.