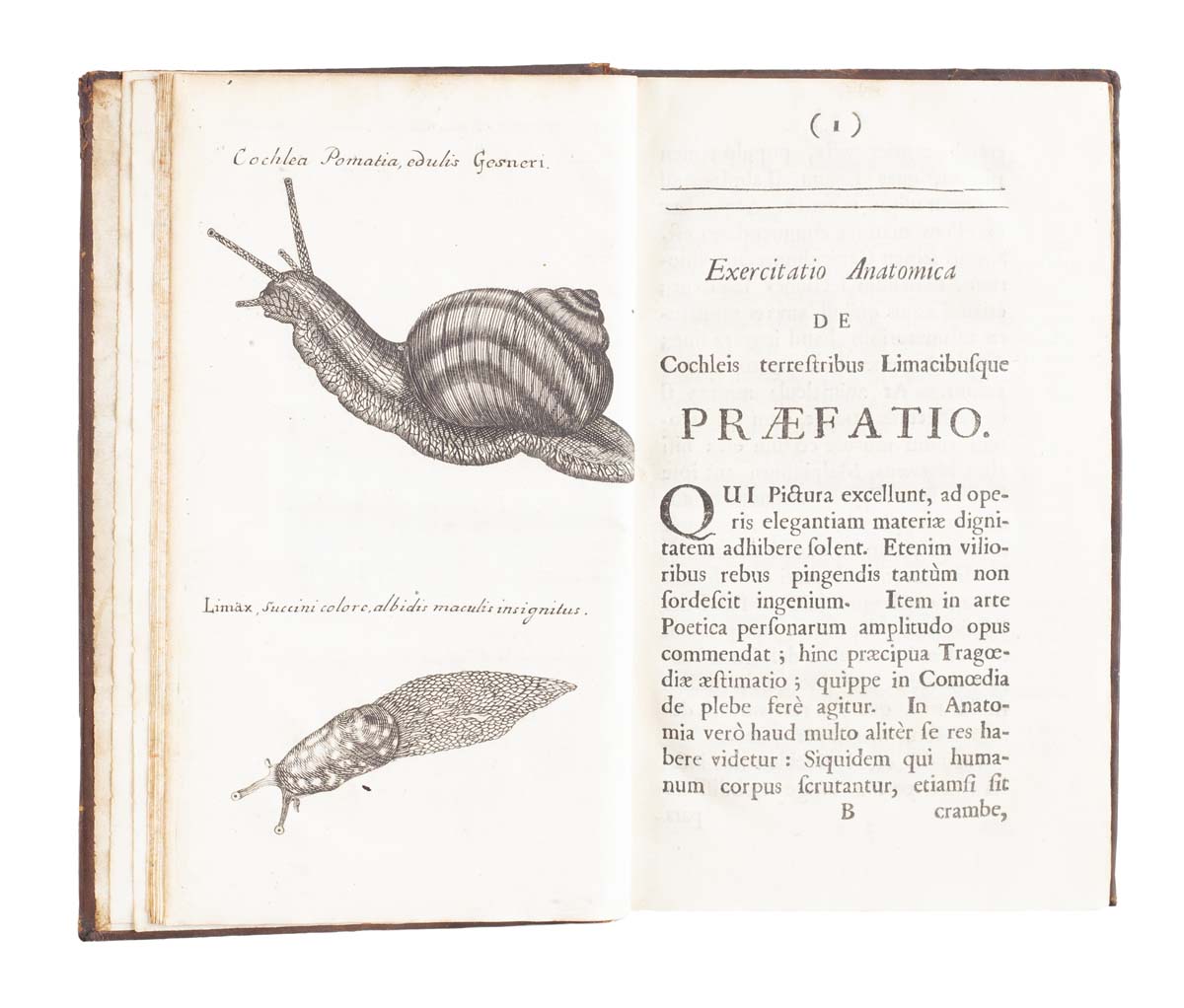 RARE WORK ON SNAILS
WITH ENGRAVINGS BY THE AUTHOR'S DAUGHTER
LISTER, Martin.
Exercitatio anatomica. In qua de cochleis, maxime terrestribus et limacibus, agitur. Omnium dissectiones tabulis aeneis, ad ipsas res affabre incises, illustrantur.
London, Samuel Smith and Benjamin Walford, 1694.
8vo, pp. [4], xi, [1], 208, with 8 engraved plates (of which 5 folding); a few marks on title, but a very good copy in early eighteenth-century panelled and blindstamped calf; lightly rubbed, joints slightly cracked but firm, later gilt tooling and lettering-piece on spine.
£3250

Approximately:
US $3623
€3695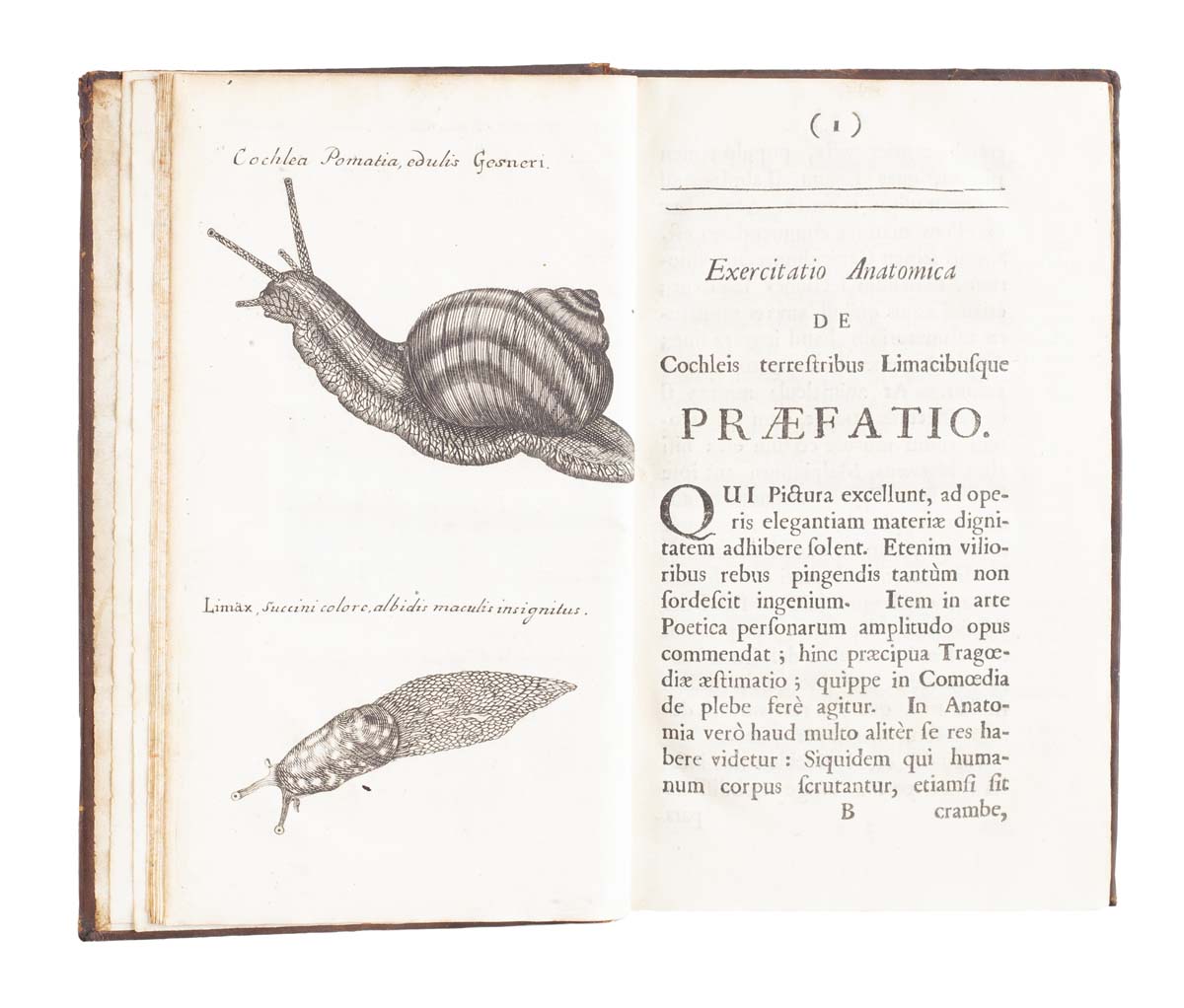 Added to your basket:
Exercitatio anatomica. In qua de cochleis, maxime terrestribus et limacibus, agitur. Omnium dissectiones tabulis aeneis, ad ipsas res affabre incises, illustrantur.
Scarce first edition of the first separate work devoted to snails. 'It is in the publications of the English physician Martin Lister (1639–1712) that we first observe a scientific approach to the study of molluscs' (Peter Dance).

Lister is chiefly remembered for his vast work on shells Historia sive synopsis methodica conchyliorum, completed in 1697, with over a thousand plates largely executed by his eldest children Susanna and Anna. The present work is the first of a series of three devoted to the internal anatomy of Mollusca, the second and third being Exercitatio anatomica altera (1695) and Conchyliorum bivalvium (1696). Although only one plate here is signed ('Anna Lister delineavit 1693'), it is likely that Anna Lister is responsible of the majority (if not all) of the plates and, as Anna Marie Roos has demonstrated, she may well have been using a microscope: 'we do know without doubt that from 1694 Lister and his daughters were regularly using a microscope in the creation of scientific illustrations. In the preface of his Exercitatio Anatomica in qua de Cochleis (1694), Lister mentioned that to aid him in the "dissection of minute animalcules … I am now for the first time, owing to defective vision, compelled to use a microscope, I rejoice greatly that I can by its aid again enjoy the same studies which were long denied to unassisted eyes" ' (Anna Marie Roos, 'The art of science: a "rediscovery" of the Lister copperplates' in Notes and Records of the Royal Society of London 66, no. 1 (20 March 2012), pp. 19–40, p. 33).

'Martin Lister was a successful and respected physician who had the gift of "hitting distempers" but is better remembered for his work in natural history. In both fields he was initially a keen observer and had some good ideas, but later became more conservative … In natural history he was the first to study spiders, making detailed observations on their structure and behaviour. He was the first to suggest that rocks might be characterized by their fossil contents, and to propose the creation of geological maps. A painstaking observer, he was well aware of the differences between fossils and modern shells and was therefore prepared to accept that they were "formed stones" (like crystals). "If otherwise, the animals they so exactly represent have become extinct". He was the first to attempt a comparative anatomy of the Mollusca, and his Historia conchyliorum was the bible of conchologists for over a hundred years. It is for that work that he is chiefly remembered' (ODNB).

Provenance: the library at Gaddesden Place in Hertfordshire, with bookplate. The nucleus of the library at Gaddesden Place was formed by Thomas Henshaw (1618–1700), alchemist and early member of the Royal Society, whose daughter Anne married Thomas Halsey of Gaddesden.

ESTC R814; Wing L-2520; Nissen, Die zoologische Buchillustration 2526.
You may also be interested in...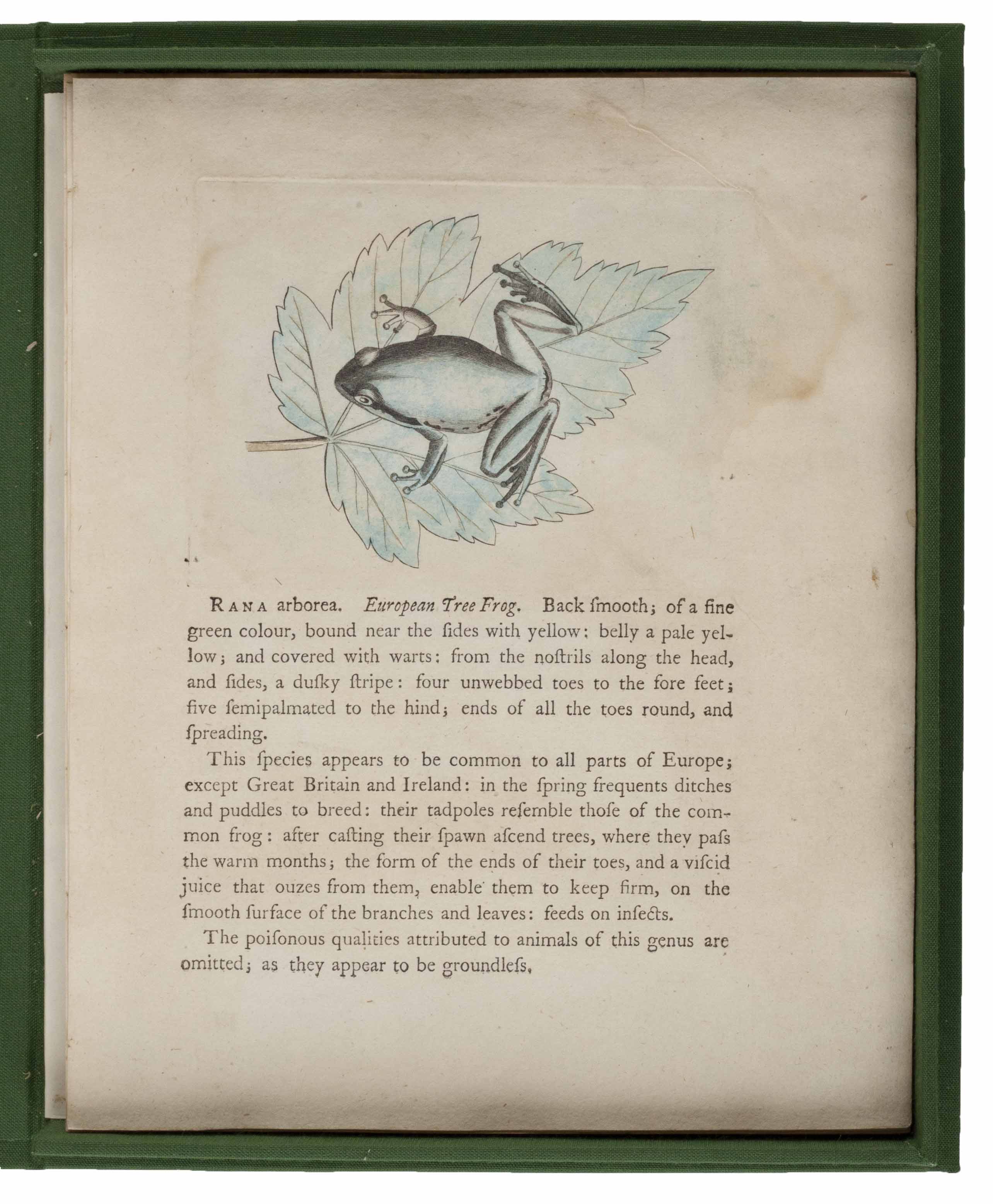 WALCOTT, John.
The Figures, Description, and History of exotic Animals, comprised under the Classes Amphibia and Pisces of Linnaeus.
First and only edition, very rare, published in parts. The engraved figures and their descriptions comprise a variety of turtles, snakes, frogs, and fish, including several notable species from America. Though Walcott writes in his preface of the prospect of 'a Second Part, which will contain the remainder of such foreign animals as are known to us', none was ever published.
CZECH PORTRAIT GALLERY KUTHEN ZE SPRINSBERKA, Martin.
Catalogus ducum regumque Bohoemorum in quo summatim gesta singulorum singulis distichis continentur. In super additae sunt eorum facies iconicae, et ad vivum deliniatae.
First edition of a fine and rare portrait book of the Bohemian (Czech) rulers by the Czech historian Martin Kuthen ze Sprinsberka (c. 1510–1564), with brief contributions by Friedrich Nausea, Johannes Rosinus, Matouš Collinus, and Šimon Villaticus.