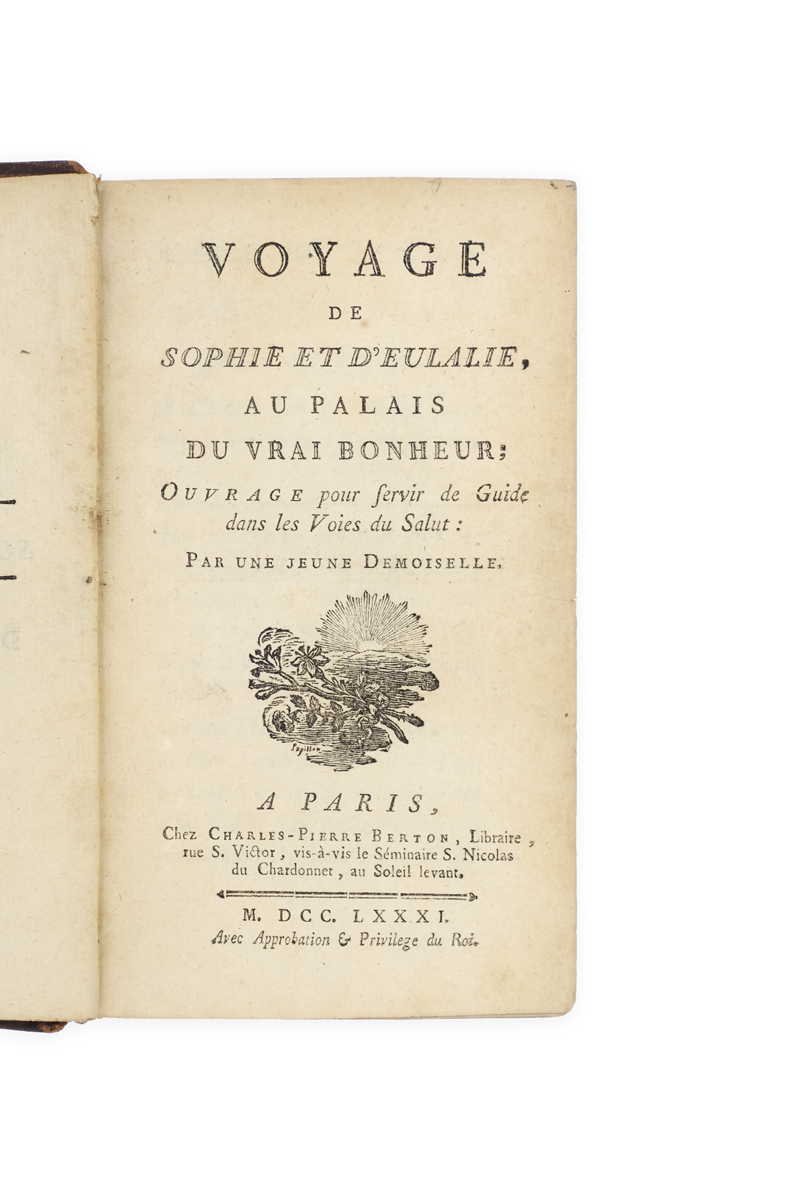 [LOQUET, Marie-Françoise].
Voyage de Sophie et d'Eulalie, au Palais du vrai bonheur; ouvrage pour servir de guide dans les voies du salut: par une jeune demoiselle.
Paris, Charles-Pierre Berton, 1781.
12mo, pp. x, [ii] advertisement, 451, [3] Privilege du Roi; a very good, clean copy in contemporary mottled sheep, upper joint starting, the very tips of the spine worn off, corners worn; 1797 ownership inscription on the front free endpaper, by Marie Anne Michel Adelaide Condray De Merant.
£1500

Approximately:
US $2064
€1772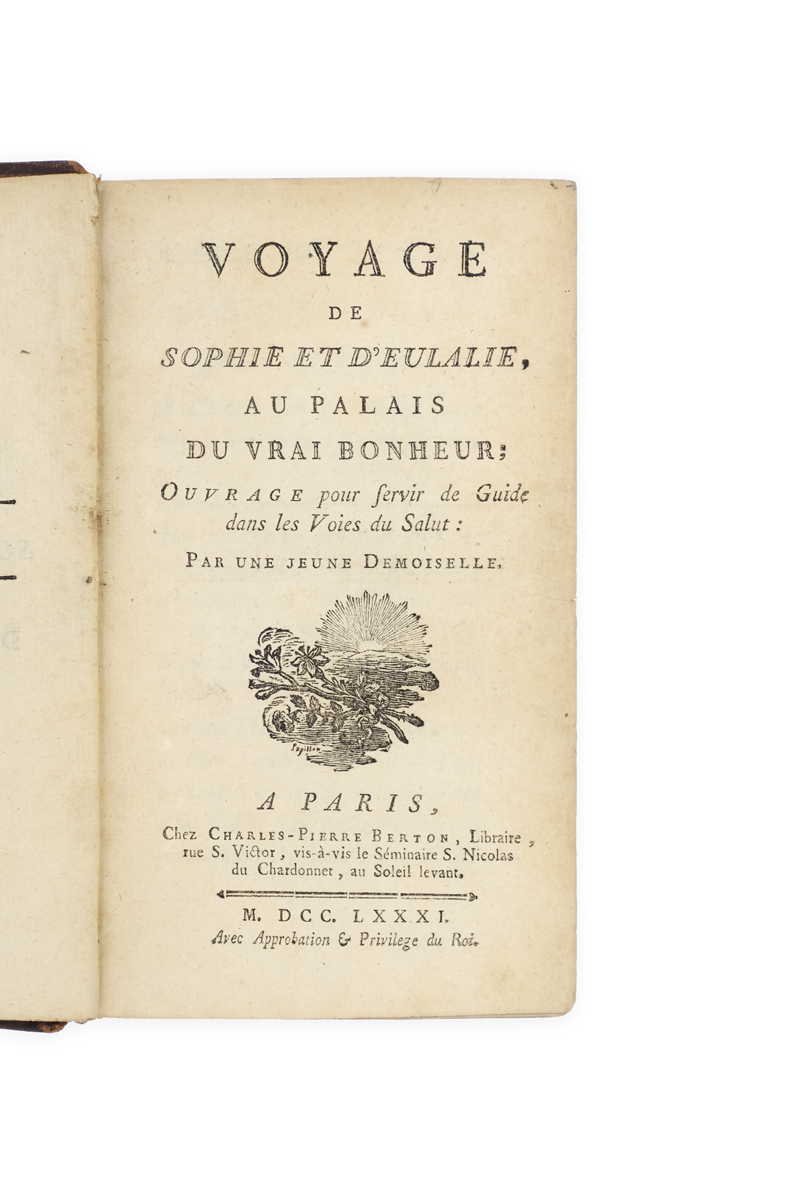 Added to your basket:
Voyage de Sophie et d'Eulalie, au Palais du vrai bonheur; ouvrage pour servir de guide dans les voies du salut: par une jeune demoiselle.
First edition of this rare utopian voyage written by a woman for a readership of women.

In the author's note, Loquet states that she wrote 'this pious fiction' at the age of fifteen, and hopes that the reader will excuse 'her sex and her age', though the novel went through some mature reworking before publication. The peculiarity of it being a work written by a very young woman explicitly for ladies is remarked upon by the publisher, who describes it as 'un ouvrage tout neuf, non quant à la doctrine, mais quant à la maniere de la traiter'. He sees in the book the multifarious appeals of the best novels: interesting turns of events, moral instruction and inspirational characters; and he prepares the reader to enjoy an imaginative style rich with 'ingenious emblems, allegorical figures, poetical descriptions, and simple and pathetic discourses'. The

The book enjoyed enduring success and repeated editions for three decades; it was also translated into English. The author was born in Paris in 1750, and this was her first published novel; in the same year, she also published Entretiens d'Angélique, pour exciter les jeunes personnes du sexe à l'amour et à la pratique de la vertu, also published by Berton, who hopes in the preface to the present work that it may be even more useful. She went on to write a number of anti-enlightenment works, including Cruzamante ou la sainte Amante de la Croix (1786).

OCLC records one copy in North America, at Chicago, with two further copies in Europe, at Augsburg and BNF.
You may also be interested in...
LE GROS, Nicolas.
MEDITATIONS SUR LES EPISTRES Catholiques de S. Jacques, S. Pierre, et St. Jean. Tome Premier [-VI].
First edition of this extensive work of meditations by the Jansenist Nicolas Le Gros (1675–1751), who had been a canon of Rheims Cathedral but became an exile in Holland and a member of the schismatic Church of Utrecht. A set of meditations just on the epistles of St. Peter had been published in 1736. The set was given as a school prize, 8 July 1772, by the pioneer in deaf children's education, the priest Charles-Michel de l'Epée (1712–1789), to one Françoise Arnaud, "deaf and dumb from birth, in recompense for an exercise that she did in French, in Latin, in Italian and in Spanish on the Sacrament of Confirmation". It is very interesting that the work given to the girl should be a Jansenist one; L'Epée, a cleric who became known as the 'Father of the Deaf' - and whose school, the first free school for deaf children, still functions, called today the Institut national des jeunes sourds de Paris – was barred from a preaching licence by the Archbishop of Paris for refusing to subscribe to the anti-Jansenist Constitution 'Unigenitus'. The item offers a strong suggestion that the director gave Jansenist religious instruction at the school. The dedication is also of interest for showing the teaching of several languages that was offered at the institution.
JESUIT LOGIC AND PHYSICS [LALANDE, Fr.]
[Philosophy course.]
Fair manuscript copy of a course of philosophy for the use of clerical students offering a systematic treatment of Aristotelian Logic and Physics. The initial inscription states that this course was given by a Jesuit, Fr. Lalande, to Jacques Becheau of Périgord in 1681. The course is articulated in the disputationes dealing in depth with logics and metaphysics at first, then physics and astrology in the second part. A fair example of Jesuit Aristotelianism with significant departures from Aquinas's interpretation, this manuscripts offers an insight into the Jesuit order's agility in adapting the received 'calculations' of syllogism and deduction to early-modern challenges coming from the emergence of experimental science in the age of Galileo.