[MALTA.] Unidentified photographer.
Photographic Views of the Island of Malta.
[Circa 1860.]
Nine multi-part albumen-print panoramas, various sizes (as listed 1 –9 below), and one individual albumen print (no. 10), each with landmarks identified in ink and sections numbered in pencil on rectos, some fading and a few minor flaws in the surfaces of prints but generally very good, linen-backed and bound together in half maroon morocco, ruled gilt, with gilt-lettered title label on the upper cover, somewhat rubbed at extremities and some staining to covers, not affecting images, approx. 9 x 13 inches (23.1 x 33.2 cm.).
£2000

Approximately:
US $2425
€2317
Added to your basket:
Photographic Views of the Island of Malta.
Photographers were active in Malta from an early date and George Wilson Bridges attempted joining two architectural views to form a panorama there, aided by the Rev. Calvert Jones, in 1846. By the second half of the 1850s James Robertson and Felice Beato had started selling multi-part albumen-print panoramas there. It was to become a popular genre for depicting the island, but it is rare to see such a comprehensive documentation of the island's notable architecture and seascape as here. The majority of the identifications refer to military buildings suggesting these may have been the work of a trained army photographer such as a member of the Royal Engineers.
You may also be interested in...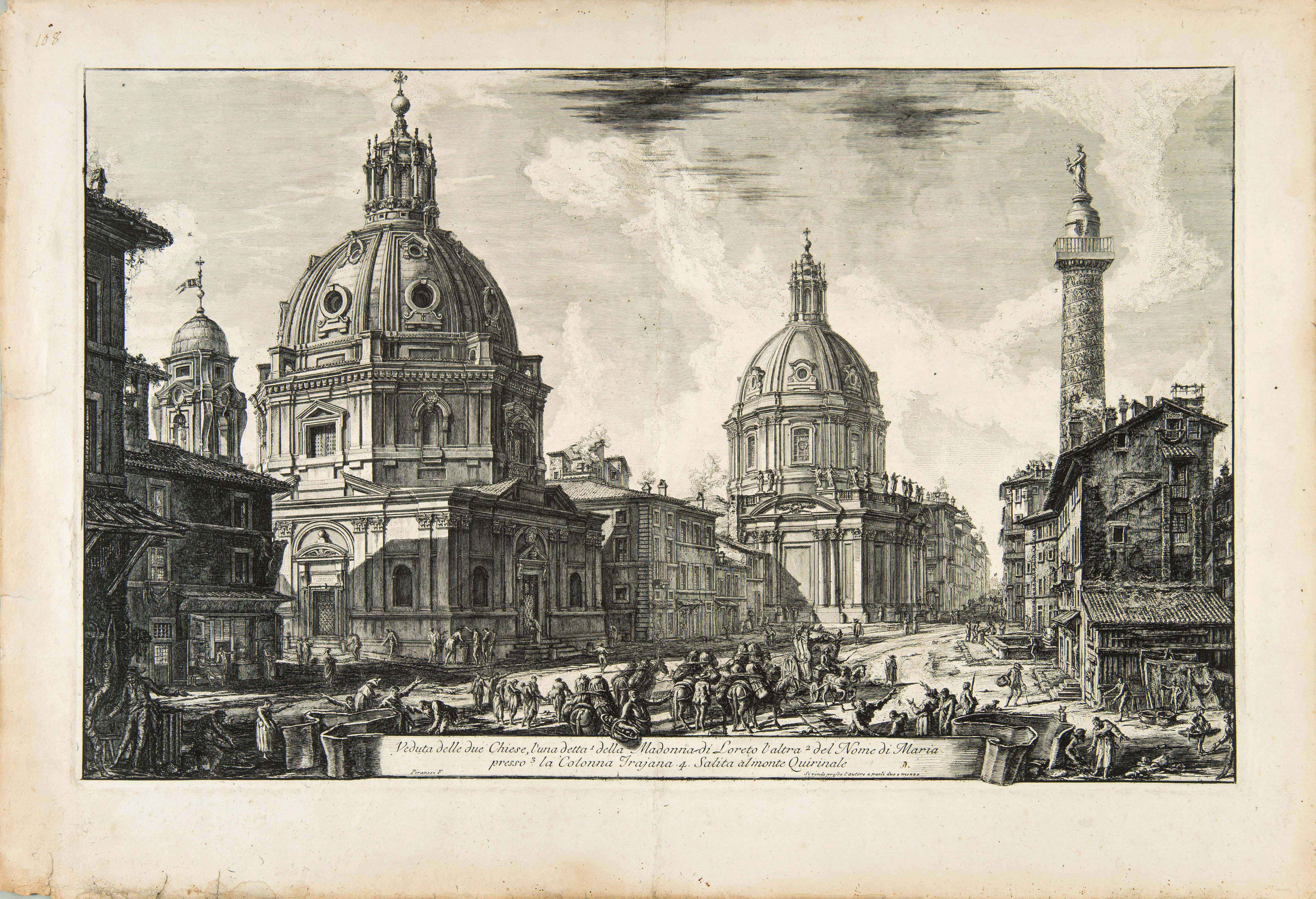 PIRANESI, Giovanni Battista.
Veduta delle due Chiese, l'una detta della Madonna di Loreto l'altra del Nome di Maria presso la Colonna Trajana. Salita al monte Quirinale.
A marvellous view of Rome by Piranesi, from an original edition printed in Rome, bearing the price ('a paoli due e mezzo'), with wide margins and the 'double encircled fleur-de-lys' watermark.
ROYAL SWEDISH TOUR ALONG THE NILE VICTORIA, Crown Princess of Sweden.
Vom Nil. Tagebuchblätter während des Aufenthalts in Egypten im Winter 1890/91... Mit Lichtdruckbildern nach eigenen photographischen Aufnahmen und einer Karte. Als Manuscript gedruckt.
First edition, printed for private circulation. Vom Nil records a journey along the Nile made between October 1890 and April 1891 by Princess Victoria of Baden (1862–1930), later Queen Victoria of Sweden (queen consort 1907–1930).