VERY RARE EARLY AMERICANUM
[MANTUANUS, Baptista].
De patientia aurei libri tres.
Brescia, Bernardinus de Misintis, 30 May 1497.
[bound with:]
CAPREOLUS, Helias. De confirmatione Christianae fidei. Brescia, Bernardinus de Misintis, 31 May 1497.

2 works, 4to, ff. 116; 8 (last blank); crisp, wide-margined copies, ownership inscription (Laurentius Terranova) in the first leaf of text, a few ink annotations; in 19th century quarter sheep, plum cloth boards, a little rubbed.
£8000

Approximately:
US $11121
€9237
Added to your basket:
De patientia aurei libri tres.
First edition of Mantuanus's work containing -on recto of m3- a lengthy reference to America, one of the very few 15th century instances: a 'mention of discoveries of islands in the Atlantic, noting their size and the fact that they are inhabited. Because none of the ancient geographers knew of them, the author assumes that they have only lately been discovered' (Bell). The book also gives accounts of other discoveries in Africa and the far East. Conceived primarily as a Carmelite guide to meditation and spiritual exercises, Mantuanus' work also explores physical well-being and medicine, with a long section on diseases with also discusses mental illness.

Bound with another rare incunable: the first appearance of Capreolus' tract on the Christian faith. (3 copies in the US: Huntington, Yale and Seidman library; 2 in the UK: BL and Cardiff).

I: European Americana 497/1; GW 3304; Goff B76; Pell 1810; Polain (B) 486; IGI 1189; Bell B33; not in Harisse or Sabin.

II: Goff C127; HCR 4409; Pell 3233; CIBN C-66; Nice 67; IDL 1125; IBE 1430; IGI 2440; Madsen 1007; Šimáková-Vrchotka 522; Pr 7042; BMC VII 991; BSB-Ink C-100; GW 6031.
You may also be interested in...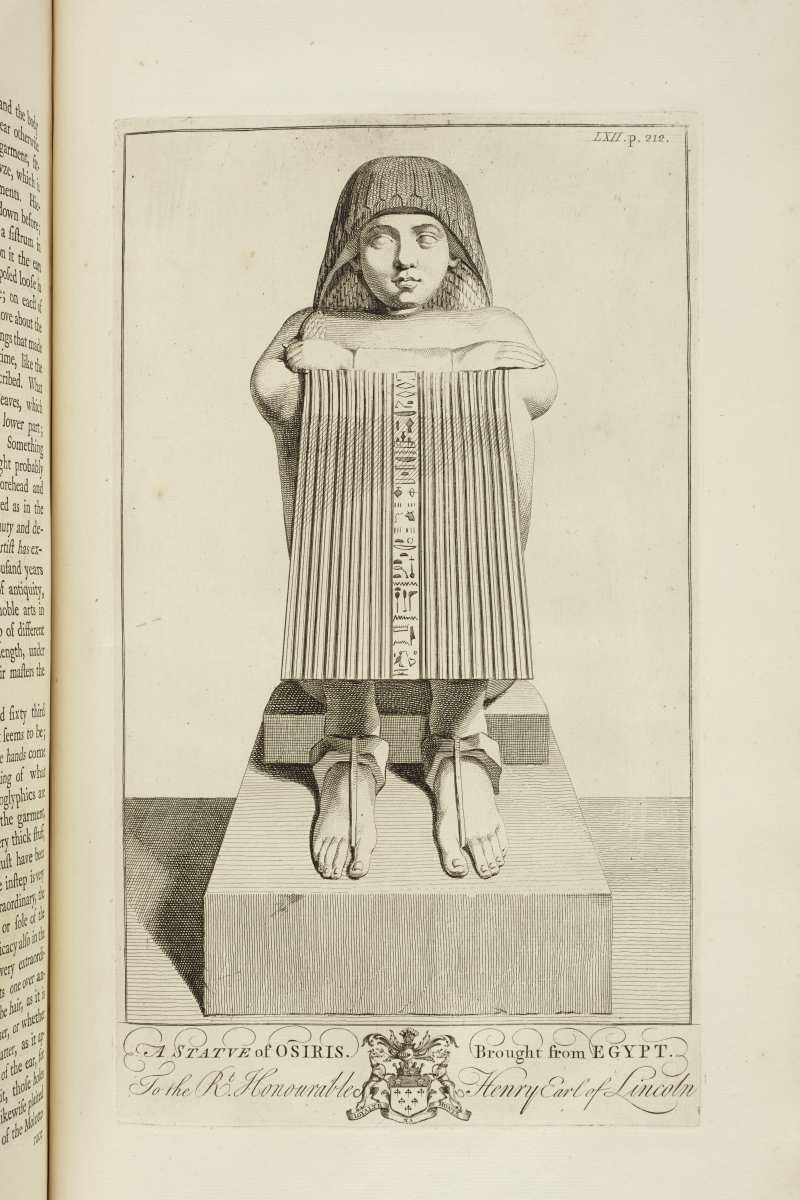 POCOCKE'S CELEBRATED ACCOUNT FROM THE LIBRARY OF A MEMBER OF THE SOCIETY OF DILETTANTI POCOCKE, Richard.
A Description of the East, and some other Countries.
First edition, demy folio issue. The traveller and cleric Pococke (1704-1765), was educated at Corpus Christi College, Oxford, and graduated BA in 1725, BCL in 1731, and DCL in 1733. His family's ecclesiastical connexions and his facility at navigating the complexities of clerical patronage enabled him to progress quickly through the established church, and in 1725 Pococke was appointed Precentor of Lismore Cathedral by his uncle Thomas Milles, the Bishop of Waterford and Lismore, and he became the Vicar-General of these dioceses in 1734; proceeding through the church hierarchy, he was appointed Archdeacon of Dublin in 1745 by Lord Chesterfield (the dedicatee of the second volume of A Description of the East), and was then Bishop of Ossory in 1756 by the Duke of Devonshire (Chesterfield's successor). In June 1765 Pococke was translated to the bishopric of Elphin, and then translated again in July 1765 to that of Meath, before his sudden death of apoplexy in September 1765.