SIR THOMAS PHILLIPPS'S COPY
MARSDEN, William, translator.

Memoirs of a Malayan family, written by themselves, and translated from the original by W. Marsden, F.R.S.
London, printed for the Oriental Translation Fund, sold by J. Murray and Parbury, Allen & Co., 1830.
Large 8vo, pp. [4], iv, 88, with subscriber's leaf before title; a little spotting (mostly to endpapers), slightly loose in binding; a very good, clean, partly unopened copy in original green cloth, printed spine label; spine sunned with slight wear to ends, a few marks to covers; ink stamp of New Delhi bookseller to blank verso of half-title and to rear free endpaper; 'this copy was printed for Sir T. Phillipps, Bart. M.R.S.L.' (subscriber's leaf).
£1500

Approximately:
US $2061
€1757
Added to your basket:
Memoirs of a Malayan family, written by themselves, and translated from the original by W. Marsden, F.R.S.
First edition, Sir Thomas Phillipps's copy, of Marsden's translation of an account of the travels and trials of a Malayan family trading pepper in Java and Sumatra in the 1750s and 1760s, including their encounters with the Dutch and British East India Companies.

Marsden (1754–1836) – who spent eight years in Sumatra with the East India Company, and whose other works include a History of Sumatra (1783) and a Dictionary of the Malayan Language (1812) – acquired the original manuscript of the Memoirs in 1791 but postponed publication while working on other projects, and for fear of offending either the British or Dutch East India Companies. As Marsden points out in his introduction, the Memoirs are valuable as 'a genuine picture, by a native hand, of Malayan manners and dispositions, more forcibly, and ... more dramatically represented, than they could be drawn by the pencil of any stranger' (p. ii).

Sir Thomas Phillipps (1792–1872), collector of books and manuscripts par excellence, joked in 1869 that he wished to own 'one copy of every book in the world'.
You may also be interested in...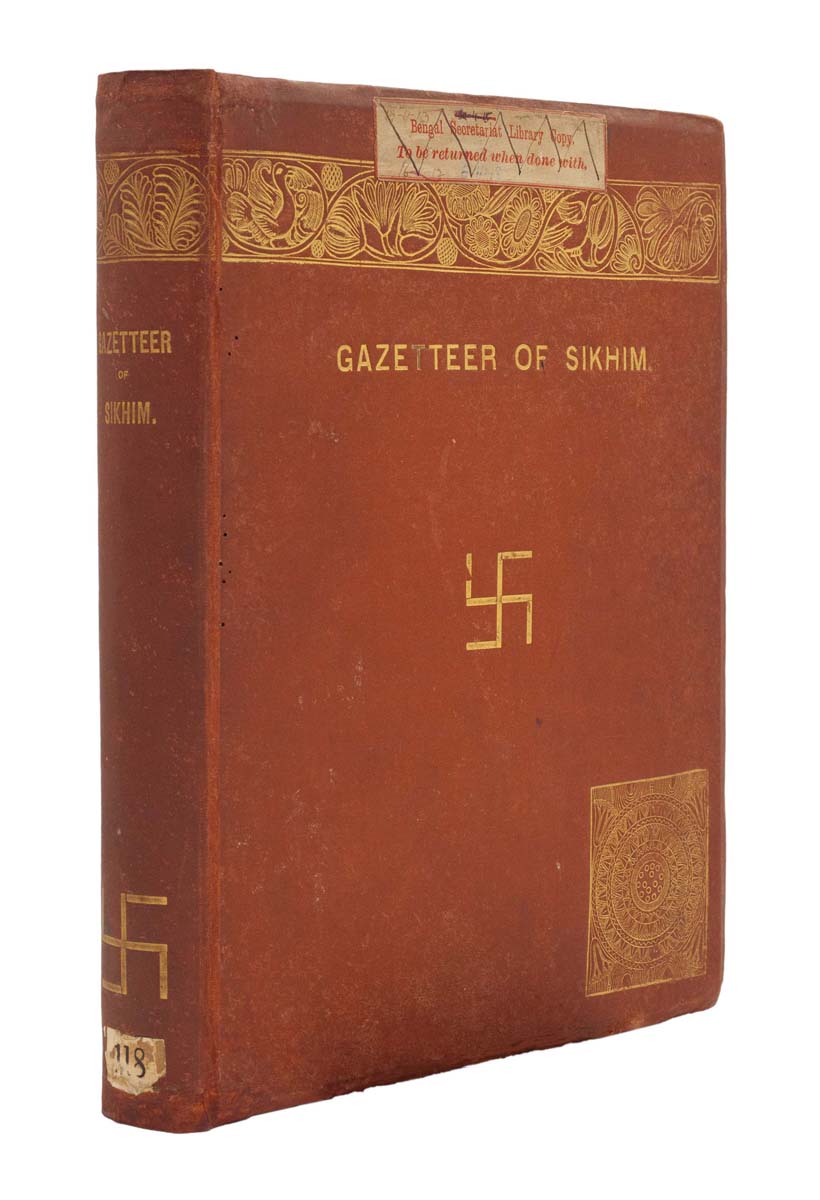 SURVEY OF SIKKIM RISLEY, Herbert Hope, Sir et al.
The gazetteer of Sikhim. With an introduction by H. H. Risley ... Edited in the Bengal Government Secretariat.
First edition of this comprehensive survey of Sikkim, in northeast India (bordering Tibet, Bhutan, Nepal and West Bengal), which had become a princely state of British India in 1890. The chapters cover, inter alia, the region's history, geography, laws, geology, agriculture, vegetation, butterflies, reptiles, birds, mammals, monasteries and monks, magic rites, and demonolatry, with contributions by Risley, John Claude White, the botanists James and George Gammie, the Indian geologist Pramatha Nath Bose, the entomologist Lionel de Nicéville, and the explorer and scholar Lawrence Augustine Waddell. The Gazetteer was once of Risley's most important contributions: 'his work completely revolutionized the native Indian view of ethnological inquiry' (ODNB).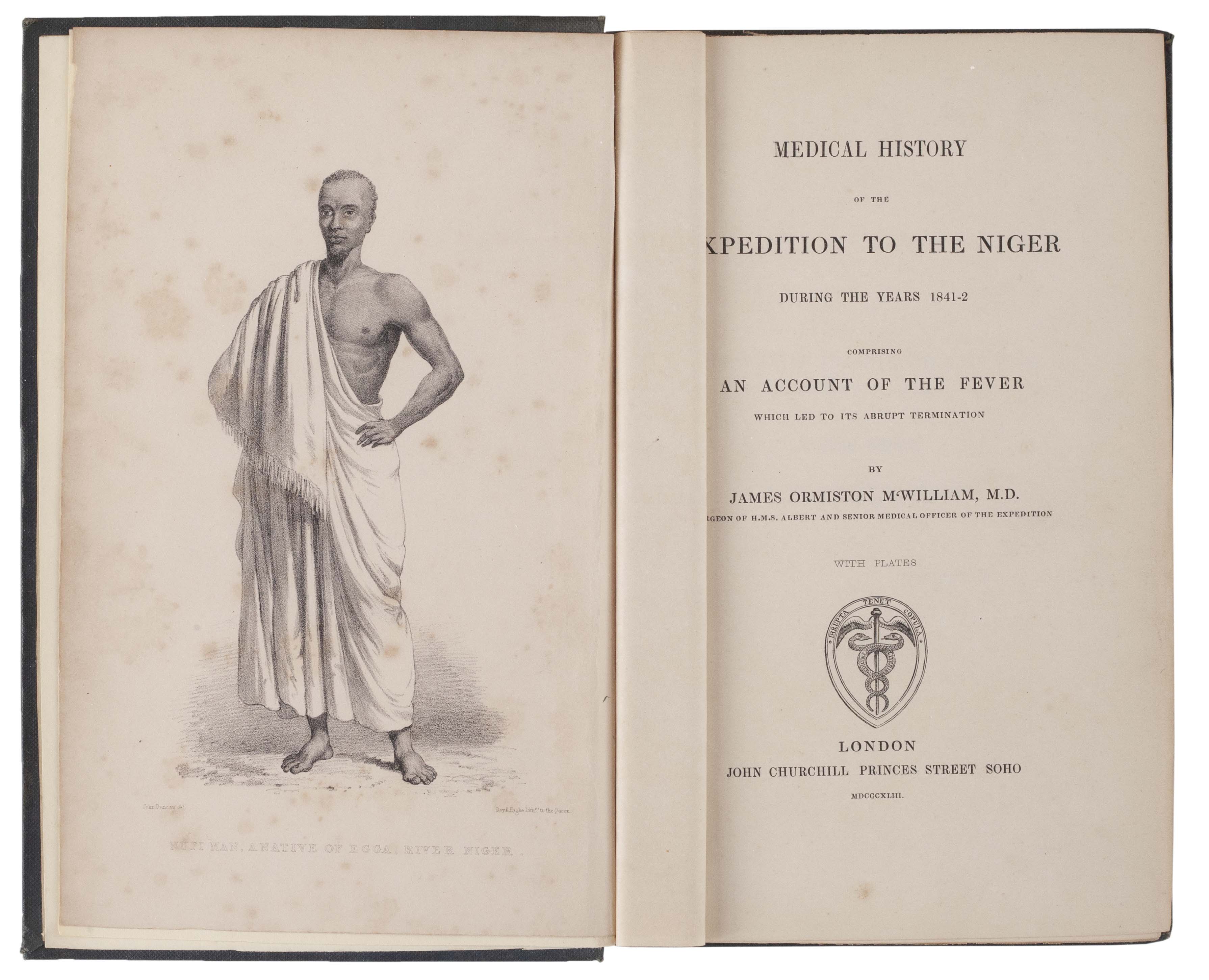 YELLOW FEVER ON THE NIGER: MCWILLIAM'S CLASSIC ACCOUNT McWILLIAM, James Ormiston.
Medical History of the Expedition to the Niger during the Years 1841-2. Comprising an Account of the Fever which Led to its Abrupt Termination.
First edition. A classic treatise on the Niger region and the yellow fever written by the Scottish doctor James Ormiston McWilliam, the hero of a government expedition exploring the region and its commercial opportunities, and explicitly aimed at suppressing the slave trade. When the yellow fever broke out on all three of the expedition's vessels, two were sent back to sea with their dying crews, but the third, the Albert, was steered down the river to safety by McWilliam, aided by the expedition's geologist William Stanger.