PROVINCIALLY PRINTED AND EDITED BY LOYOLA'S SECRETARY
MARTIAL.
M. Ualerii Martialis epigrammata. Opera, et industria Andreae Frusij, Soc. Iesu Theologi.
Cuneo, typis Ioannis Baptistae Benentini, 1705.
16mo, pp. 335, [1 blank]; woodcut device to title, initials and tail-piece; closed tears (without loss) at foot of C2 and F7, small loss to lower margins of M1 and M2 affecting only catchwords; light damp-staining, a few marks, but overall a good in contemporary stiff vellum, title inked to spine; front hinge split, boards somewhat marked and worn; contemporary ink notes to endpapers including the name 'Ardutius'.
£175

Approximately:
US $246
€203
Added to your basket:
M. Ualerii Martialis epigrammata. Opera, et industria Andreae Frusij, Soc. Iesu Theologi.
Scarce pocket edition of Martial's Epigrams as edited by the notable French Jesuit André des Freux (c. 1515–1556), published in the city of Cuneo in Piedmont.

One of the earliest members of the Society of Jesus, Des Freux acted as secretary to Ignatius of Loyola and translated his Spiritual Exercises into Latin in 1548. The first edition of his Martial appeared posthumously in 1558, with a short preface by his fellow Jesuit Edmond Auger, which is reprinted here.

Sommervogel III, 1047. We have been unable to trace any copies outside Italy.
You may also be interested in...
'MY FATHER OSBORNE' (SAMUEL PEPYS) OSBORNE, Francis.
A sammelband of five works by Osborne.
An attractive sammelband containing the chief works of Francis Osborne (1593–1659), whom Pepys fondly called 'my father Osborne'. After a career spent in various minor offices, Osborne's final years in Oxford were extraordinarily productive. His output of historical, political, and moral works from this period, influenced by the thinking of his friend Thomas Hobbes, were widely read during the Restoration and first part of the eighteenth century, making their author something of a celebrity. Advice to a Son, here in the enlarged 1658 edition, was written for Osborne's son John and first appeared anonymously in 1655. With sections on 'studies', 'love and marriage', 'travell', 'government', and 'religion', it was an immediate hit, being popular with a wide readership, including Oxford scholars. Calls to have it publicly burned for instilling atheism into young gentlemen only boosted sales. Osborne's other chief work, Historical memoires on the reigns of Queen Elizabeth, and King James is also here, in the first edition of 1658, with the portraits of both monarchs found only in some copies. Here too is the first edition of Osborne's Politicall reflections upon the government of the Turks, discussing, inter alia, Islam, Turkish politics and military matters, and with interesting asides on Machiavelli and Luther.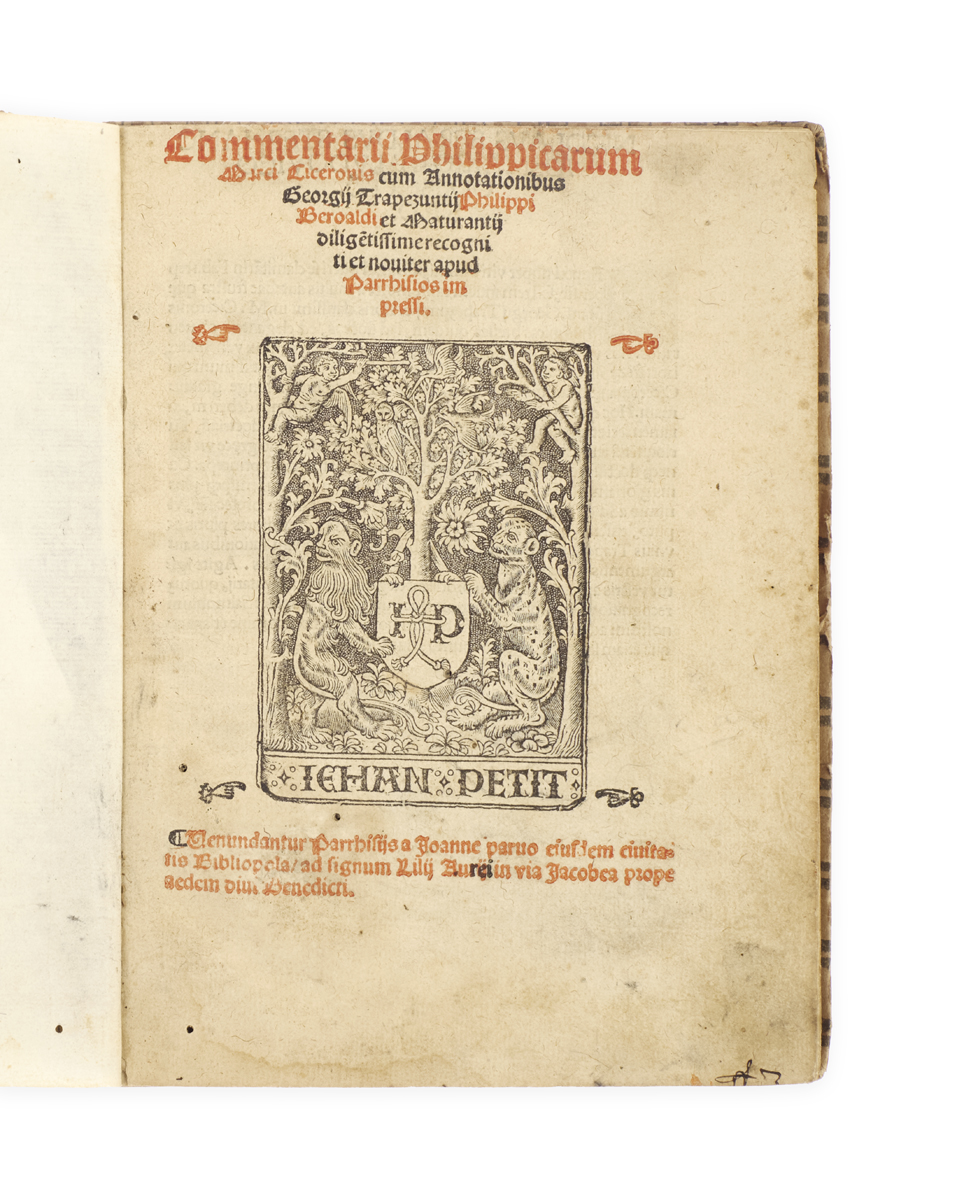 [CICERO, Marcus Tullius.]
Commentarii Philippicarum Marci Ciceronis cum annotationibus Georgii Trapezuntii Philippi Beroaldi et maturantii diligentissime recogniti et novited apoud Parrihisios impressi.
Rare edition, attractively printed and with occasional contemporary annotations, of Cicero's Philippics, comprising Cicero's text along with the commentaries of the Cretan humanist George of Trebizond (1396–1486), the Bolognese rhetorician Filippo Beroaldo (1453–1505), and the Perugia historian Francesco Maturanzio (c. 1443–1518). The printer, Thomas Caseus (or Kees) was active in Paris between 1507 and 1516.