CONTEMPORARY ARMORIAL VELLUM
MAY, Thomas.
The Reigne of King Henry the Second, written in seaven Bookes. By His Majesties Command.
London: Printed by A. M. and John Beale for Benjamin Fisher … 1633.
8vo., pp. [216], with the engraved frontispiece portrait by Robert Vaughan (A2), and with the initial and medial blanks, but wanting the terminal blank O8; central section of A1 (blank, previously used as the front pastedown) repaired, lower corner of O7 restored (no loss); a very good copy in contemporary limp vellum, with the gilt arms of Robert Kemp, first Baronet of Gissing, within a wreath, to front cover; new endpapers, silk ties replaced; preserved in a cloth box.
£1850

Approximately:
US $2600
€2116
First edition of a verse history dedicated to Charles I. May's literary career had begun with his translation of Lucan's strongly anti-imperial Pharsalia (1626-7), which also influenced several of his stage tragedies. But his republicanism was muted thereafter, and indeed his Continuation of Lucan (1630) was dedicated to King Charles, who then commissioned May's verse histories of Henry II (1633) and Edward III (1635). 'These poems, while they do not follow an obvious Caroline propaganda purpose, are sympathetic to the dilemmas of royal power' (Oxford DNB). Charles purportedly came to May's defence in 1634 after an altercation at court with the Lord Chamberlain, calling May 'his poet'; but his loyalty was not rewarded, and May sided with Parliament in the 1640s, turning propagandist.

Provenance: Robert Kemp (d. 1647), admitted to Gray's Inn in 1605 (as was May himself in 1615), was appointed Gentleman of the Bedchamber to Charles I in 1631, making his ownership of this book 'borne by his [Charles's] command, and not to live but by his gratious acceptation' all the more appropriate; Kemp was created a baronet in 1642.

STC 17715; Pforzheimer 686.
You may also be interested in...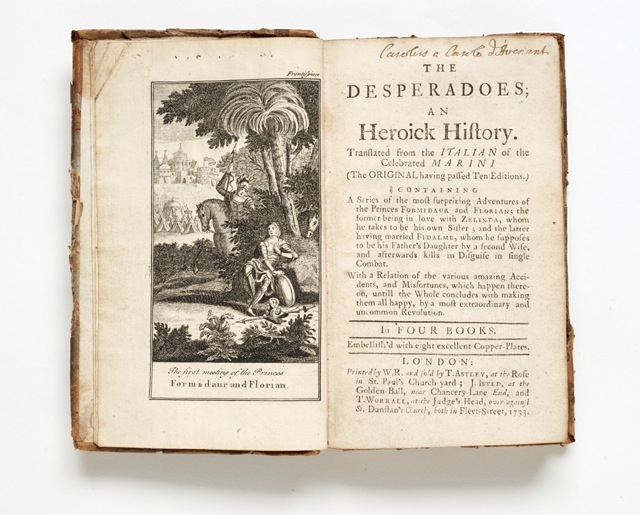 MARINI, Giovanni Ambrogio.
The Desperadoes; an heroick History. Translated from the Italian of the celebrated Marini (the Original having passed ten Editions.) Containing a Series of the most surprizing Adventures of the Princes Formidaur and Florian … In four Books. Embellish'd with eight excellent Copper-Plates.
First and only edition in English of Le gare de' disperati (1644), the second of three romances by Marini (1596-1668). Inevitably, 'It was necessary to omit many Things that were contrary to our Morals; to Decency, and to the Purity of the English Tongue …'. But the general scheme of events is the same as the original, and is outlined on the title-page: 'A Series of the most surprizing Adventures of the Princes Formidaur and Florian; the former being in love with Zelinda, whom he takes to be his own Sister; and the latter having married Fidalme, who he supposes to be his father's Daughter by a second Wife, and afterwards kills in Disguise in single Combat. With a Relation of the various amazing Accidents, and Misfortunes, which happen thereon, until the Whole concludes with making them all happy, by a most extraordinary and uncommon Revolution.'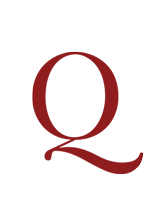 JOHNSON, Samuel.
A Dictionary of the English Language: in which the Words are deduced from their Originals, and illustrated in their different Significations by Examples from the best Writers. To which are prefixed, a History of the Language, and an English Grammar. In two Volumes.— Vol. I [-II]. The sixth Edition …
Sixth edition. This is the first London quarto edition (preceded by the Dublin quarto of 1775), the first published after Johnson's death, and the first with a portrait. Although the last edition of the Dictionary which Johnson revised before publication was the fourth (1773), he made further manuscript corrections and additions in a copy of that edition which he left in his will to Sir Joshua Reynolds, and these were incorporated into the present edition.