MELANCHTHON ON PLATO – A VERY RARE PRINTING
[MELANCHTHON, Philipp.] 
LAGUS, Konrad.  Oratio de Platone. 
Wittenberg, [J. Klug], 1538. 
8vo, ff. [16]; with large white-on-black engraved historiated initials; upper margin of last leaf repaired, but a very good copy, with some contemporary ink underlining and marginalia, bound with two other texts in contemporary blind-tooled panelled pigskin over wooden boards, acorn centrepieces surrounded by a roll with busts of the Muses and Apollo on both sides, panelled spine with geometrical blind-tooled motives, brass catches (clasps missing, a crack along the spine, but holding well); a fine Sammelband, with a small contemporary ownership inscription on the first title.
£3500

Approximately:
US $4273
€3921
Added to your basket:
LAGUS, Konrad.  Oratio de Platone. 
Only edition, exceedingly rare (one copy only in the US), of the main extant source for Melanchthon's views on Plato.  'Melanchthon's view of Plato is known primarily from a Latin speech, which he asked Conrad Lagus to deliver' (Hartfelder). 

The oration was composed by Melanchthon and delivered by the Dean Conrad Lagus as the inauguration address to the University of Wittenberg students on the conferment of their master's degrees.  Although the speech was published without Melanchthon's name, his authorship has been universally acknowledged. 

Plato's life and work are here hailed as a mirror of the perfect philosopher, marked by true love of knowledge, rectitude of conduct, unsurpassed eloquence and richness of style.  It is in fact to Plato's 'vague' definition of God as 'mens aeterna, causa boni in natura' that Melanchthon turns in successive works (with qualified approbation in view of Plato's obvious distance from Christianity), in his criticism of the Scholastics' insistence on a philosophical, 'distinct' knowledge of God, and in his rejection of moralism and speculation. 

Keen, p. 164, 74; VD 16 M 3805; one copy only in the US (Harvard). 

Bound with the Melanchthon:

OMPHALIUS, Jakob.  Nomologia, qua eloquendi ac disserendi ratio ad usum forensem civiliumque causarum procurationem, pergrata studiorum omnium utilitate accomodatur, aucta et recognita.  Cologne, E. Cervicornus for G. Hittorp, August 1538. 

8vo, pp. [xvi], 302, [2, blank]; some Greek type; with a diagram outlining Cicero's ideal orator's qualities, printer's device, historiated initials. 

Rare second revised and greatly enlarged edition (the first, printed by Simon de Colines, amounted to only 128 pages) of a manual of eloquence and style for the legal professions.  The theory of rhetoric and exposition, based primarily on Cicero and Quintilian and furnished with graphic aids, is exemplified in the appendix by a dialogue between Hymenaeus (the god of marriage) and Lachesis (one of the Fates) on glory and eternal memory as the only worthwhile pursuits during earthly life. 

Green and Murphy, Renaissance rhetoric short title catalogue, 1460–1700 (2006), p. 326; VD 16 O 758. 

ERASMUS, Desiderius.  De duplici copia verborum ac rerum commentarii duo multa accessione, novisque formulis locupletati.  Una cum commentariis M. Veltkirchii.  Cologne, J. Gymnicus, 1536. 

8vo, pp. [xvi], 398, [2, blank]; with woodcut initials. 

First published in Paris by Badius Ascensius in 1512, Erasmus's 'Twofold supply of words and subjects' underwent modifications and additions in the following two decades and enjoyed vast popularity (at least 80 printings during Erasmus's lifetime, with our edition possibly being the last printed before his death).  Veltkirchius's comments were first added in 1534 in an edition arranged by Melanchthon, who here also provides an introduction with a praise of the commentary.  Erasmus's own preface to the first edition, dated 1512, is also reprinted. 

Bezzel 764; Vander Haeghen I, 67; VD 16 E 2676. 
You may also be interested in...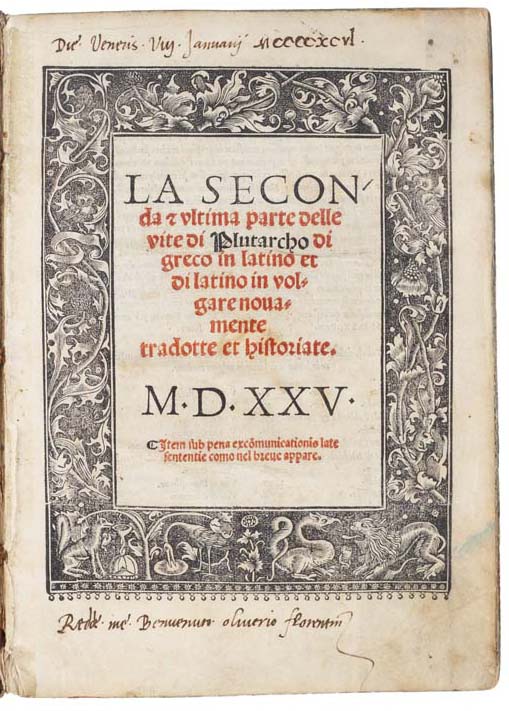 IN A CONTEMPORARY VASE-OF-FLAMES BINDING PLUTARCH.
La seconda & ultima parte delle vite di Plutarcho, di greco in latino et di latino in volgare novamente tradotte et historiate.
An attractive illustrated edition of twenty-seven of Plutarch's lives, extensively annotated by a Papal tax-collector, in a striking contemporary binding.
THE ANTI-LAMBIN LUCRETIUS
ANNOTATED BY A CONTEMPORARY SCHOLAR KEEN ON EPICURIANISM LUCRETIUS Carus, Titus. 
De rerum natura libri sex, mendis innumerabilibus liberati … ope ac fide, ab Oberto Gifanio Burano iuris studioso, restituti. 
An attractive copy, with evidence of contemporary readership, of the Lucretius edited by Hubert van Giffen (c. 1533–1604).  'A number of copies were sold with the date of 1565 on the titlepage, but very likely to sell them better during the Lent Fair of 1566 at Frankfurt, part of the edition received a title-page with the date of 1566' (Voet).  'Giffen printed a neat annotated edition at the Plantin press in 1565-66, in format as well as in every other respect calculated to attract buyers.  The handy size and concise notes suited many readers and there was no denying the editor's brilliance or his shrewdness: yet in spite of one handsome reference to [Denys] Lambin in the address to the reader, Giffen's casual treatment of his predecessor was clearly intended to wound.  Lambin … took violent offence, and in a three-thousand word preface and innumerable notes to his edition of 1570 he gives full vent to the rage that possessed him' (Gordon).  The volume includes a life of Lucretius by Giffen, the Greek text of Epicurus's Letter to Herodotus, extracts from Cicero, and Thucydides on the plague at Athens, in Greek.  According to Gordon, Giffen received substantial help in his edition from Cornelius Valerius (1512–1578), a professor at Louvain.