INDISPENSABLE
MENGER, Anton.
Das Recht auf den vollen Arbeitsertrag in geschichtlicher Darstellung.
Stuttgart, J. G. Cotta, 1886.
8vo, pp. x, 171, [1] blank; some pencil underlining and side-ruling; modern cloth, typed paper spine label.
£450

Approximately:
US $619
€531
Added to your basket:
Das Recht auf den vollen Arbeitsertrag in geschichtlicher Darstellung.
First edition of a work described by Gide and Rist as 'indispensable à consulter pour l'histoire du socialisme'. There are chapters on Godwin, Hall, Thompson, Saint-Simon and his followers, Proudhon, Rodbertus, Marx, Louis Blanc and Ferdinand Lassalle.

Schumpeter p. 480; Einaudi has only the English and French translations; see Histoire des Doctrines economiques depuis les physiocrates jusqu'à nos jours.
You may also be interested in...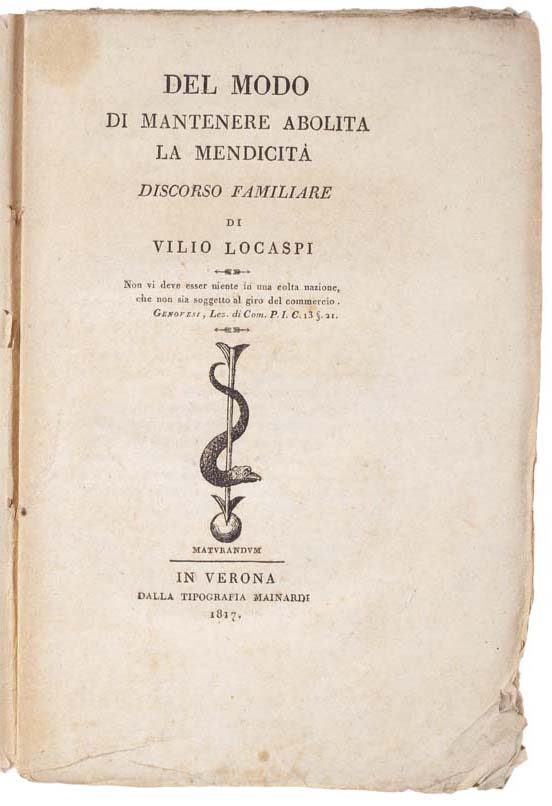 THE ABOLITION OF POVERTY [PASCOLI, Livio.] 'Vilio LOCASPI'.
Del modo di mantenere abolita la mendicità, discorso familiare.
Only edition, very rare, of this proposal for the abolition of begging, and of poverty more broadly, by the poet and essayist Livio Pascoli.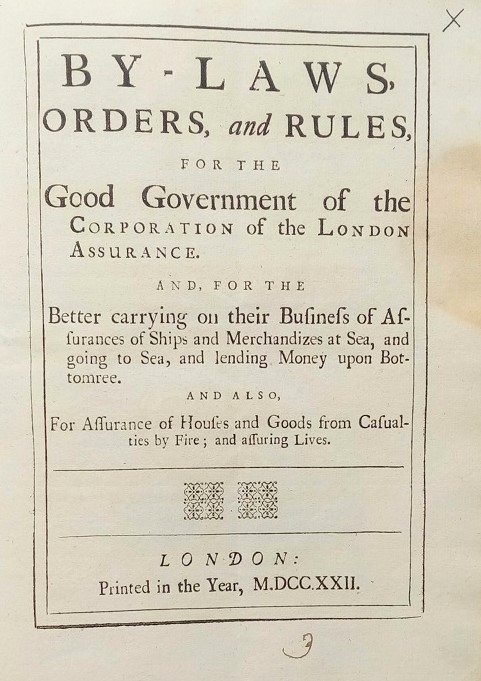 [LONDON ASSURANCE CORPORATION.]
By-laws, orders, and rules, for the good government of the corporation of the London assurance. And, for the better carrying on their business of assurances of ships and merchandizes at sea, and going to sea, and lending money upon bottomree. And also, for assurance of houses and goods from casualties by fire; and assuring lives.
First edition of the by-laws of the London Assurance Corporation, which, along with The Royal Exchange Assurance Corporation, was constituted and granted sole rights, excepting private individuals, to the granting of assurance and bottomry by 'The Bubble Act' of 1720. The right to self-govern, reflected in the pamphlet offered here, was also granted in 'The Bubble Act' of 1720 which specified that after three years of control by Crown-appointed governors and directors, the members of the corporation would be free to set their own by-laws and elect their own leadership. The by-laws cover use of the company seals, company cash, the price of share transfers, registering probates of wills, making receipts and payments, company elections, absentee directors, directors taking 'presents, fees, or rewards', officers or servants taking 'unwarrantable fees', procedure for questions asked in general courts, procedure for addressing questions, the penalty for breaking the by-laws, and the yearly salary of governors and directors.