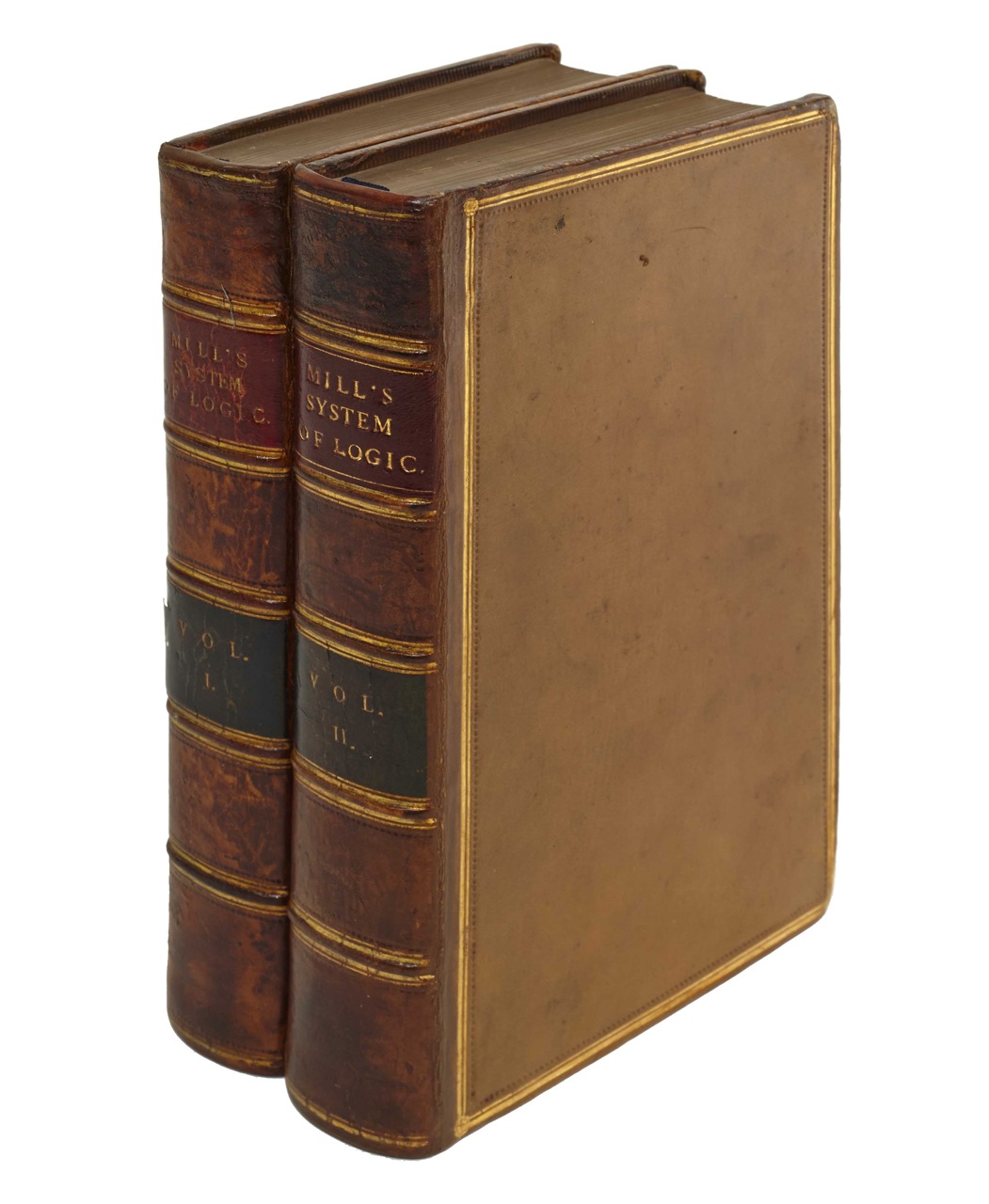 MILL'S FIRST BOOK AND ONE OF HIS BEST
MILL, John Stuart.
A System of logic, ratiocinative and inductive. Being a connected view
London: John W. Parker, 1843.
Two volumes, 8vo, pp xvi, 580; xii, 624; a fine copy, in contemporary polished calf, panelled sides filleted in gilt with rosette cornerpieces, and a blind-tooled rolled border, panelled spines filleted in gilt, with red and green morocco gilt lettering-pieces, all edges gilt, preserving blue silk bookmarks; a very few surface marks; bookplate of Sir William Markby (K.C.I.E., Kt., 1829–1914, English jurist, see below) to the front paste-downs, pencil ownership inscription on front free end-papers and a few pencil notes of G[eorge] R[obert] Brewis, Oxford (1890-1955).
£4250

Approximately:
US $5900
€4896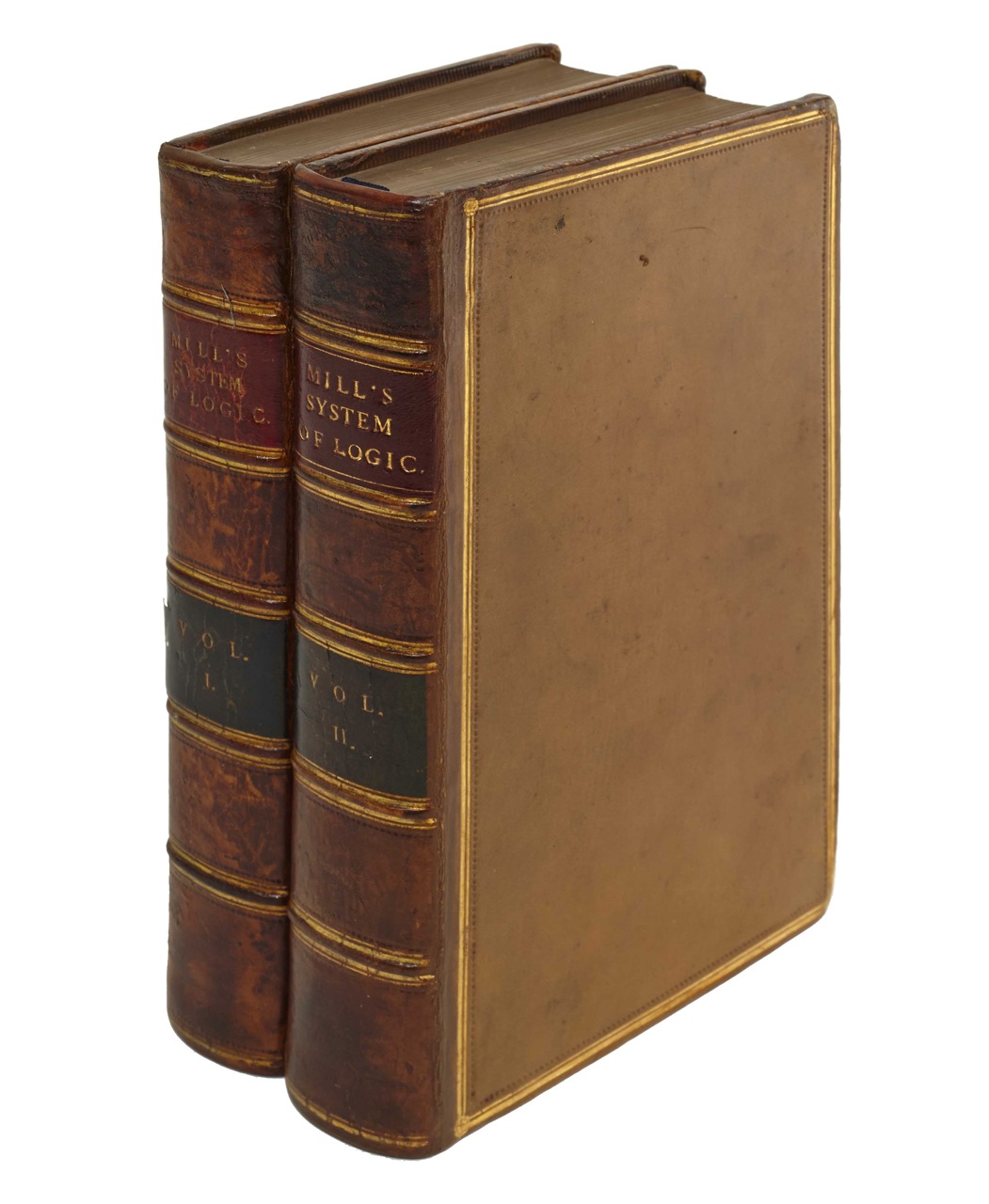 Added to your basket:
A System of logic, ratiocinative and inductive. Being a connected view
First edition. A System of logic is 'The first major instalment of [Mill's] comprehensive restatement of an empiricist and utilitarian position. It presents … a fairly complete outline of what would now be called an "empiricist" epistemology … It begins the attack on "intuitionism" which Mill carried on throughout his life, and it makes plain his belief that social planning and political action should rely primarily on scientific knowledge, not on authority, custom, revelation, or prescription…

'With the publication of the Logic, Mill took a major step toward showing that the philosophy of experience, which had hitherto been identified primarily as a sceptical position, could offer at least as much in the way of constructive thinking as any other kind of view … Mill held that the philosophy of experience was more likely than any other to encourage the development of society along liberal lines. He therefore held that it was a matter of considerable importance to show that empiricism was a viable alternative to the less progressive views—notably, Scottish common-sense philosophy and German idealism—which were then dominant. The Logic succeeded in doing this' (J.B. Schneewind, writing in the Encyclopedia of Philosophy).

Provenance: Sir William Markby, judge and legal writer, 'was educated at King Edward's School, Bury St Edmunds, before matriculating at Merton College, Oxford, in 1846. A mathematics postmaster, he graduated with first-class honours in 1851, having played cricket and rowed for his college. Admitted to the Inner Temple on 9 November 1853, he read in the chambers of Edward Turner, and was called to the bar on 5 June 1856, being made an MA by Oxford and, by incorporation, Cambridge, in the same year.

Markby [was] appointed a judge of the high court of Bengal (1866–78). […] Politically a Liberal, he was sympathetic to those around him aspiring for Indian self-government. He was vice-chancellor of Calcutta University (1877–8). On retirement from the bench in 1878, he was knighted and returned to England. Immediately Markby took up the newly created readership in Indian law at Oxford, a post he held until 1900. […] It was in Markby's rooms at All Souls that he, Thomas Erskine Holland, Frederick Pollock, James Bryce, and William Anson initiated the Law Quarterly Review, which became a legal journal of international renown. … Markby was appointed KCIE (1889) and served as a commissioner to inquire into administration of justice in Trinidad and Tobago (1892) and as a railway commissioner (1906).

The fruit of Markby's teaching and legal career is to be found in his published works: the eleventh edition (with W. Mills) of H. Roscoe's Digest of the Law of Evidence in the Trial of Actions at nisi prius (1866), Lectures on Indian Law (1873), The Indian Evidence Act (1897), An Introduction to Hindu and Mohammedan Law (1906), and, most importantly, his Elements of Law Considered with Reference to the Principles of General Jurisprudence … his Elements had been written while he was in India teaching Hindu students, and mirrored the interest in legal theory and general jurisprudence which his contact with other legal cultures had stimulated. …The book's importance lies in that it was among the first to present English law in terms of general jurisprudential categories, obtained as a result of comparative analysis' (T. G. Watkin in ODNB).

MacMinn, Hainds & McCrimmon, p. 56; Risse II, 50.
You may also be interested in...
LEARNING LOGIC [PETRUS GERTICZ OF DRESDEN.]
Incipit. Textus parvuli logice una cum brevi et perutili repeticione eiusdem. Laus deo.
Rare incunable edition of this popular introduction to logic, known as the Parvulus logicae, by the schoolmaster Petrus Gerticz of Dresden (d. 1421/25), based on the logical writings of Petrus Hispanus and Paulus Venetus. The first edition was printed in Leipzig c. 1486-89.
JESUIT SCIENCE AND PHILOSOPHY: WITH A VOLVELLE AND 27 PLATES LALIEU, Paul and Nicolas Joseph BEAUTOUR.
'P[hiloso]phia particularis data sub R.P. Paulo Lalieu art. doct. ac p[hiloso]phiae professore, recepta a Nicolao J. Beautour in coll. coenobii Aquicinctini Duaci 1739'.
A fascinating manuscript course of lectures on cosmography, ethics and metaphysics, compiled by a student at the Jesuit College near Douai, northern France, during the reign of Louis XV, illustrated with a handsome volvelle and twenty-seven engraved plates.