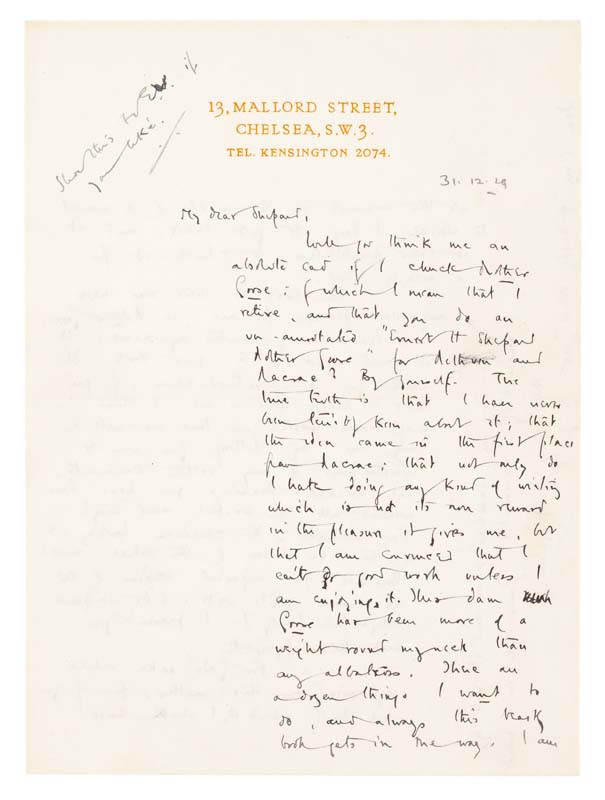 'I CAN'T DO GOOD WORK UNLESS I AM ENJOYING IT'
MILNE, A. A.
Autograph letter, signed, to 'my dear Shepard', his friend and collaborator the illustrator Ernest. H. Shepard,
dated at the head 31.12.29
2 pages, 4to, on Milne's headed paper, creased where folded, but in excellent condition.
£5000 + VAT

Approximately:
US $6282
€5891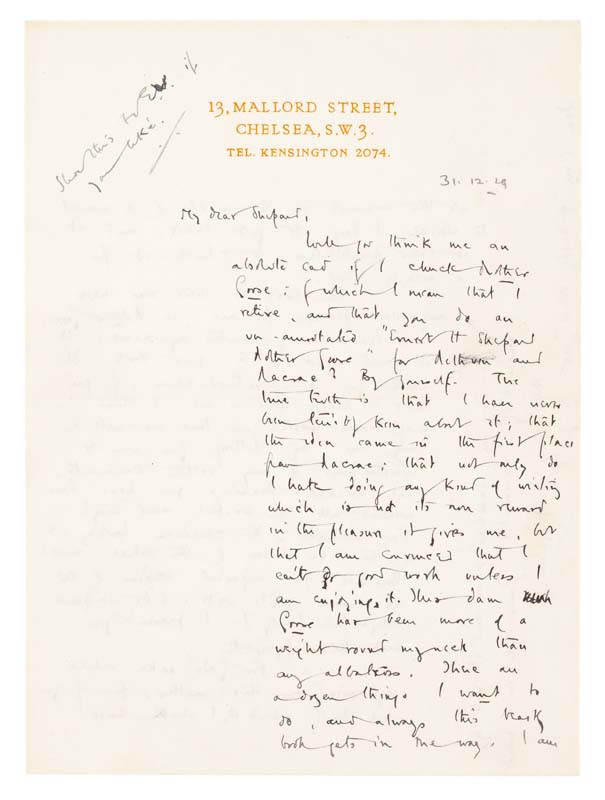 Added to your basket:
Autograph letter, signed, to 'my dear Shepard', his friend and collaborator the illustrator Ernest. H. Shepard,
A fine and touching letter between two of the most famous collaborators in all of children's literature, in which Milne's discusses his difficulties with a projected edition of Mother Goose.

'Will you think me an absolute cad,' writes Milne, 'if I chuck Mother Goose: by which I mean that I retire, and that you do an un-annotated "Ernest H Shepard Mother Goose" for Methuen and Macrae? By yourself.' Milne had signed a contract in March 1926 for a selection of Mother Goose rhymes with his commentary, and with illustrations by Shepard – royalties to split 50/50. But any interest Milne had in nursery rhymes became diverted into Now we are six (1927), the book of Winnie the Pooh rhymes that Shepard illustrated, and over three years later Milne had still not made substantial progress.

'The true truth is that I have never been …. keen about it; that the idea came in the first place from Macrae; that not only do I hate doing any kind of writing that is not its own reward in the pleasure it gives me, but that I am convinced that I can't do good work unless I am enjoying it. This damn Goose has been more of a weight round my neck than any albatross. There are a dozen things I want to do, and always this beastly book gets in the way. I am at the moment in the middle of a novel to which I long to get back, and it is sheer prostitution to chuck it for a measly bird'. Milne is presumably talking of Two People (1931), which he considered his first proper novel.

Milne then offers to write Shepard an introduction, but 'What worries me is that I may have wasted your time as well as my own by setting you on to illustrations of my rotten comments, but whatever drawings you have done needn't all be wasted, need they? For instance, the children looking out of the lace-holes of the shoe would illustrate the original version of the old woman quite well … For God's sake relieve my mind on this matter: for if you feel badly about it, I shall have to do my damnedest - and it will be, undoubtedly, damnable'. In the event, neither Milne nor Shepard completed the project, and we have been unable to identify the drawing Milne mentions.

Autograph correspondence between Milne and Shepard is very uncommon in commerce. Most of the letters from Milne were retained by Shepard until his death and bequeathed by his widow to the V&A. This example was given by his Shepard to his godson, the present vendor.
You may also be interested in...
FIRST CROATIAN MISSAL [KASIC, Bartol, or Bartholomaeus CASSIUS.]
Rituale Romanum Urbani VIII Pont. max. Iussu editum illyrica lingua.
First edition, rare especially as complete with both parts as here, of the first Roman Missal in Croatian, an important association copy from the library of a Prefect of Studies of the Propaganda Fide. The Missal is printed in Shtokavian (or Štokavian), the prestige dialect of the pluricentric Serbo-Croatian language and the basis of its Serbian, Croatian, Bosnian and Montenegrin standards. The Missal is adorned with many woodcuts and includes musical notation.
CHAUCER, Geoffrey. FRINK, Elizabeth, illustrator.
Etchings illustrating Chaucer's 'Canterbury Tales'. Introduction and Translation by Nevill Coghill.
First edition of Frink's monumental Canterbury Tales, one of 50 copies in the standard edition, numbered B 70 and signed by Frink, from an entire print run of 300 copies.