MILTON, John. Paolo ROLLI, translator.
Del Paradiso perduto Poema inglese.
Londra, Presso Carlo Bennet, 1736.
Folio, pp. [2], iv, [24], 397 (recte 399), [1, blank], 4, with three fine portraits, of Milton, Frederick Prince of Wales, and Rolli, the last two mezzotints; woodcut head- and tail-pieces and initials; a very good copy in contemporary quarter reversed calf and marbled boards, black morocco label.
£1250

Approximately:
US $1592
€1426
Added to your basket:
Del Paradiso perduto Poema inglese.
First edition of the first complete Italian translation of Milton's Paradise Lost, the second issue, with a cancel title-page dated 1736 and further enumerating Rolli's academic titles. Rolli started to work on this translation in 1719, publishing the first six books in London in 1729. Still incomplete, Rolli's work was placed on the Index librorum prohibitorum in January 1732. The complete translation was finally published in 1735 by Charles Bennet ('Despite the change in imprint to Charles Bennet, Samuel Aris [who had printed the first six books] probably printed the entire poem, for his signed ornaments appear on sheets throughout the work', Coleridge, p. 207), and then often reprinted throughout the eighteenth century.

In a letter of November 1734 Rolli himself described the circumstances of this edition: 'I am preparing the edition of Paradise Lost, the last six books are already printed, and many sheets of the first part reprinted, wherever it was necessary to refine or make changes; a few pages of variants will also be added. The merciful Prince of Wales, devoted to literature, who is now reading Orlando Furioso with me, favours me so much that I consider myself very lucky. He has incited me to finish my work, which I had neglected; I did not want to start a subscription, which is nowadays considered as outright begging, and he gave me one hundred pounds for the publication' (BCEM, Autografi Campori, Rolli, our translation).

Paolo Antonio Rolli (1687-1765) lived in London from 1715 to 1744. There 'he was well known and liked in musical and literary circles as a poet, librettist, translator and editor [...] He had already established a literary reputation in Italy, when he had been invited back to London by Thomas Herbert, eighth earl of Pembroke […] to serve in his household as an Italian teacher' (Taylor, Foreign-language printing in London 1500-1900, p. 159). He later became preceptor to the Prince of Wales and the Royal Princesses.

Coleridge, Milton, 161c; Wickenheiser 635.
You may also be interested in...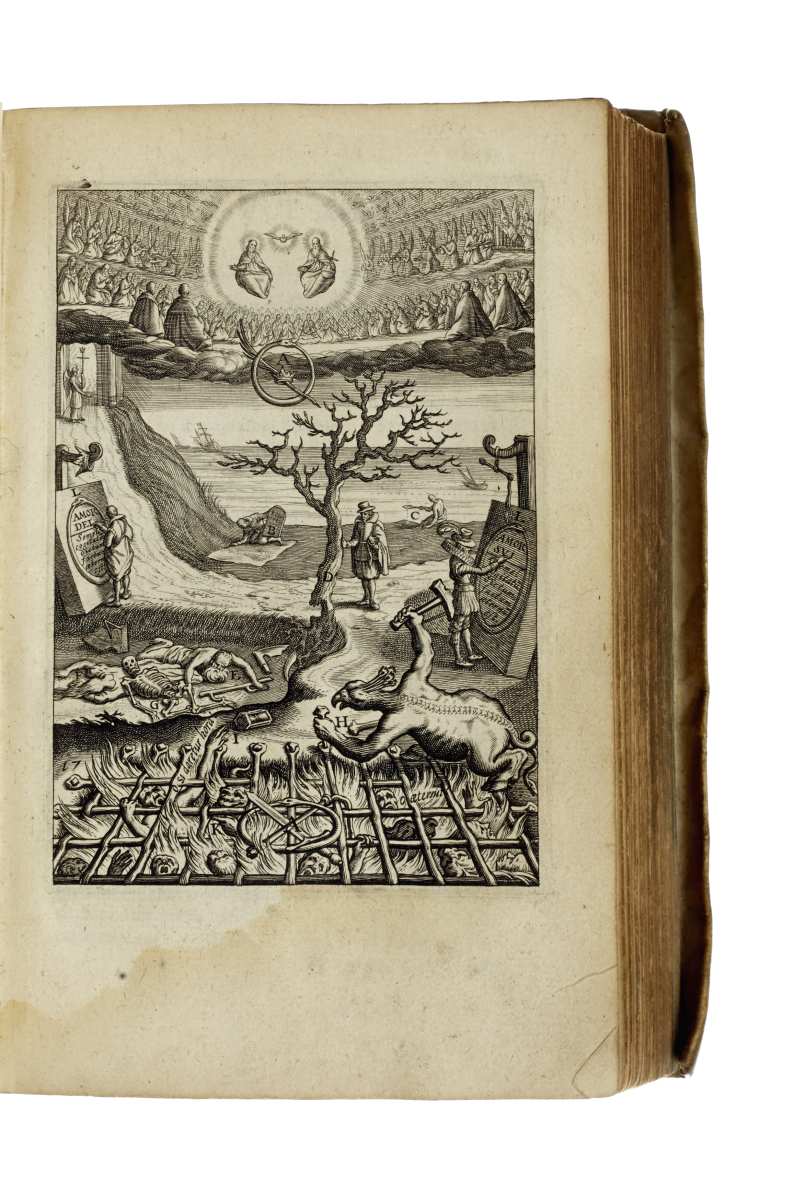 HEAVEN AND HELL GLIMPSED BY RUBENS' ENGRAVER SUCQUET, Antoine.
Via vitae aeternae iconibus illustrata per Boetium a Bolswert.
First edition, a very clean, attractive copy, of an emblem book which unites the spiritual meditations and practices of the Belgian Jesuit Antoine Sucquet with fine emblematic illustrations devised by the great baroque engraver Boetius a Bolswert (c. 1580-1633), called by Praz 'the illustrator of the sentimental and ecstatic states of the soul'. Boetius a Bolswert's exquisite refinement gives here, again in Praz' words, views of Hell and glimpses of Heaven. Man's worse drives are iconized in satyrs, ghouls, harpies, werewolves, semi-human lizards, his progress towards eternal life ever hindered by the multifarious and rapacious beast within. With his brother Schilte, Boetius was among the most sensitive and felicitous engravers to render Rubens' drawings. Sucquet's emblem book was extremely successful, with 177 editions in Latin within a decade, and many vernacular translations.
LAOCOON ENGRAVED REZZONICO, Carlo Castone della Torre di.
Discorsi accademici del conte … segretario perpetuo della R. Accademia delle Belle Arti. 
First and only edition of an exquisite little product of the Bodoni house: Count Rezzonico's reflections on the fine arts, including a dissertation on the techniques of woodcut and engraving.  The Neo-Classical aesthetics that inform this work are reflected in the illustrations, masterfully executed by the painter, engraver and stucco artist Benigno Bossi.  Perhaps the most remarkable is the depiction of the marble Laocoon, which had been made by Lessing the symbol of the aesthetic autonomy of poetry and painting.