MILTON, John. 
Literæ Pseudo-Senàtûs Anglicani, Cromwellii, reliquorumque Perduellium nominee ac jussu conscriptæ a Joanne Miltono. 
[Amsterdam,] Impressæ [by Pieter and Willem Blaeu, probably for Moses Pitt], Anno 1676. 
12mo, pp. [4], 234, [6 (blanks)]; a very good copy in contemporary panelled calf, spine gilt, front joint neatly strengthened; eighteenth-century (?) ownership inscription of G. Meredith (Trinity College Cambridge) to title, small armorial bookplate of T.E. Watson to upper pastedown, booklabel of J.O. Edwards.
£425

Approximately:
US $513
€490
Added to your basket:
Literæ Pseudo-Senàtûs Anglicani, Cromwellii, reliquorumque Perduellium nominee ac jussu conscriptæ a Joanne Miltono. 
First edition, device of fruit on the title-page (distinguishing it from the second edition, probably Brussels, which has a grotesque face and corrects some misprints). 

Milton was appointed Secretary for the Foreign Tongues to the new Council of State on 15 March 1649, a post he held until the Restoration.  As such it was one of his tasks to translate into Latin letters of state addressed to foreign powers.  'He was justly proud of his translations; that is why he kept copies of most of them' (Parker, p. 954), and it was from his own copies, apparently obtained by purchase by the London bookseller Moses Pitt, that this posthumous collection was published. 

Wing M 2128; Coleridge 29. 
You may also be interested in...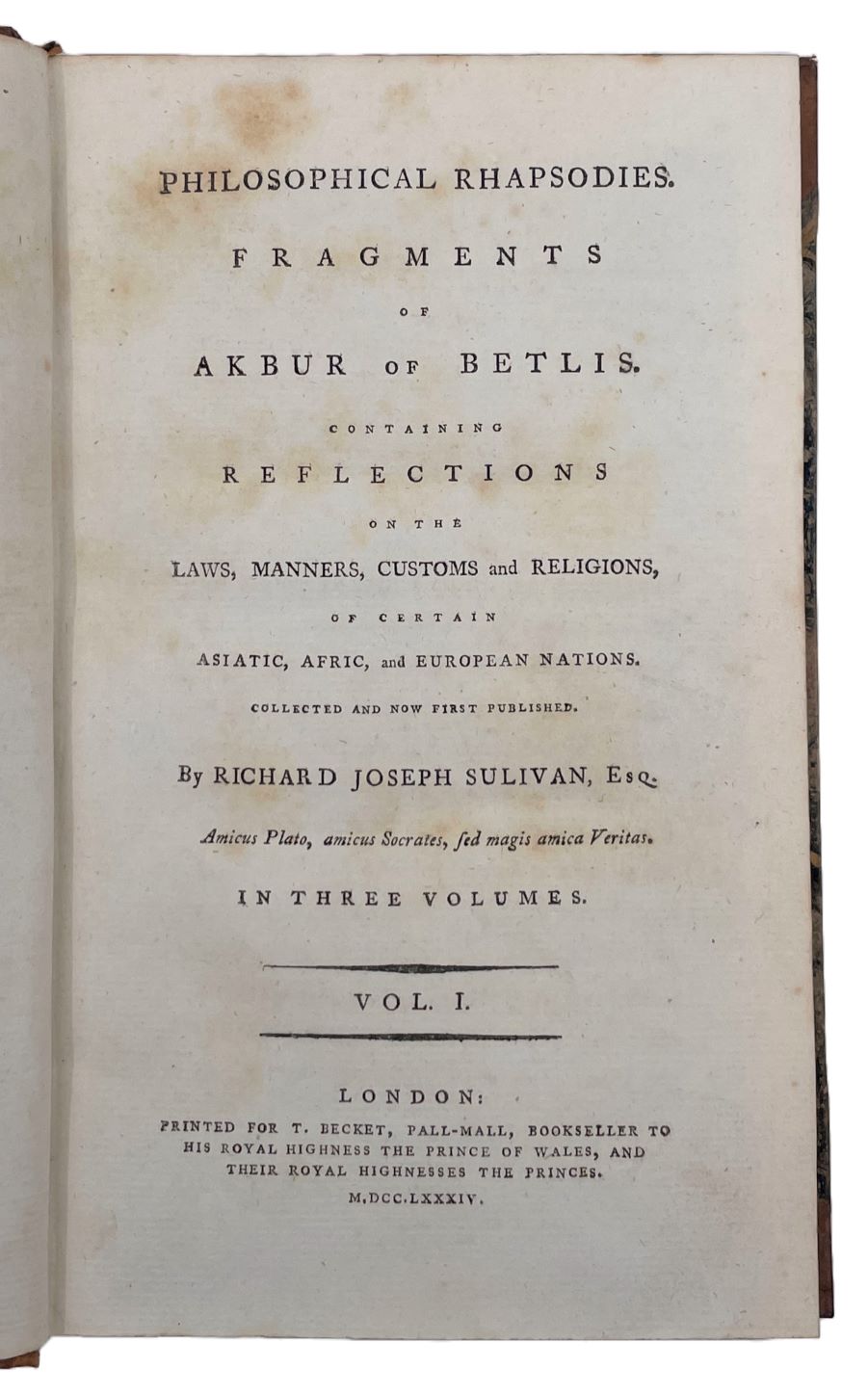 INDIAN TRAVEL SULIVAN, Richard Joseph.
Philosophical Rhapsodies. Fragments of Akbur of Betlis. Containing Reflections on the Laws, Manners, Customs and Religions, of certain Asiatic, Afric, and European Nations. Collected and now first published … In three Volumes …
First edition of this eccentric travel-inspired treatise drawing upon the author's experience in India and his travels in Europe. The prefatory 'advertisement' establishes the fiction that 'the following fragments were written by a native of Assyria [Akbur], who … was removed to the continent of Europe, and thence to England … he then travelled; and in various countries threw together the reflections which appear in the following sheets'. Compartmentalised into 'fragments' rather than chapters, the work is generically indistinct, and offers a compilation of fiction, philosophy, history and travel to reflections on foreign lands, notably China, Japan, Tartary, Hindostan, Greece and the Middle East. Sulivan cites widely in order to illustrate his points, emphasising Akbur's familiarity with Milton, Pope, Thomson, and Dryden, as well as law, the classical canon and contemporary scholarship.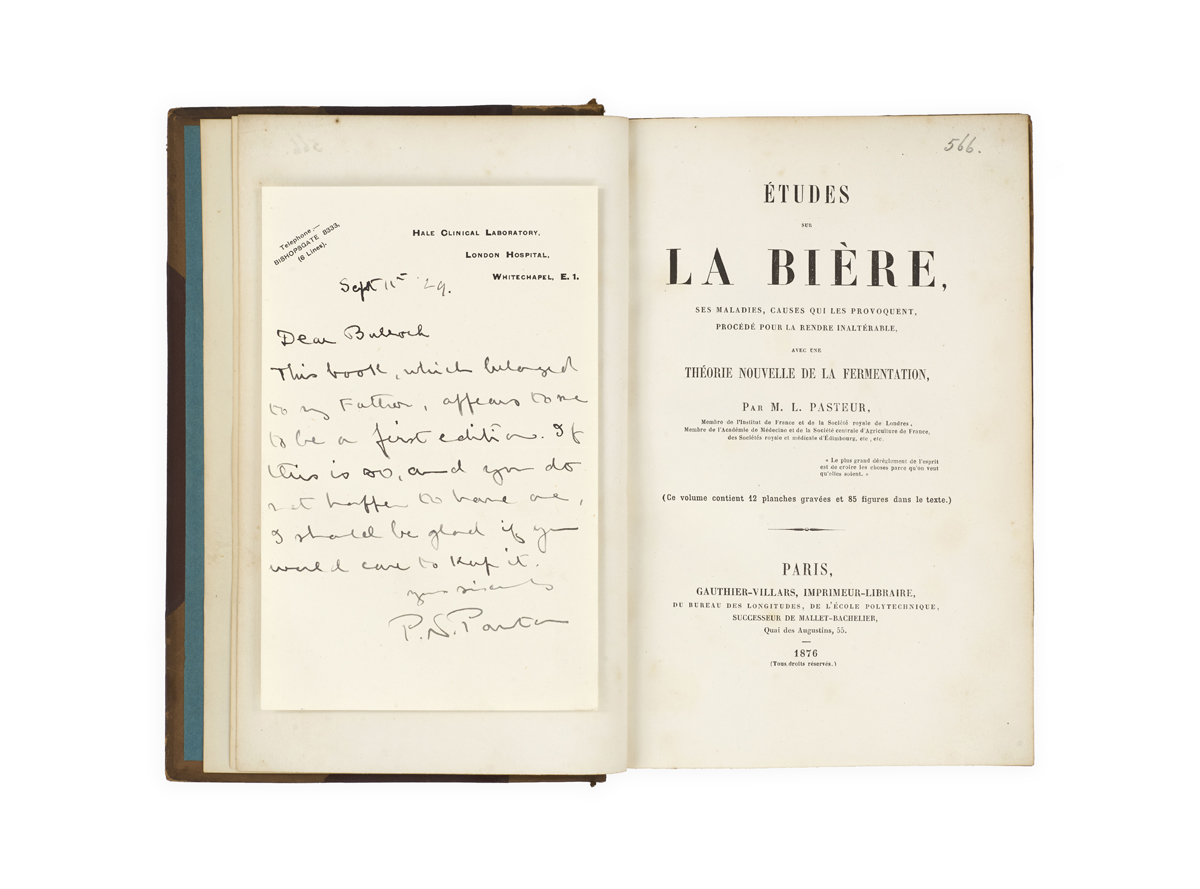 PASTEUR, Louis. 
Études sur la bière, ses maladies, causes qui les provoquent, procédé pour la rendre inaltérable, avec une théorie nouvelle de la fermentation. 
First edition.  In his Études sur la bière, Pasteur 'described a new and perfected method of preparing pure yeast [and] emphasized that yeast occasionally required small quantities of oxygen in order to retain its "youth" and its capacity to germinate in oxygen-free environments.  Having now achieved a new appreciation for the importance of oxygen in brewing, and especially the advantages of aerated wort, he insisted only that air should be carefully limited and freed of foreign germs rather than entirely eliminated' (DSB).