OWNED BY A FELLOW OF TRINITY COLLEGE CAMBRIDGE
[MISSAL.]
Missale Romanum, ex decreto Sacrosancti Concilii Tridentini restitutum. Pii V. Pont. Max. iussu editum.
Liège, Henricus Hovius, typis Gaulteri Morberii, 1574.
4to, pp. xlvi, [18], 252, lxxx, 120, 80; large woodcut vignette to title depicting SS. Peter and Paul, 20 small woodcut illustrations in the text, 1 full-page woodcut illustration depicting the crucifixion; printed in red and black throughout, with musical notations; blank lower margin of ff. ****1-2 neatly excised, the odd spot, but a very good copy, bound in contemporary calf, boards with gilt oval center piece within double blind-ruled frame with gilt fleur-de-lys corner pieces, spine in compartments with single small gilt fleurette in each one, binding restored, corners worn, rebacked preserving original spine, pastedowns renewed; eighteenth-century ownership inscription with purchase note 'J. Allen Trin. Coll. Camb: bought in Chester Fair 1765. July. 10.' (see below); nineteenth-century ownership inscription to title, mostly erased, dated 1837.
£2250

Approximately:
US $3112
€2607
Added to your basket:
Missale Romanum, ex decreto Sacrosancti Concilii Tridentini restitutum. Pii V. Pont. Max. iussu editum.
First Liège edition, very rare, of the Roman reformed missal, from the library of a Fellow of Trinity College Cambridge, who records the acquisition of the volume at a fair in Chester in 1765.

Implementing the decisions of the Council of Trent, with his bull Quo primum issued in 1570, Pope Pius V promulgated a reformed edition of the Roman Missal, with the intent of gradually establishing uniformity of rites within the Western Church. The new Missal became obligatory throughout the Latin Church, and all regional variations and local rituals were abolished, with the exception of those followed by a few dioceses (such as Milan, Braga and Lyon among others) and orders (including Dominicans and Premonstratensians) which could be proven to have been in use from before 1370.

Provenance: John Allen (c. 1700–1789), from Bramshall in Staffordshire, was admitted as a pensioner at Trinity College Cambridge and matriculated on the 16 April 1718. He became a scholar in 1720, earned his B.A. in 1721-2, his M.A. in 1725, and finally his B.D. (Bachelor of Divinity) in 1750. He was elected Fellow of Trinity in 1724 and later Proctor in 1743. Allen was ordained deacon at Lincoln in September 1725, and priest later in December in the same year. Vicar of Colne in Huntingdonshire, and of Shudy Camps in Cambridgeshire in 1742, he was finally appointed rector of Tarporley, in Cheshire, in 1752, remaining in post until his death in 1778 (see Nichols III, 1128).

Allen appears also as the dedicatee of 'Il Penseroso: an evening's contemplation in St. John's churchyard, Chester...' (London, 1767), a blank-verse antiquarian rhapsody celebrating the beauties of Chester and surrounding areas, written by William Cowper (1701–1767) under the pseudonym of 'M. Meanwell'. Like his friend Cowper, Allen was also a 'good antiquary' (Thomas Blount, Fragmenta Antiquitatis, London 1815, p. 251), whose collection appears to be now almost entirely lost. Judging from the only other item from his library which we have been able to trace, a splendid early sixteenth-century manuscript vellum roll, depicting the procession of parliament in 1512, preserved at Trinity College Library (shelfmark O.3.59), Allen's collection could have been of the highest quality and importance.

OCLC shows only 2 copies in the US, at the University of Pittsburgh and University of San Francisco, Gleeson Library; Library Hub Discover (Copac) shows one copy in the UK, at the Bodleian Library; USTC adds another copy in the UK, at UCL.

Weale-Bohatta 1185 (apparently this copy); de Theux 11-12; BCNI 3462; Pettegree NB 10779; USTC 407218. Not in Adams, Machiels, Matagne (Namur).
You may also be interested in...
GALILEO'S LETTERS – A LARGE PAPER COPY GALILEI, Galileo.
(Giovanni Battista VENTURI, editor). Memorie e lettere inedite finora o disperse di Galileo Galilei, ordinate ed illustrate con annotazioni … parte prima, dall'anno 1587 sino alla fine del 1616 [– parte seconda, dall'anno 1616 fino alla sua morte del 1642].
First edition, on large paper, of the unpublished letters of Galileo. Assembled by the physicist and science historian Giovanni Battista Venturi (1746–1822), the Memorie e lettere publish those manuscripts which had been omitted from the 1744 Padua edition of Galileo's works, including the first printed copy of his Trattato di fortificazione (I, pp. 25-74).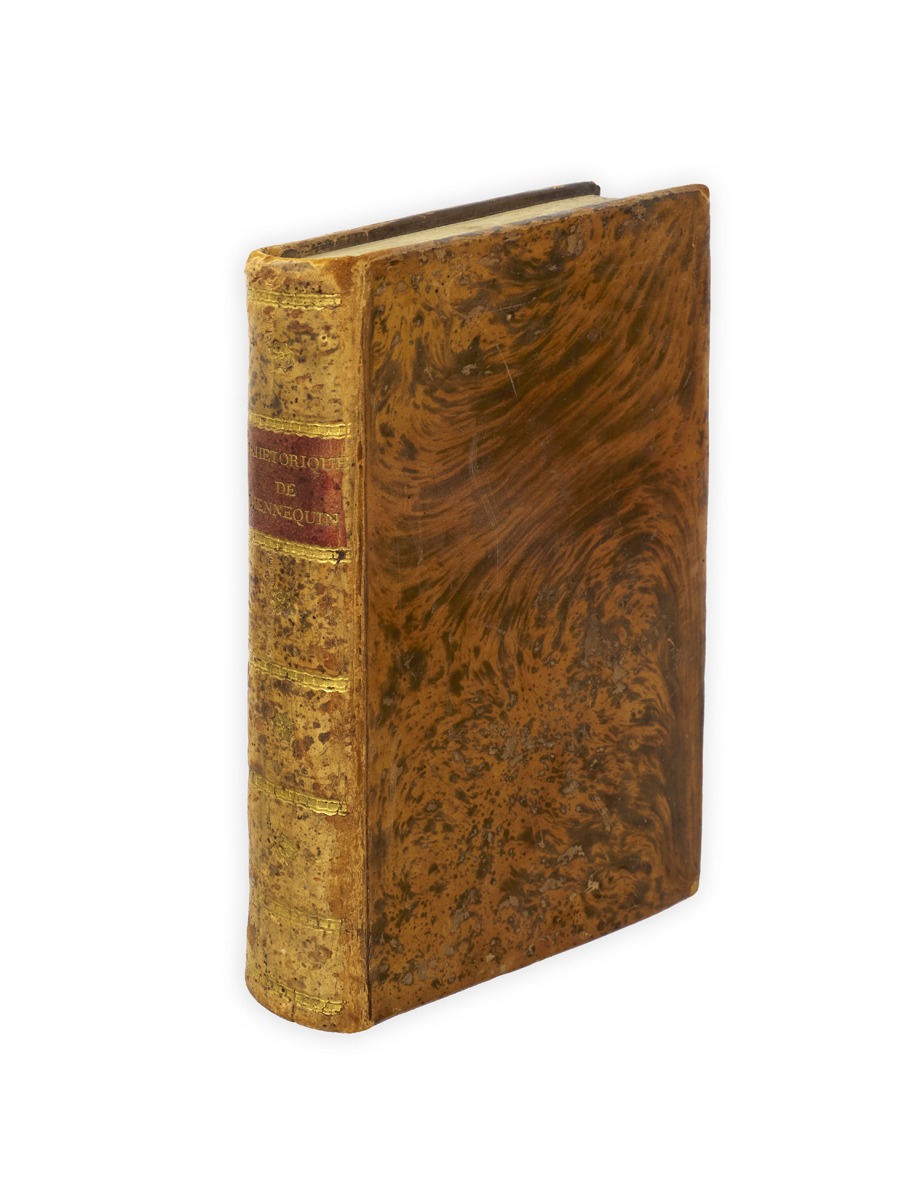 HENNEQUIN, Pierre.
Nouveau cours de rhétorique, à l'usage de la jeunesse des deux sexes; dédié à sa Majesté l'Impératrice mère.
Only edition, very uncommon, of this guide to rhetoric by the Moscow-based French grammarian Pierre Hennequin (1772–1849), explicitly designed for both sexes and dedicated to the Dowager Empress Maria Feodorovna (1759–1828).