[MONTAGU, Mary Wortley (attr.), and PUISSIEUX, Madeline de (translator).]

La femme n'est pas inferieure a l'homme, traduit de l'anglois.
'A Londres', 1750.
[bound after:]

[LE SUEUR, J.L.] Dinias et Dercillide: fragment traduit du Grec d'Antonius Diogenes. [1745.]

[and after:]

RAYNAL, Guillaume-Thomas-François. Histoire de Stadhouderat depuis son origine jusqu'a present. 'A la Haye', 1747.

3 works in one vol., 12mo, pp. Raynal: [2], iv, 114, Le Sueur: 55, [1 (errata)], without 4 pp. of prelims, Puissieux: 140; woodcut vignettes to titles, woodcut headpieces; some foxing in places, damp-stain to lower margin of first few leaves of the third work; contemporary calf, spine gilt in compartments, edges stained red, marbled endpapers; somewhat worn, lettering-piece lost from spine.
£685

Approximately:
US $831
€810
Added to your basket:
La femme n'est pas inferieure a l'homme, traduit de l'anglois.
First French translation, uncommon, of Woman not inferior to Man: or, a short and modest Vindication of the natural Right of the fair-Sex to a perfect Equality of Power, Dignity, and Esteem, with the Men, first published in 1739 under the name 'Sophia, a person of quality' and sometimes attributed to Mary Wortley Montagu (1689–1762; see Quaritch, Women (2019) 36). Drawing on De l'égalité des deux sexes of Poulain de la Barre, the work examines the justness of the esteem (or lack thereof) in which men hold women, the relative intellectual capacities of the two sexes, whether men are fitter to govern and hold public office than women, and whether women are capable of teaching the sciences and serving in the military. The author concludes: 'let us show [men], by what little we do without aid of education, the much we might do if they did us justice; that we may force a blush from them, if possible, and compel them to confess their own baseness to us, and that the worst of us deserve much better treatment than the best of us receive'.

The translation is the work of Madeleine d'Arsant (1720–1798, later de Puisseux), an intimate of Diderot's; it was reissued under the title Le triomphe des dames in 1751.

Bound with La femme are the first published work by Guillaume Thomas Raynal, a study of the role of Stadhouder in the Netherlands, and a collection of verses attributed to J.L. Le Sueur, along with a short novel masquerading as a translation of Antonius Diogenes.

Raynal: OCLC records copies outside continental Europe at Harvard and Cambridge only. Le Sueur: Cioranesco II 39902; OCLC records one copy outside France, at Pennsylvania. Puissieux: OCLC records three copies only outside continental Europe, at Harvard, Pennsylvania, and Cambridge.
You may also be interested in...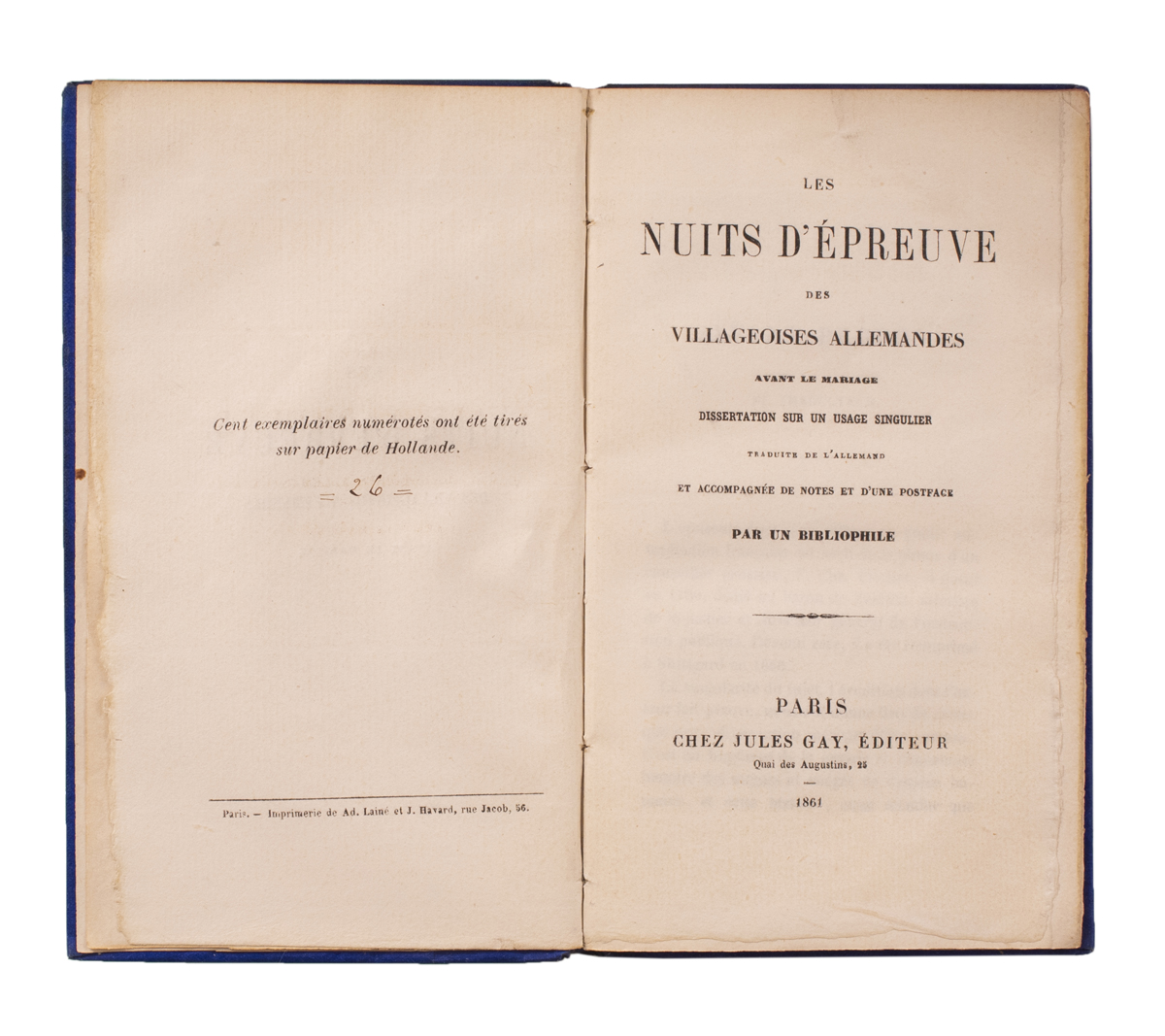 PRE-MARITAL SEX AROUND THE WORLD [FISCHER, Friedrich Christoph Jonathan, and Pierre-Gustave BRUNET (translator)].
Les nuits d'érpeuve des villageoises allemandes avant la marriage, dissertation sur un usage singulier traduite de l'Allemand et accompagnée de notes d'une postface. Par un Bibliophile.
First edition in French, numbered 26 of 100 copies, of this obscure study, first published in 1780 as Über die Probenächte der teutschen Bauernmädchen ('On the Rehearsal Nights of Teutonic Peasant Women'). Brunet's 'postface' builds on the comparisons made in Fischer's original essay between the Congolese practice of pre-marital, conjugal co-habitation and those of medieval German peasants, adding case studies of various cultures: 'Oriental' prostitutes of the modern era; the indigenous peoples of the Tierra del Fuego; and Balearic and Polynesian Islanders.
NEW YORK THUMB BIBLEWITH NEW HAMPSHIRE PROVENANCE [THUMB BIBLE.]
History of the Bible.
First edition of this charming illustrated Lansingburgh-printed miniature Bible, with contemporary inscriptions by two girls from the Yeaton family of Epsom, New Hampshire.