MOORE, George Edward (1873-1958), philosopher.
Autograph testimonial signed ('G. E. Moore') for Alice Ambrose.
86 Chesterton Road, Cambridge, 24 April 1935.
4to, pp. 1 + 1 blank, headed paper; creases where folded, good.
£600

Approximately:
US $837
€694
Added to your basket:
Autograph testimonial signed ('G. E. Moore') for Alice Ambrose.
[together with:]

DALE, A. B. Typed certificate of attendance signed ('A. B. Dale') for Alice Ambrose. Newnham College, Cambridge, 7 December 1933.

4to, pp. 1 + 1 blank, headed paper; creases where folded, good.

The distinguished American logician and philosopher Alice Ambrose (1906-2001) was one of the auditors to whom Wittgenstein dictated what came to be known as the Blue and Brown books between 1933 and 1935, and she prepared the final typescript of both. She later edited her lecture notes, together with those of Margaret Macdonald, as Wittgenstein's Lectures, Cambridge, 1932-1935 (1979).

G. E. Moore here describes her in his testimonial as 'an industrious & intelligent student, very well aware of the difficulties of the subject on which she is engaged & very persevering in her efforts to overcome them. She is keenly interested not only in the particular subject of her research but in philosophical problems generally, & I think she would be a competent & stimulating teacher of philosophy'. Dale's certificate provides details of the courses she attended given by Wittgenstein, Moore, Braithwaite and Ingham. The subject of Ambrose's Ph.D. research was 'Finitism in Mathematics' and when in 1935, encouraged by Moore, she published an article in Mind with the same title, which sought to give an account of Wittgenstein's position on the subject, he peremptorily broke off their connection. Ambrose later wrote an account of her time with Wittgenstein in Ludwig Wittgenstein: philosophy and language, co-edited with her husband Morris Lazerowitz, and published in 1972. Ambrose taught at Smith College from 1937 until she retired her chair (given in 1964) in 1972.
You may also be interested in...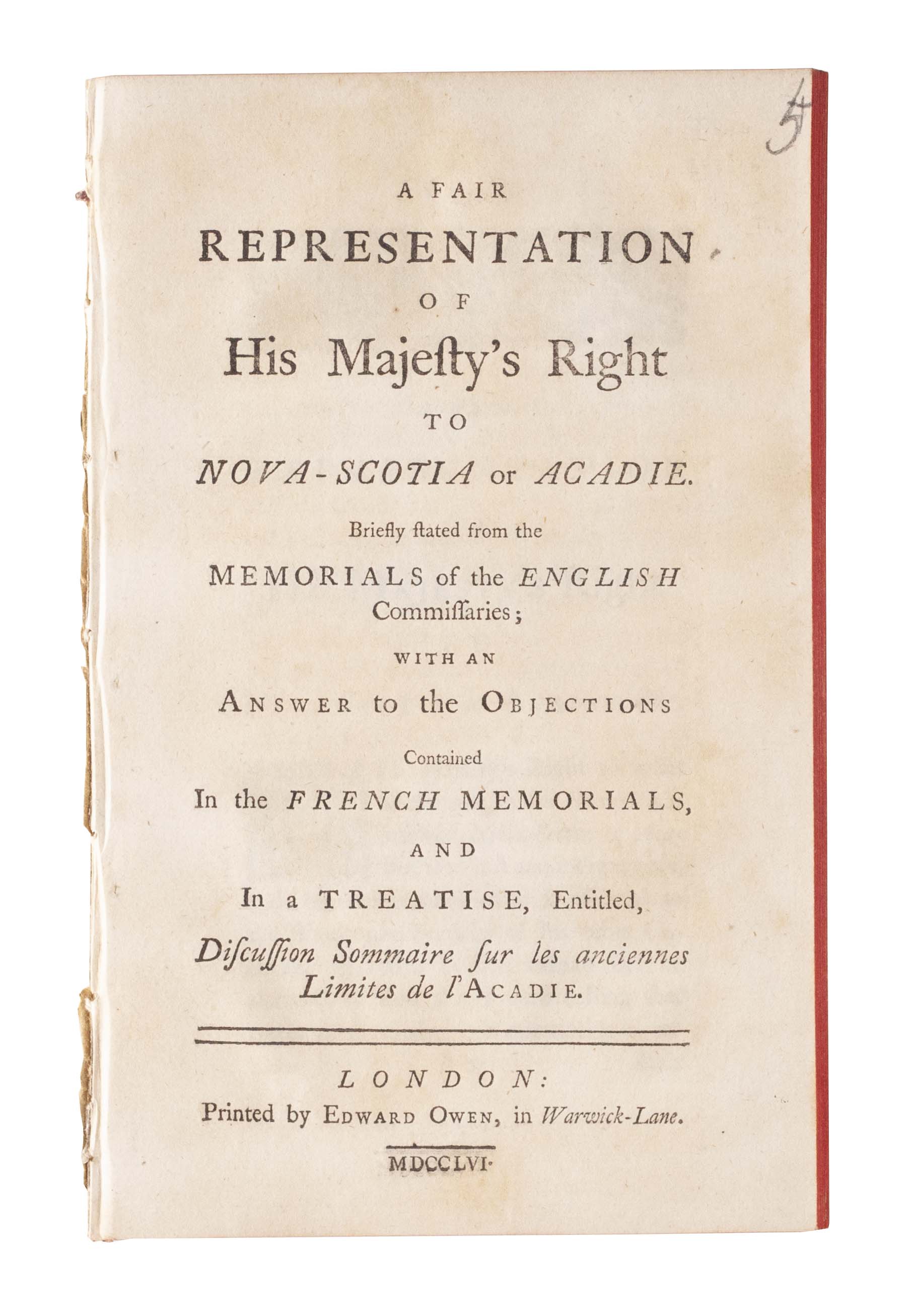 [NOVA SCOTIA.]
A Fair Representation of His Majesty's Right to Nova-Scotia or Acadie. Briefly stated from the Memorials of the English Commissaries; with an Answer to the Objections contained in the French Memorials, and in a Treatise, entitled, Discussion sommaire sur les anciennes limites de l'Acadie.
First edition. 'Résumé très bien fait de toute la question des frontières de l'Acadie entre la France et l'Angleterre; mais écrit au point de vue de l'Angleterre seulement' (Gagnon).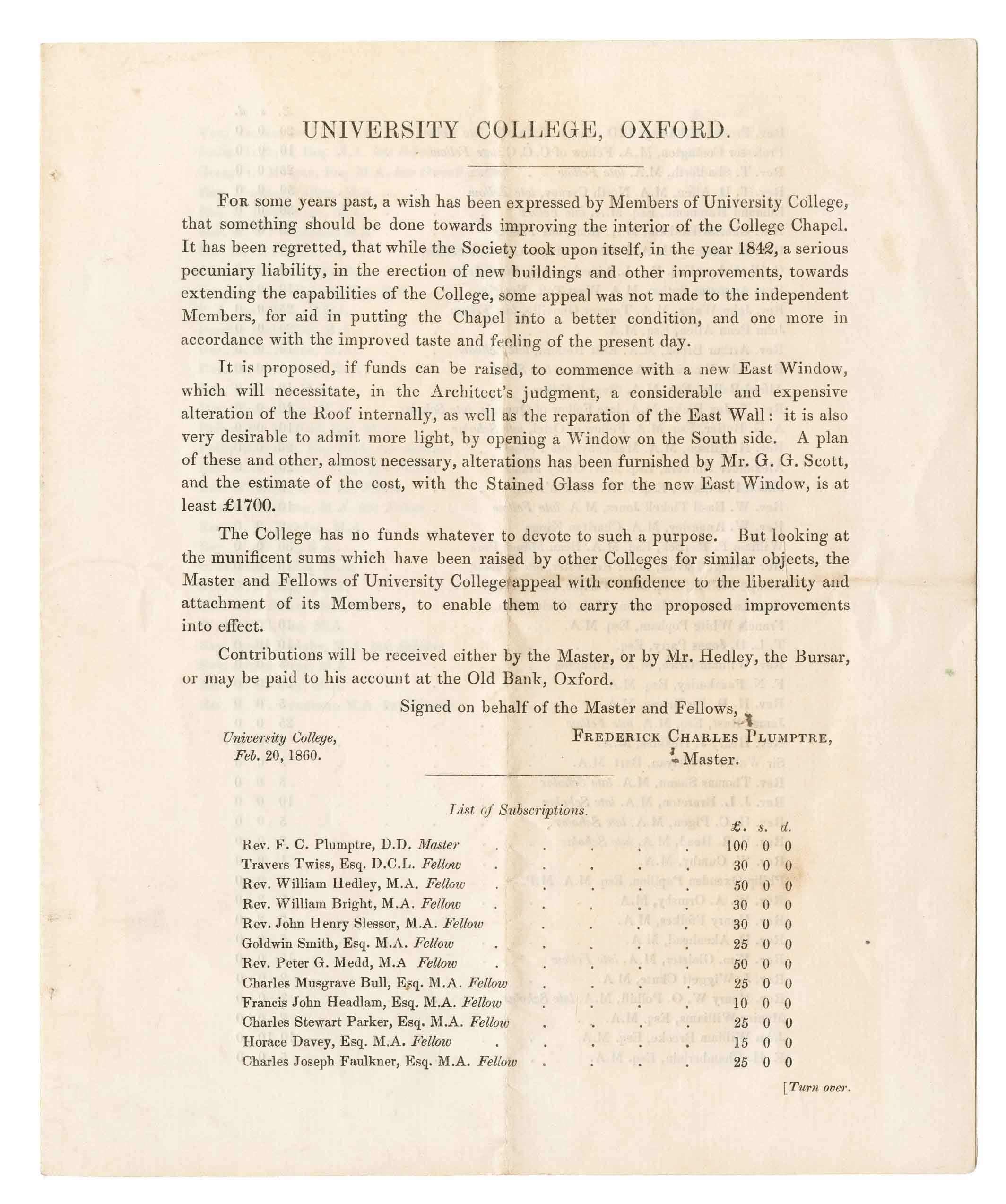 SUBSCRIPTION FOR IMPROVEMENTS BY GEORGE GILBERT SCOTT [UNIVERSITY COLLEGE, OXFORD.]
Subscription list for repairs to the College Chapel.
A printed appeal from University College, signed by the Master Frederick Charles Plumptre (1796–1870), for funds to improve the interior of the Chapel, with an admission that 'the College has no funds whatever to devote to such a purpose'. The list of subscribers contains some ninety names.