DEFENDING THE PHILOSOPHES
MORELLET, André (1727-1819), French economist, theologian, and contributor to the Encyclopédie.
Manuscript copy of his 'Préface de la Comédie des philosophes. On la vend séparément à Paris chez l'auteur de la Comédie 1760'.
[France, c. 1760].
Manuscript on paper, 8vo, pp. [ii], 12, [2]; written in brown ink in a clear cursive eighteenth-century hand, circa 22 lines to a page; in excellent condition, bound in modern brown paper-covered boards, morocco lettering-piece on spine.
£100

Approximately:
US $137
€117
Added to your basket:
Manuscript copy of his 'Préface de la Comédie des philosophes. On la vend séparément à Paris chez l'auteur de la Comédie 1760'.
A very well-preserved manuscript copy of Morellet's pamphlet, written as a rebuttal to Charles Palissot's anti-encyclopédistes comic play Les Philosophes. Palissot's satire, which ridiculed Diderot among others, appeared in May 1760 and sparked the escalation of a virulent polemic between the philosophes and their detractors. Published soon after Palissot's play, Morellet's Préface was immediately seized and its author condemned to two months in the Bastille for alleged libel against Palissot's patroness, the princesse de Robecq. Morellet was released with the help of Rousseau, and his work soon included in the Recueil des facéties parisiennes (1760). Its initial seizure, however, no doubt created a demand for manuscript copies such as this one.

Morellet's Préface opens with Palissot sat at home, short of money, when he suddenly hears a voice. It tells him he has been chosen to write a comedy against the philosophes, with the help of Fréron (Voltaire's bête noire), which will be a great success. The voice answers Palissot's questions and the text ends with the apparition of a female figure who presents Palissot with a purse and inspires him to write. Morellet's text is a scathing attack on Palissot's person and his play. The mysterious voice explains that it has chosen Palissot's 'ignorance pour décrier le scavoir', refers to him as a man without religion, morals or probity, and accuses him of betrayal of his friends, theft, and debauchery. Palissot's play, promises the voice, will with 'des raisonnements vagues ou des injures grossieres' portray the philosophes as immoral and seditious, will turn the Théâtre de la comédie into a religious school, fill the Académies with Spanish and Portuguese monks, start an inquisition that will burn men of letters, and scatter the philosophes to Holland, Prussia and England. Referring to one of his earlier plays, the voice mentions Palissot's portrayal of 'un Philosophe dont tu n'es pas digne de denoüer les cordons des souliers', a possible reference to his earlier play Le Cerle, in which he had lampooned Rousseau.

This manuscript is almost exactly the same as the text printed in Paris in 1760, save for two missing lines, a few different words, and some variations in orthography.

For the printed edition, see Tchemerzine V, p. 1 (b).
You may also be interested in...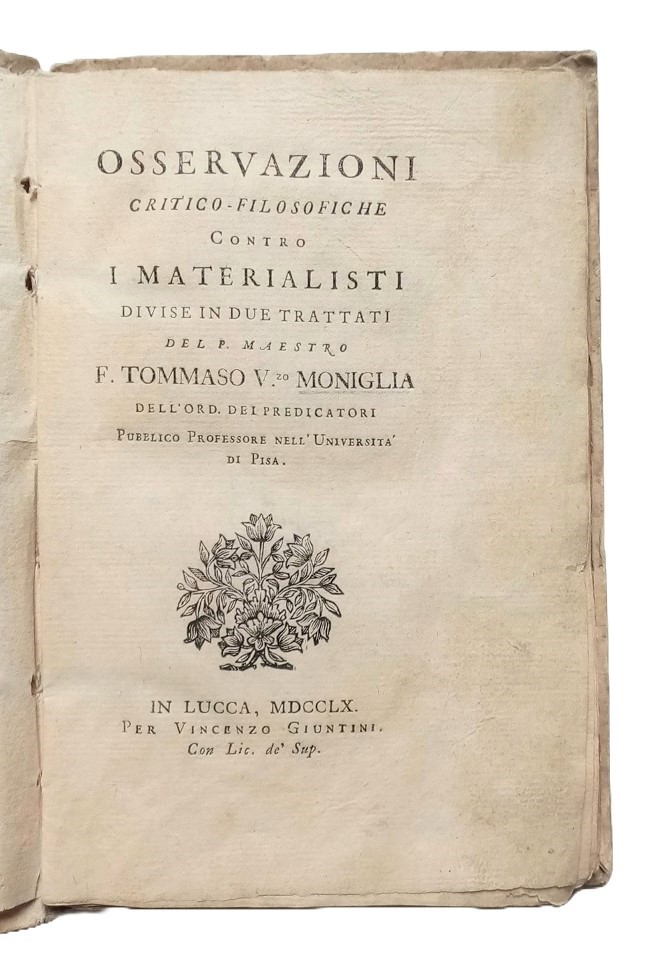 MONIGLIA, Tommaso Vicenzo.
Osservazioni critico-filosofiche contro i materialisti, divise in due tratti.
Uncommon anti-materialist work by the Tuscan philosopher Tommaso Moniglia (1686-1767).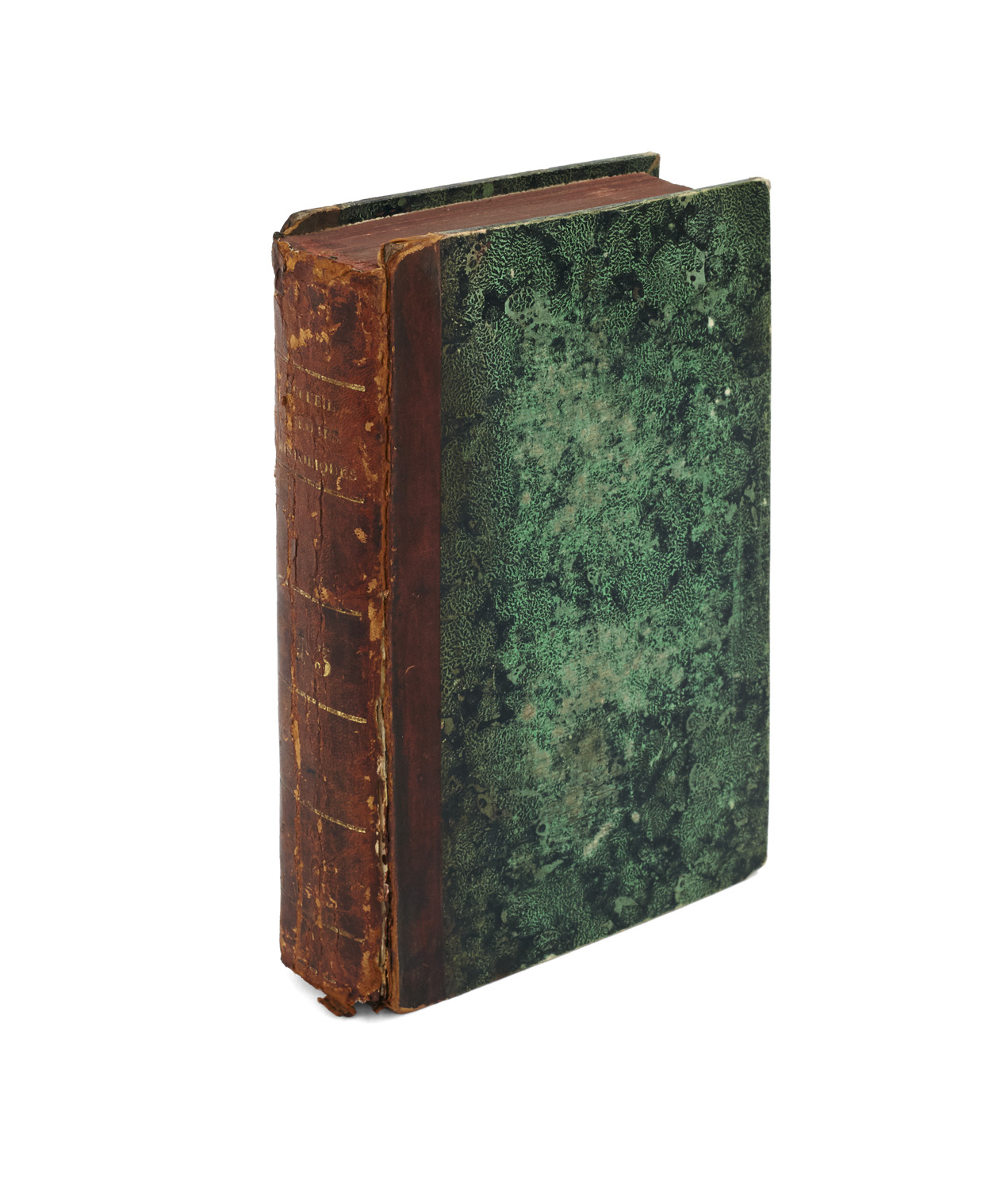 EULOGY AS MANIFESTO [NECKER, Jacques.]
Eloge de Jean-Baptiste Colbert, Discours qui a remporté le prix de l'Académie Françoise, en 1773.
First edition of Necker's first work. Necker (1732–1804) was the opponent of Turgot (whose position he was to take over in 1777) in action as well as in theory, agreeing with Forbonnais on the side of State-regulation. The encomiastic function of this work, his first book, is in fact a thin cover for what is effectively Necker's first exposition of his 'interventist' sensibility in economics. Here as in his later works Necker loses no opportunity of emphasising his dissent from 'laissez-faire' and the Tableau économique. His declamatory appeals to the rights of humanity and attacks upon landed property, though probably incited by political ambitions, bring him into close harmony with State-socialists, who, like himself, favoured substantial government intervention; and the Physiocrats had always to reckon with him as a determined adversary.