LEARNING SPANISH – THE ALBANI COPY
MULERIUS, Carolus.
Linguae Hispanicae Compendiosa Institutio.
Leiden, ex officina Bonaventurae et Abrahami Elzevir, 1630.
8vo, pp. 60, [2]; some light scattered foxing, but a very good copy bound in contemporary vellum; from the Albani library, with stamps to title and manuscript shelfmark to verso of front endpaper; early nineteenth-century manuscript bibliographical reference to 'Lipenius, Bibliotheca Realis Philosophica, p. 655' (Frankfurt, 1682, where this work is listed), to upper pastedown.
£550

Approximately:
US $752
€642
Added to your basket:
Linguae Hispanicae Compendiosa Institutio.
First edition, rare, of this handbook of Spanish grammar by the renowned Dutch Hispanist and grammarian Carolus Mulerius (1601–1638).

Mulerius studied first at the University of Groningen, where his father, the celebrated astronomer and physician Nicolaas Mulerius (1564–1630), was professor of medicine and mathematics and, in 1614, Rector Magnificus. He would later attend the University of Franeker, as well as other universities in the Dutch Republic and abroad. Linguae Hispanicae Compendiosa Institutio was the first in a series of similar handbooks on grammar published by Mulerius; it was followed by Linguae Italicae Compendiosa Institutio in 1631, Linguae Gallicae Compendiosa Institutio in 1634, and Een Korte ende seer dienstige onderwijsinge van de Spaensche tale (El breve y muy provechoso orden...), the first Spanish grammar written in Dutch, published posthumously in 1648.

Provenance: from the celebrated Albani Library of Urbino and Rome, in large measure the creation of Gianfrancesco Albani (1649–1721), elected pope as Clement XI in 1700, and later enlarged by his nephew Cardinal Alessandro Albani (1692–1779), and in smaller measure by Cardinal Gianfrancesco Albani (1720–1803) and Cardinal Giuseppe Albani (1750–1834). The dispersal of the library started with the French invasion in 1797; it was subsequently sold in various stages, both privately and through public auctions, including the unfortunate portion sold to the Prussian Government in 1862, sadly lost when the ship transporting it sank off Gibraltar (see: Cecil H. Clought, 'The Albani library and Pope Clement XI' in Librarium - Revue de la Société Suisse des Bibliophiles 12 (1969), pp. 11-21 and A. Hobson, Apollo and Pegasus: an enquiry into the formation and dispersal of a Renaissance Library (Amsterdam, 1975), pp. 119-121).

Willems 333; Pieters 79. OCLC records only two copies in the US, at Miami University and University of Pennsylvania, and a single copy in the UK, at the Bodleian Library.
You may also be interested in...
ORIENTAL CAUTIONARY TALE BEAUHARNOIS, Félicité (pseudonym?).
Zoraïm, ou les aventures d'un musulman; traduit de l'Anglois, par la c. Félicité Beauharnois, auteur de la Dot de Suzette.
Very rare (only one copy traced) cautionary tale against ambition and vengeance, set in the Ottoman world, and penned during the French Revolution.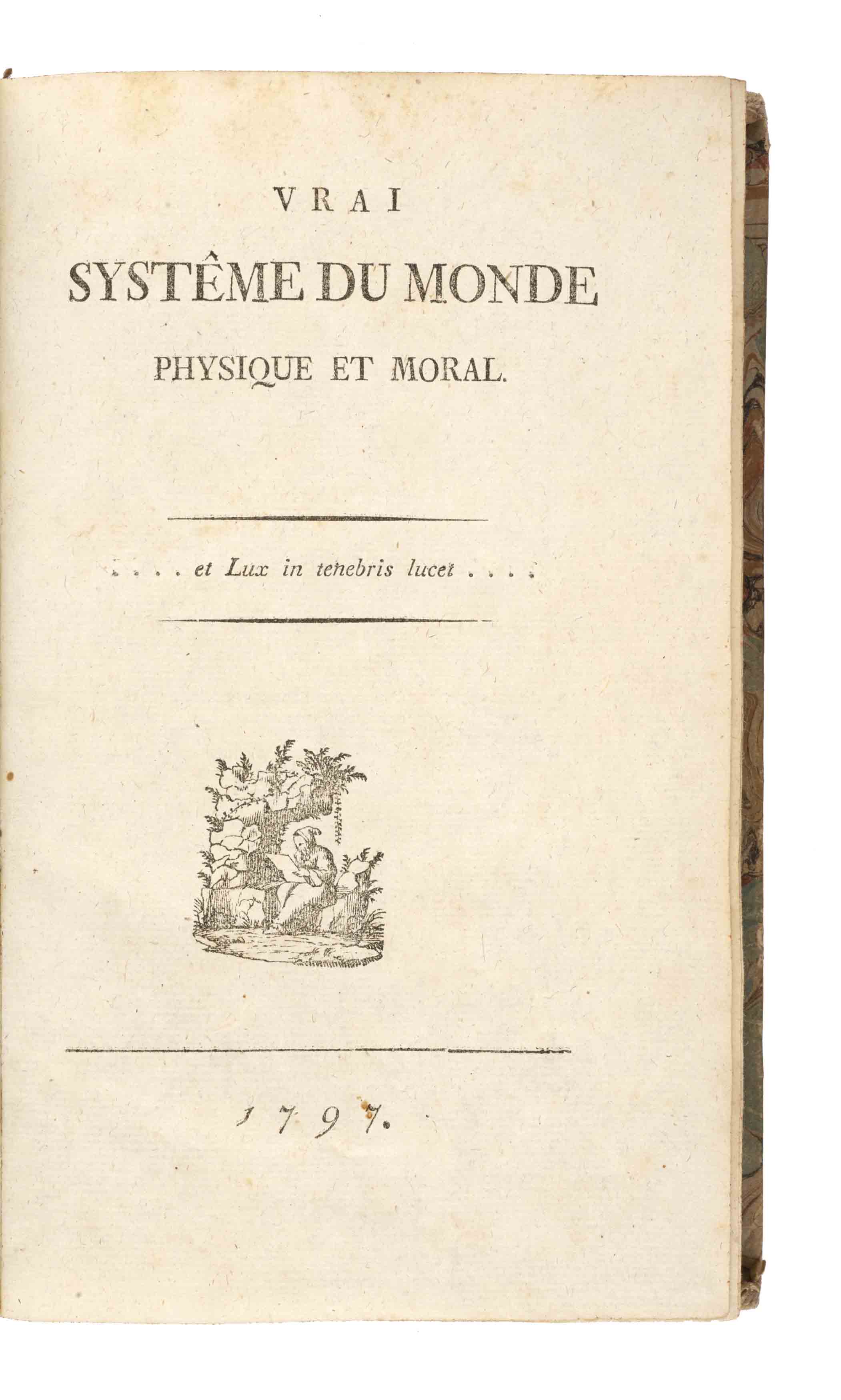 FLORENT DE SALES [pseudonym].
Vrai systême du monde physique et moral. [s.n., s.l., but Switzerland], 1797.
Only edition, rare, of this utopia, the identity of whose author, and even of whose printer, remains unknown.