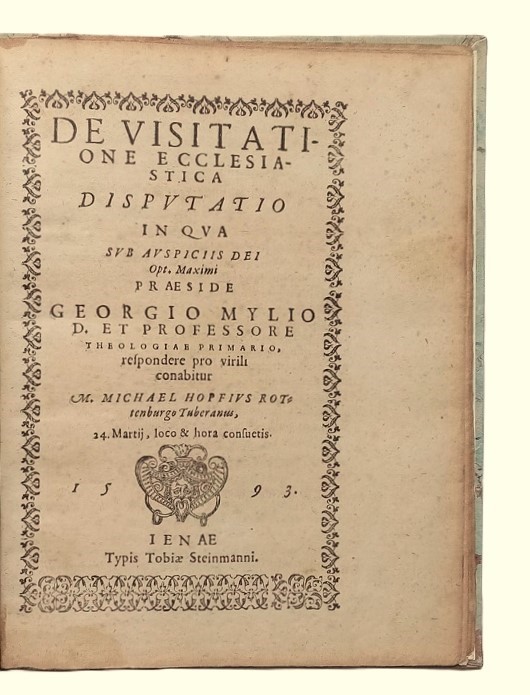 MYLIUS, Georg, and Michael HOPF.
De visitatione ecclesiastica.
Jena, Tobias Steinmann, 1593.
4to, ff. [12]; with typographical border and engraved printer's device on title; some uniform browning to the second and third quires, but a good copy, bound in modern marbled boards.
£200

Approximately:
US $274
€234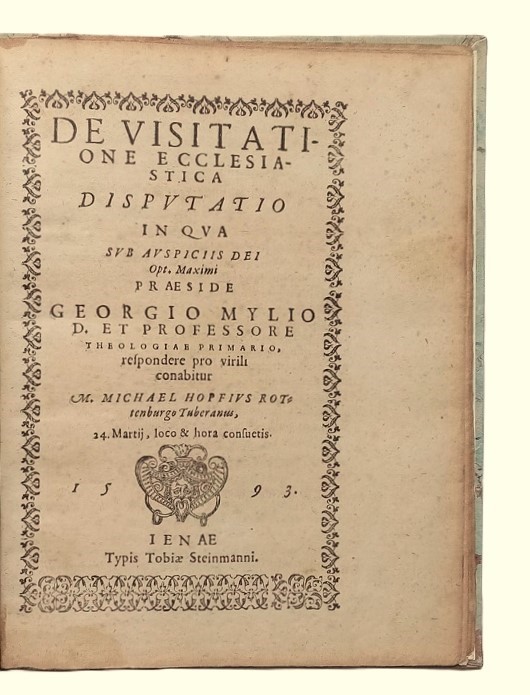 Added to your basket:
De visitatione ecclesiastica.
First edition, rare, of an early work on the nature, scope, limits and jurisdiction of canonical visitations, the visitationes ecclesiasticae, a key element in the outline of jurisdiction, responsibility and control established by the Catholic Reformation in the last decades of the sixteenth century.

The visitatio, a practice incumbent on patriarchs, primates, metropolitans and bishops, was systematically introduced and given legal and binding substance by the Council of Trent 'with a view of maintaining faith and discipline, and of correcting abuses by the application of proper remedies' (Catholic Encyclopedia). The Council determined that '"the principal object of all the visitations shall be to lead men to sound and orthodox doctrine by banishing heresies, to maintain good morals, and to correct such as are evil; by admonition and exhortation to animate the people to religion, peace, and innocence, and to put in vogue whatever else may be dictated by the prudence of the visitors for the benefit of the faithful, as time, place and opportunity shall permit"' (ibid.).

VD16, M 5401. OCLC finds a sole copy in the US, at Harvard Divinity School.
You may also be interested in...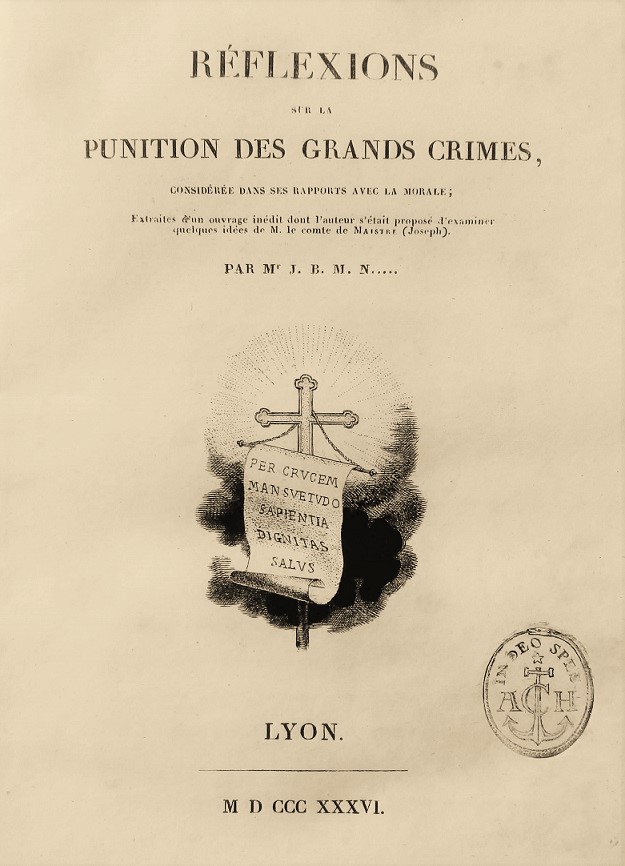 [NOLHAC, Jean-Baptiste-Marie.]
Réflexions sur la punition des grands crimes, considérée dans ses rapports avec la morale, extraites d'un ouvrage inédit dont l'auteur s'était proposé d'examiner quelques idées de M. le comte de Maistre (Joseph).
First and only edition, inscribed from the author. An extensive essay against the death penalty, and especially against public executions by Jean-Baptiste-Marie Nolhac (1770-1878) using arguments derived from 'la digité de la nature humaine et du danger des spectacles sanglants', written in response to an unpublished work by the prominent Counter-Enlightenment thinker Joseph de Maistre (1753-1821). The text includes a discussion of prisons, proposing reform with progressive objectives: 'Punir le coupable, pour retenir ceux qui n'ont d'autre frein que la crainte. Le rendre meilleur, pour que son changement soit, pour lui comme pour les autres, la plus grande réprobation du vice, et une réparation éclatante de l'outrage fait à l'image de Dieu'.
MENDELSSOHN, Moses.
Jerusalem oder über religiöse Macht und Judenthum.
First posthumous edition, originally published in 1783 by Friedrich Maurer in Berlin, of this later work by Mendelssohn (1729–1786), in which he supports religious and political toleration, and advocates separation of church and state and civil equality for Jews. The work was reprinted as recently as 2001.