(NAPLES) GELAS, S. .
Catalogue des statues en bronze exposées dans une grande salle du Musée Bourbon á Naples.
Naples, 1820
8vo, pp. 40, uncut, in old wrappers.
£150

Approximately:
US $210
€168
Uncommon pocket guide to the antique bronzes of the then Real Museo Borbonico in Naples. The bronzes described here were either excavated at Pompeii or Herculaneum or came from the Farnese collection. The critical descriptions give a wealth of information.

COPAC only locates the Oxford copy; OCLC only locates the Pennsylvania copy in US; and ICCU locates only a copy in Naples.
You may also be interested in...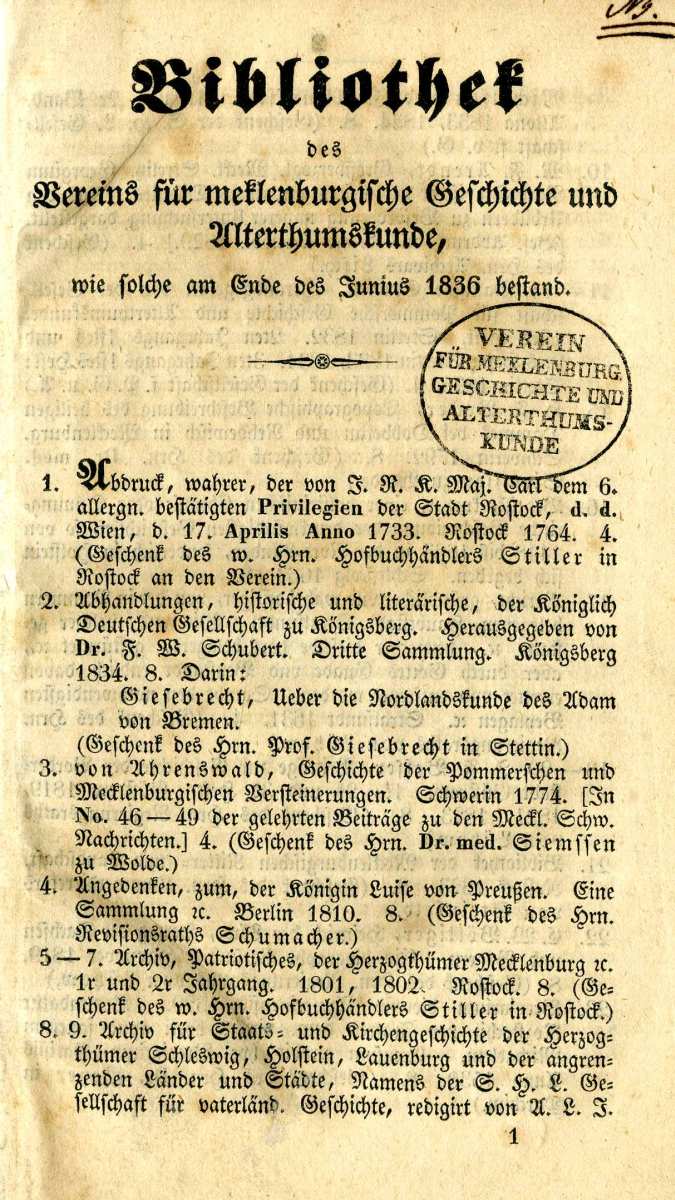 (SCHWERIN) (GLOECKER, A.F.W).
Bibliothek des Vereins für Meklenburgische Geschichte und Alterthumskunde, wie solche am Ende des Junius 1836 bestand.
The Verein für Mecklenburgische Geschichte ('Association for the history of Mecklenburg') was founded in 1835. Here we have the catalogue of its library, with over 1500 books, as it grew over the years from its foundation to 1844. This is a fascinating record of local interest books, some published contemporarily but many from the preceding centuries, donated by its member. The library grew at a healthy speed of a few hundred books each year, and all had local interest. There was also a fine collection of books printed in the county of Mecklenburg. Mecklenburg is a relatively little known region in northern Germany, with Schwerin and the ports of Wismar and Rostock as its main towns.
YOUNG, John.
A catalogue of the pictures at Grosvenor House, London; with etchings of the whole collection … and accompanied by historical notices …
First edition and earliest catalogue of the Grovenor picture collection finely printed by Bulmer, and with reproductive etchings of all the pictures by Young. The Grosvenor picture collection was one of the finest in London. The Earl of Grosvenor employed the King's Keeper of Pictures as his agent in Italy, but also patronised the English School, with paintings by Gainsborough, West ('Death of Wolfe'), Wilson and Stubbs. His son Robert added choice pictures from Madrid, the entire collection of Welbore Ellis Agar, a Rembrandt from the King of Sardinia, a couple of Rubens' from the Convent of Loeches, a Titian from the Barberini Gallery, etc.