NEUHAUSS, Dr. Richard.
Microphotographs of snow crystals and ice structures,
1892 –93.
Two gelatin silver prints, 4⅜ x 3⅝ inches (11.1 x 9.3 cm.) and 4⅝ x 3½ inches (11.8 x 8.8 cm.), mounted as cabinet cards, 6½ x 4¼ inches (16.6 x 10.8 cm.), photographer's reference number, blindstamp and notes in manuscript on mounts.
£1200

Approximately:
US $1528
€1386
Added to your basket:
Microphotographs of snow crystals and ice structures,
Dr. Richard Neuhauss (1855 –1915) was an anthropologist and doctor of tropical medicine, who took a world tour in 1884. He had a broad interest in scientific photography, which he used for academic purposes, and in 1894, alongside his professional work, he became the director and editor of the Photography Rundschau, a German journal for amateur photographers. As an anthropologist he spent time between 1908 and 1910 in German New Guinea. His interests also extended to botany and flight. After the outbreak of the First World War, he directed a disease station in Berlin-Lichterfelde, where he was to die of an infection.

He made a series of microphotographs in the winter of 1892–93 revealing the otherwise invisible and unique patterns within snow and ice.
You may also be interested in...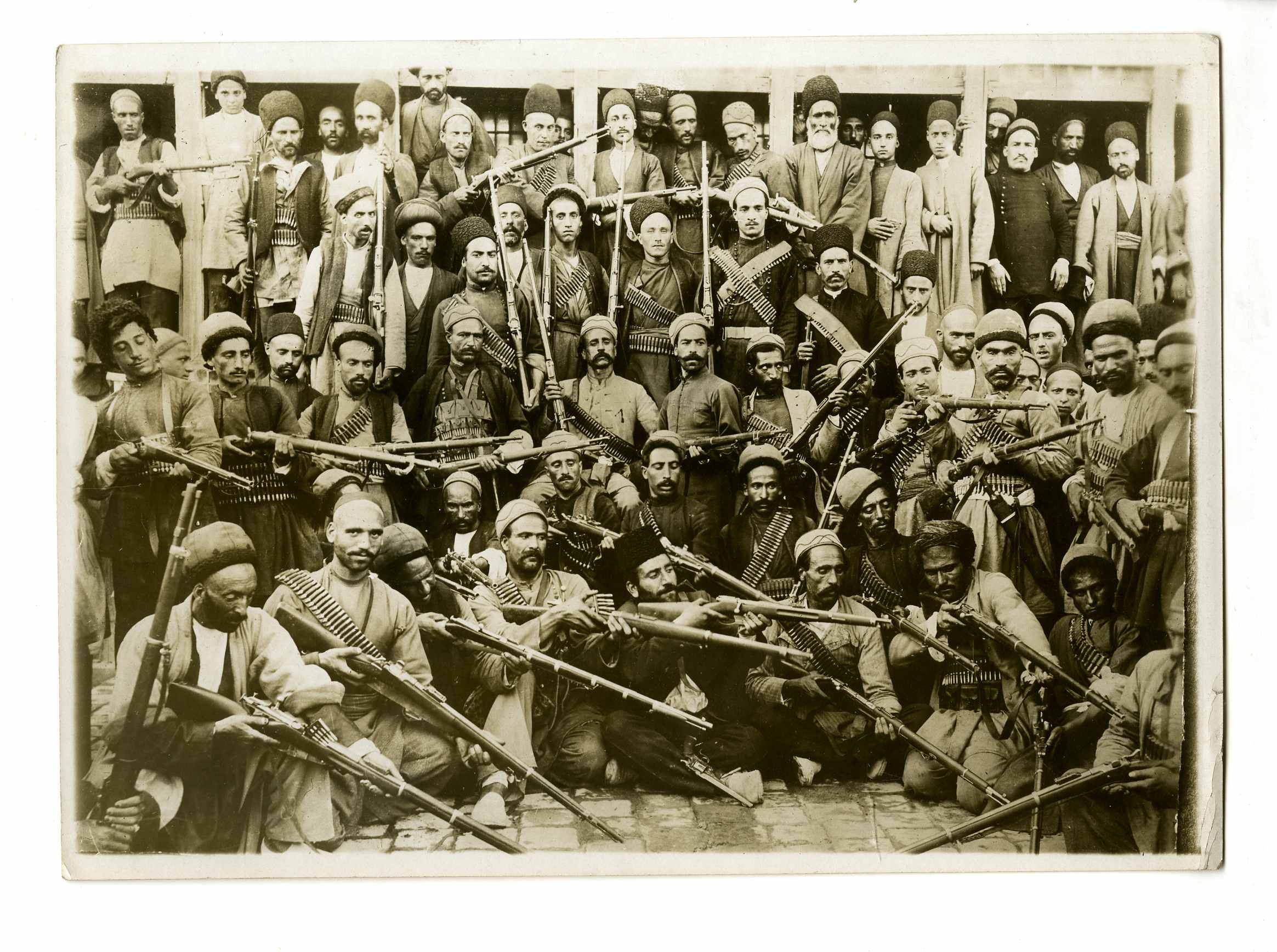 PERSIAN REVOLUTIONARIES: A DISPLAY OF FORCE HARLINGUE, L. [Albert].
'Baktiaris Persans'.
An impressive press image of the Bakhtiari tribe – revolutionaries in the Persian Constitutional Revolution of 1905-1911 – here posing in strength with their weapons. Their leader, Sardar As'ad Bakhtiari (1856-1917), was a key figure in the Iranian revolution; under his command (and with German Empire weapons) these forces captured Tehran in 1909 to reinstate the constitution, heralding the modern era.
SCOWEN & CO.
Kigelia Pinnata,
Charles Scowen arrived in Ceylon around 1873 and was initially an assistant to R. Edley, the Commission Agent in Kandy before opening a photographic studio around 1876. By 1885 his photography firm had studios in Colombo and Kandy. Scowen was a later arrival to Ceylon than Skeen and his work is less well-known, but: 'Much of Scowen's surviving work displays an artistic sensibility and technical mastery which is often superior to their longer-established competitor. In particular, the botanical studies are outstanding…' (Falconer, J. and Raheem, I., Regeneration: a reappraisal of photography in Ceylon 1850 –1900, p. 19). In the early 1890s the firm was being run by Mortimer Scowen, a relative of Charles Scowen. By about 1894 the firm's stock of negatives had been acquired by the 'Colombo Apothecaries Co Ltd'.