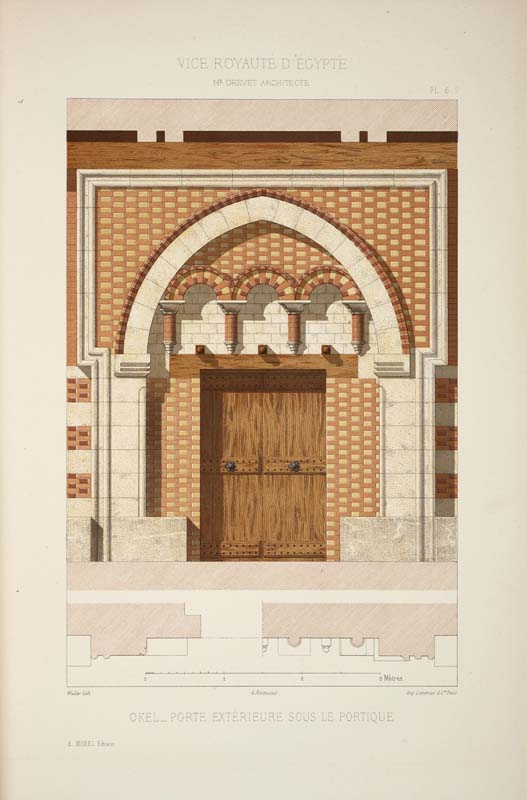 PRESENTED TO CHARLES GARNIER
NORMAND, Alfred Nicolas.
L'architecture des nations étrangères. Etude sur les principales constructions du parc à l'Exposition Universelle de Paris (1867).
Paris, A. Morel, 1870.
Folio, pp. [iv], 27, [3], with 56 plates (numbered to 73), of which eleven are chromolithographed and four are double-page; some light spotting and dust-soiling (generally restricted to plate margins), but a very good copy in recent red morocco-backed marbled boards, spine richly gilt. `
£4000

Approximately:
US $4856
€4732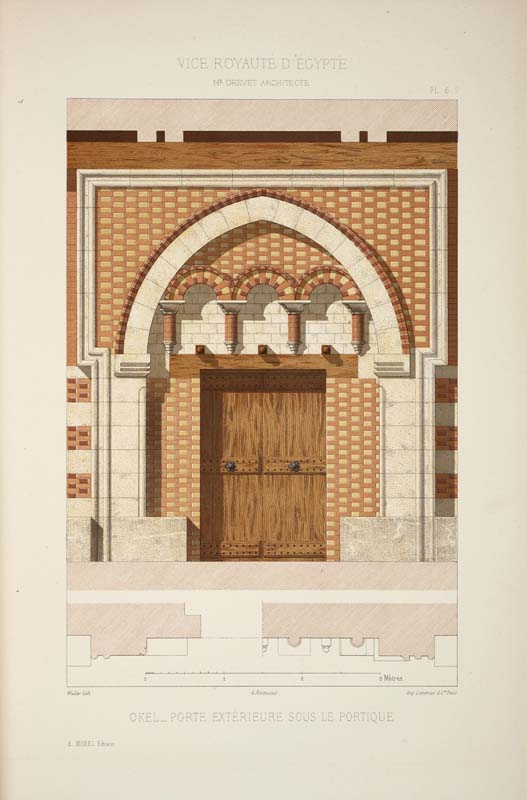 Added to your basket:
L'architecture des nations étrangères. Etude sur les principales constructions du parc à l'Exposition Universelle de Paris (1867).
First edition. This is a presentation copy, inscribed on the half-title to the author's friend Charles Garnier, architect of the Paris opera house that bears his name: 'A son ami Ch. Garnier. Souvenir affectueux A. Normand'. The two men had known each other since they were both 'pensionnaires' at the Academy of France in Rome in the late 1840s and early 1850s.

Normand's work is a detailed record of the principal edifices of the vast architectural theme park constructed for the Exposition Universelle of 1867, 'a spectacle without equal which, in all probability, future generations will never have the opportunity to witness' (translated from Normand's preface). The 1867 exhibition was the first such event to feature actual buildings (temples, palaces, houses, schools) rather than mere models or architectural drawings. Normand devotes most attention to the Egyptian section (designed by Jacques Drevet) and to those of Tunisia and Morocco (both designed by Alfred Chapon).

'In 1867 Tunisia's and Morocco's displays in Paris seemed to some observers a deliberate escape from the economic and political upheavals the two countries were experiencing. Agricultural, industrial, and commercial spheres were omitted: instead, there were palaces with exuberant interiors and furniture, royal costumes, and armour – simply "everything that glitters, shines, and adorns". Others noted the artistic value of the Tunisian and Moroccan pavilions. Alfred Normand claimed that they "were important not only for their size, but also for their tastefulness, their picturesque effect, and especially the brand new and charming sensation that they arouse in us . . . . [Here was] a particular type of dwelling, where art was not excluded . . . from everyday activities" ' (Zeynep Çelik, Displaying the Orient: architecture of Islam at nineteenth-century World's Fairs, pp. 122–3).

Alfred Normand (1822–1909) was an architect and a photographer. His most notable commission was the celebrated Pompeian-style villa (now demolished) built for the prince Jérôme Bonaparte on the Avenue Montaigne in Paris.
You may also be interested in...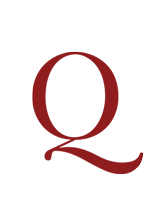 [SELIM I, Sultan.]
Das ist ein anschlag eins zugs wider die Türcken. Und alle die wider den Christenlichen glauben seind.
The expansion of the Ottoman empire during the reign of Sultan Selim I (1512–20) was closely watched throughout Europe, which was both fascinated and fearful of the rise of Ottoman power. The present pamphlet, of which there were several editions, at Nuremberg and other cities in the German-speaking lands, is an estimate of the forces and funds that might be raised by European religious houses for an expedition against the Turks. 'The crusade as a serious military venture aroused more publicity and discussion in the years 1517–20 than it had for decades. One clear sign of this is the proliferation of crusade tracts, including the reappearance of a curious Franciscan project first put forward in 1474, which suggested an army of 500,000 men paid for by monasteries, convents, and those parishes in the hands of the mendicant orders' (N. Housley, The later crusades, 1274–1580 p. 126).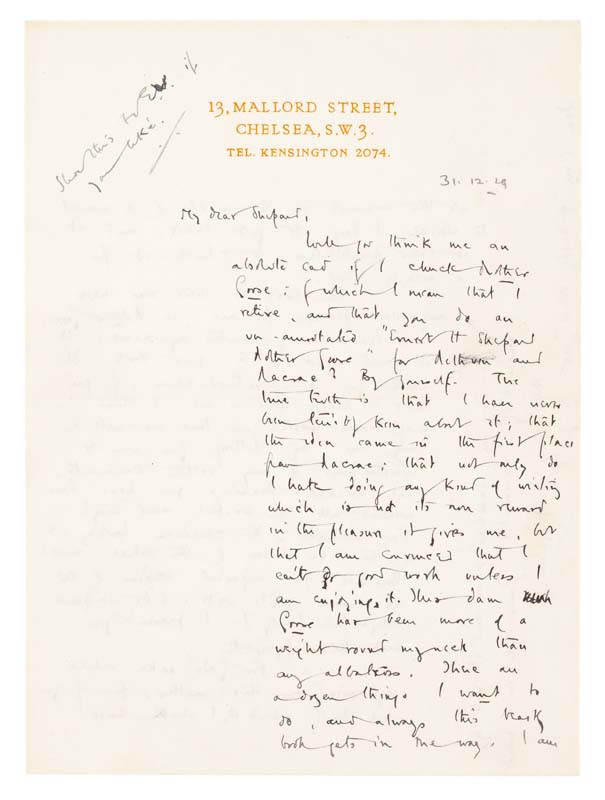 'I CAN'T DO GOOD WORK UNLESS I AM ENJOYING IT' MILNE, A. A.
Autograph letter, signed, to 'my dear Shepard', his friend and collaborator the illustrator Ernest. H. Shepard,
A fine and touching letter between two of the most famous collaborators in all of children's literature, in which Milne's discusses his difficulties with a projected edition of Mother Goose.