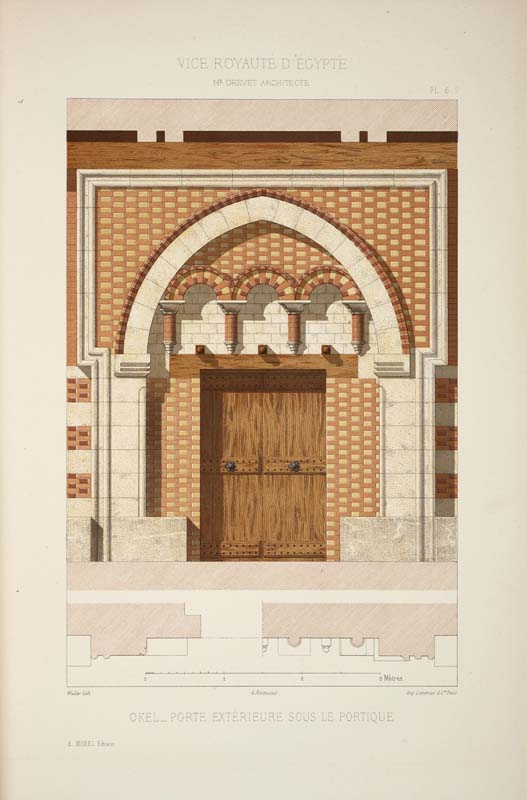 PRESENTED TO CHARLES GARNIER
NORMAND, Alfred Nicolas.
L'architecture des nations étrangères. Etude sur les principales constructions du parc à l'Exposition Universelle de Paris (1867).
Paris, A. Morel, 1870.
Folio, pp. [iv], 27, [3], with 56 plates (numbered to 73), of which eleven are chromolithographed and four are double-page; some light spotting and dust-soiling (generally restricted to plate margins), but a very good copy in recent red morocco-backed marbled boards, spine richly gilt. `
£4000

Approximately:
US $4883
€4481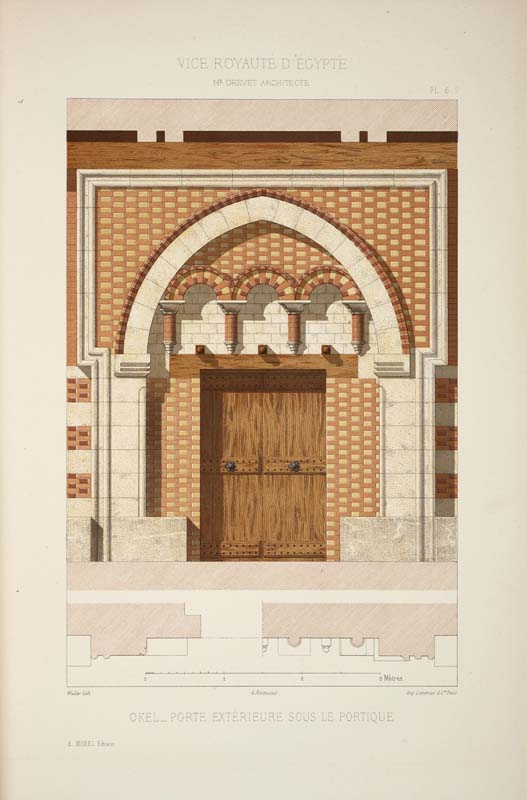 Added to your basket:
L'architecture des nations étrangères. Etude sur les principales constructions du parc à l'Exposition Universelle de Paris (1867).
First edition. This is a presentation copy, inscribed on the half-title to the author's friend Charles Garnier, architect of the Paris opera house that bears his name: 'A son ami Ch. Garnier. Souvenir affectueux A. Normand'. The two men had known each other since they were both 'pensionnaires' at the Academy of France in Rome in the late 1840s and early 1850s.

Normand's work is a detailed record of the principal edifices of the vast architectural theme park constructed for the Exposition Universelle of 1867, 'a spectacle without equal which, in all probability, future generations will never have the opportunity to witness' (translated from Normand's preface). The 1867 exhibition was the first such event to feature actual buildings (temples, palaces, houses, schools) rather than mere models or architectural drawings. Normand devotes most attention to the Egyptian section (designed by Jacques Drevet) and to those of Tunisia and Morocco (both designed by Alfred Chapon).

'In 1867 Tunisia's and Morocco's displays in Paris seemed to some observers a deliberate escape from the economic and political upheavals the two countries were experiencing. Agricultural, industrial, and commercial spheres were omitted: instead, there were palaces with exuberant interiors and furniture, royal costumes, and armour – simply "everything that glitters, shines, and adorns". Others noted the artistic value of the Tunisian and Moroccan pavilions. Alfred Normand claimed that they "were important not only for their size, but also for their tastefulness, their picturesque effect, and especially the brand new and charming sensation that they arouse in us . . . . [Here was] a particular type of dwelling, where art was not excluded . . . from everyday activities" ' (Zeynep Çelik, Displaying the Orient: architecture of Islam at nineteenth-century World's Fairs, pp. 122–3).

Alfred Normand (1822–1909) was an architect and a photographer. His most notable commission was the celebrated Pompeian-style villa (now demolished) built for the prince Jérôme Bonaparte on the Avenue Montaigne in Paris.
You may also be interested in...
CZECH PORTRAIT GALLERY KUTHEN ZE SPRINSBERKA, Martin.
Catalogus ducum regumque Bohoemorum in quo summatim gesta singulorum singulis distichis continentur. In super additae sunt eorum facies iconicae, et ad vivum deliniatae.
First edition of a fine and rare portrait book of the Bohemian (Czech) rulers by the Czech historian Martin Kuthen ze Sprinsberka (c. 1510–1564), with brief contributions by Friedrich Nausea, Johannes Rosinus, Matouš Collinus, and Šimon Villaticus.
WITH 32 ORIGINAL DRAWINGS FROSSARD, Louis.
Vues prises a Avignon, Villeneuve, Orange, Arles, et autres Lieux Circonvoisins; accompagnées d'un texte descriptif, de souvenits historiques et de divers itinéraires …
First edition, rare, a presentation copy, inscribed 'donné à Aug. Picart par Mr L. Frossard. Avignon 21 février 1843', and with an album of original drawings similarly inscribed (in a different hand).