SECOND, ENLARGED EDITION OF A BEST-SELLING ACCOUNT OF RUSSIA AND THE CRIMEA ON THE EVE OF THE CRIMEA
OLIPHANT, Laurence.
The Russian Shores of the Black Sea in the Autumn of 1852 with a Voyage down the Volga, and a Tour through the Country of the Don Cossacks ... Second Edition – Revised and Enlarged.
Edinburgh and London: William Blackwood and Sons, 1853.
8vo (215 x 135mm), pp. [iii]-xiv (title, imprint on verso, preface to second edition, preface to first edition, blank, contents), [2 (list of illustrations, verso blank)], [1]-380; tinted lithographic frontispiece by W. & A.K. Johnstone after Oliphant, wood-engraved head- and tailpieces and illustrations, 2 lithographic maps by W. & A.K. Johnston, one folding and bound to throw clear; bound without the half-title and the advertisements found in some copies, some light marking and light marginal browning, map marked and with short, skilfully-repaired tears; contemporary half green calf over marbled boards, spine gilt in compartments, gilt morocco lettering-piece in one, all edges speckled red, green silk marker; extremities a little rubbed and bumped, otherwise a very good copy.
£125

Approximately:
US $160
€137
Added to your basket:
The Russian Shores of the Black Sea in the Autumn of 1852 with a Voyage down the Volga, and a Tour through the Country of the Don Cossacks ... Second Edition – Revised and Enlarged.
Second edition, revised and enlarged. The diplomat and traveller Oliphant (1829-1888) and his companion Oswald Smith journeyed through Russia and the Crimea shortly before the outbreak of the Crimean War, and his overview of the region also includes details of visits to Nizhnii Novgorod (which is depicted in the frontispiece) and other Russian cities, including Sevastapol, which Oliphant and Smith entered in disguise in order to map its fortifications. Nerhood considers that Oliphant 'describes places and people in an informative way, especially the long journey down the Volga River, with its peculiar means of transportation and the peoples along its banks', and this, together with the approach of the Crimean War (which led Lord Raglan to approach Oliphant for information), ensured the work's popularity. The first edition appeared in late 1853 as the Crimean War broke out (an advertisement on p. 10 of The Times of 25 October 1853 describes it as 'preparing for publication') and this second edition was published shortly afterwards (the preface is dated December 1853), with an additional chapter, since '[t]he Eastern Question has now assumed so serious an aspect, that facts connected with the Russian Shores of the Black Sea, which at the period of my visit in 1852 were devoid of any special political interest, are invested with the utmost importance, for it is possible that the southern portion of the Empire may shortly become the theatre of war, and considerations, the value of which I scarcely appreciated a few months ago, have since occurred to me as possessing strong claims upon our attention' (p. [v]). Third and fourth editions, which were reprints of this second edition, appeared in 1854.

Abbey Travel 233; Bibliothéque Impériale Publique de St.-Pétersbourg, Catalogue de la section des Russica O-327; for the 1st ed., cf. Cross, In the Land of the Romanovs G122 (dating the 2nd ed. to 1854); Nerhood 242.
You may also be interested in...
IN MEMORY OF HIS DAUGHTERS LA SERRIE, François-Joseph de.
Dithyrambes, ou petites élégies; dédiées à Madame Le Pédour, Annette-Sergent Pain (de Rochefort); par M. de La Serrie (de la Vendée); avec cinq sujets dessinés et gravés soigneusement de sa main.
Very rare first edition of this collection of twenty-one elegies composed by the writer, artist and engraver François-Joseph de La Serrie (1770-1819), largely inspired by the deaths of his two daughters Marie Louise Aspasie, who died aged 15 in 1812, and Marie Rosalie-Cecile Virginie, who passed away three years later at the age of 23. The occasionally moving verse – in élégie XV the author struggles to explain his daughter's death to his grandson – dwells on the themes of death, sorrow, hope, friendship, prayer and faith. The handsome accompanying plates, also by the author, depict Mary and the infant Jesus, his daughters' tombs, St Cecilia, and St Similien of Nantes. The notes at the end include interesting passages on ancient libraries and on printers, including praise for the Didot family.
La Serrie's works – which range across literature, philosophy and art, and include a life of Mary, Queen of Scots – were carefully printed in small numbers and distributed to his friends. This copy was presented by the author to a Madame Gillet.
Only one copy traced on OCLC, at the BnF. Not in Quérard.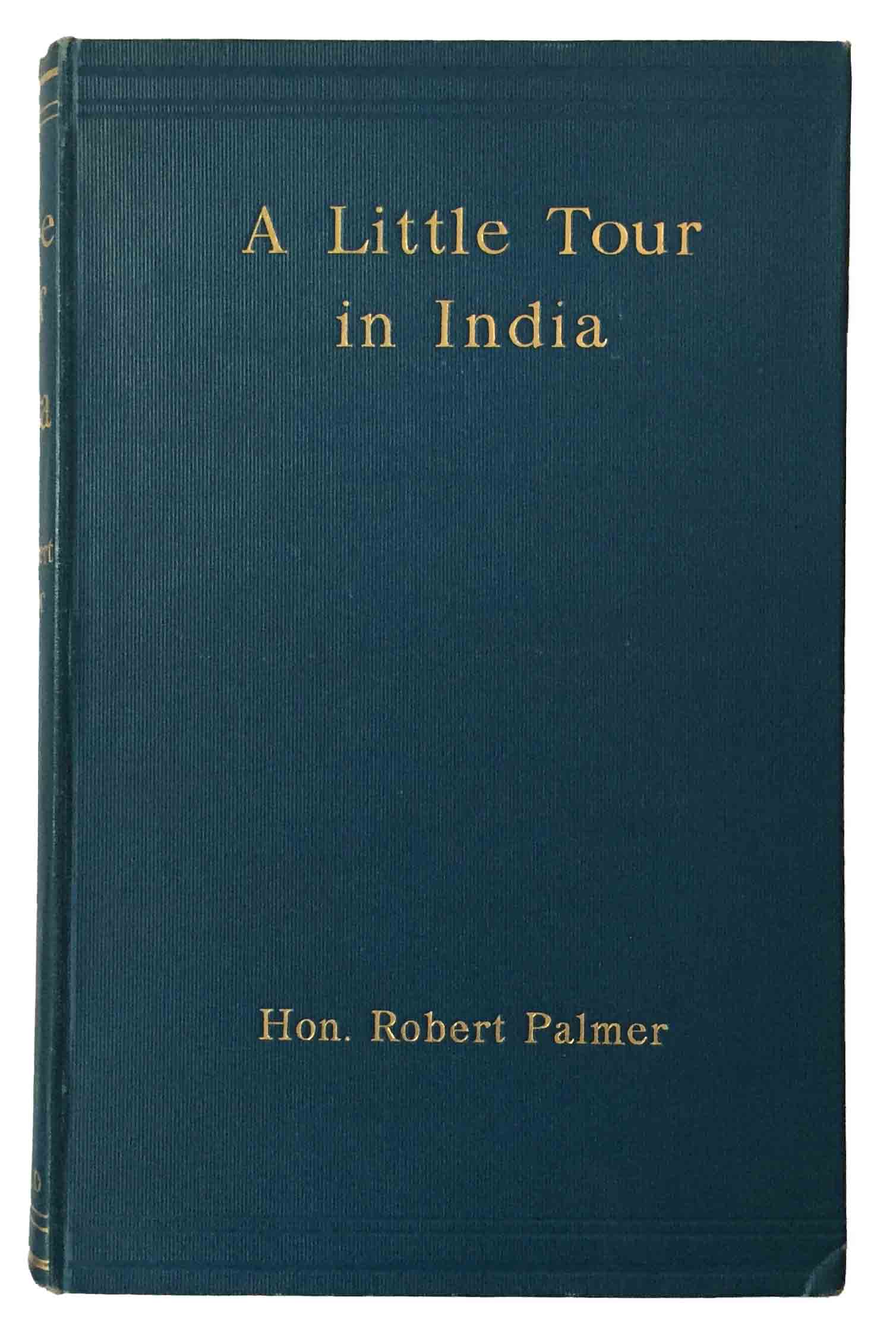 TRAVELS THROUGH INDIA AT THE TIME OF THE DURBAR PALMER, Robert Stafford Arthur, the Hon.
A Little Tour in India.
First edition. Palmer was the son of the politician and colonial administrator William Palmer, Earl of Selborne, and was educated at Winchester College and University College, Oxford, where he took First Classes in Classical Moderations and Literae Humaniores, obtained distinction in the examination for the Ireland Scholarship, and was President of the Union. In 1911 Palmer visited India and his experiences are recorded in this series of letters, written to members of his family between 1 December 1911 and 5 May 1912; as the author explains in his introduction, on his return to England 'I found that they had been collected and typewritten: and I was persuaded to publish them. [...] Excepting the omission of private passages and the insertion of some few paragraphs from a diary, the letters are printed as they passed through the post, a fact which accounts for sundry monstrosities of syntax – barbarous parentheses, unattached pronouns, mixed tenses. It was thought better to leave these than to disguise rough impressions with a thin varnish of literary elaboration' (p. vii).