ORDINAL.
'Prieres et ceremonies de l'ordination 1766'.
Diocese of Soissons, France, 1766.
Manuscript on paper, in French, with a few words of Latin, small 4to (20 x 14.5 cm), ff. [59]; very neatly written in brown ink in two hands; very good, clean and crisp, in contemporary red morocco, gilt borders and corner pieces to covers, spine gilt with green morocco lettering-piece, gilt edges, marbled endpapers; a few marks to covers.
£600

Approximately:
US $819
€673
Added to your basket:
'Prieres et ceremonies de l'ordination 1766'.
An attractive manuscript ordinal detailing the ceremonies to be followed and the prayers to be employed in ordinations, covering the tonsure, admission to the minor orders of porter, lector, exorcist, and acolyte, and admission to the major orders of subdeacon, deacon, and priest.
Reference to Henri-Joseph-Claude de Bourdeilles (1720-1802), Bishop of Soissons from 1764 to 1790, indicates that our manuscript was employed in the diocese of Soissons, in the north of France.
On the tonsure the text states: 'On prepare des ciseaux pour couper les cheveux et un bassin pour les mettre'. Lectors are instructed by the bishop: 'Appliquez vous donc à prononcer la parole de Dieu, c'est à dire les lectures saintes, d'une maniere distincte et intelligible, et sans aucune alteration ou falsification , afin que les fidéles en soient instruits et édifiés.' And exorcists are told: 'vous recevez donc le pouvoir d'imposer les mains sur les possedés et par l'imposition de vos mains, par la grace du St Esprit, et par les paroles des exorcismes les esprits impurs sont forcés de sortir des corps qu'ils possedoient.'
You may also be interested in...
MANUSCRIPT POCKETBOOK OF POETRY SCHULENBURG, Graf von der (compiler).
'Poesies Francoises sur diverses sujets composée par plusieurs celebres auteurs et recuelly par D.C.G. C de Schoulenbourg à Förste l'ann 1742'.
A charming manuscript compendium of French poetry in an attractive binding and slipcase, compiled at Förste in South Lower Saxony by a member of the distinguished von der Schulenburg family. The selection of love poems, spiritual and satirical verse, epitaphs, and songs (including one poem titled 'Sur un livre donné à sa majesté Brittannique intitule Il gyro del mondo') is drawn from seventeenth-century writers including Boileau, Fénelon, Le Pays, Pavillon, Racine, and Scarron.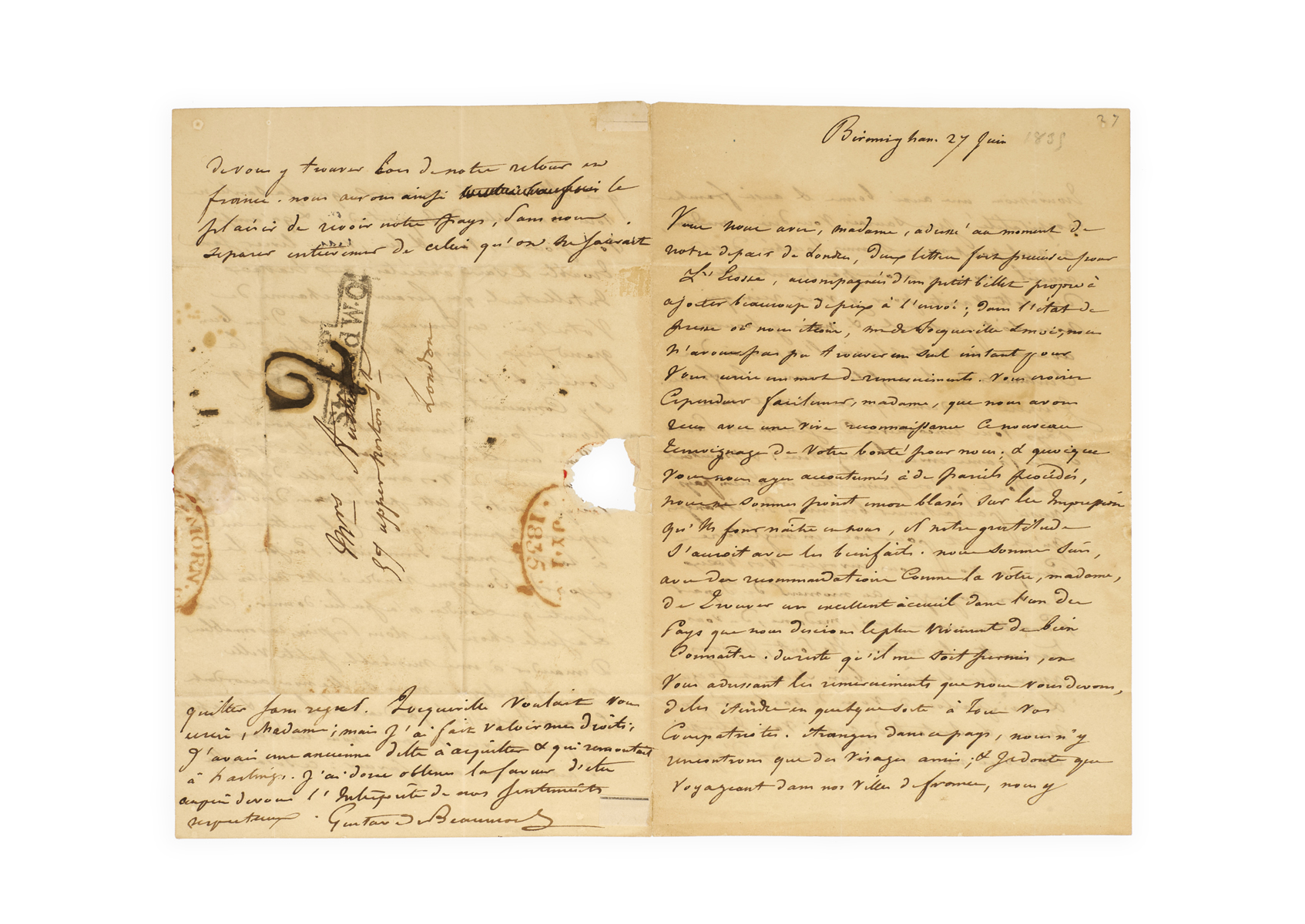 PRAISE FOR ENGLISH HOSPITALITY FROM TOCQUEVILLE AND BEAUMONT BEAUMONT, Gustave-Auguste de la Bonninière de (1802–1866), French prison reformer and travel companion to Alexis de Tocqueville.
Autograph letter signed ('Gustave de Beaumont') to Sarah Austin.
A warm and personal autograph documenting the relationship between the reformer Beaumont and one of the most accomplished contemporary catalysts of philosophical exchange, the translator Sarah Austin. In 1831 Beaumont was sent by the French government with his friend and colleague Alexis de Toqueville to study the prison system in America, a trip that resulted in several publications, not least Toqueville's De la démocratie en Amérique. Beaumont was particularly struck by the number of Black slaves in America and in the same year as this letter wrote a novel on the subject.