ORDINAL.
'Prieres et ceremonies de l'ordination 1766'.
Diocese of Soissons, France, 1766.
Manuscript on paper, in French, with a few words of Latin, small 4to (200 x 145 mm approx.), ff. [59]; very neatly written in brown ink in two hands; very good, clean and crisp, in contemporary red morocco, gilt borders and corner pieces to covers, spine gilt with green morocco lettering-piece, gilt edges, marbled endpapers; a few marks to covers.
£600

Approximately:
US $831
€691
Added to your basket:
'Prieres et ceremonies de l'ordination 1766'.
An attractive manuscript ordinal detailing the ceremonies to be followed and the prayers to be employed in ordinations, covering the tonsure, admission to the minor orders of porter, lector, exorcist, and acolyte, and admission to the major orders of subdeacon, deacon, and priest.

Reference to Henri-Joseph-Claude de Bourdeilles (1720–1802), Bishop of Soissons from 1764 to 1790, indicates that our manuscript was employed in the diocese of Soissons, in the north of France.

On the tonsure the text states: 'On prepare des ciseaux pour couper les cheveux et un bassin pour les mettre'. Lectors are instructed by the bishop: 'Appliquez vous donc à prononcer la parole de Dieu, c'est à dire les lectures saintes, d'une maniere distincte et intelligible, et sans aucune alteration ou falsification , afin que les fidéles en soient instruits et édifiés.' And exorcists are told: 'vous recevez donc le pouvoir d'imposer les mains sur les possedés et par l'imposition de vos mains, par la grace du St Esprit, et par les paroles des exorcismes les esprits impurs sont forcés de sortir des corps qu'ils possedoient.'
You may also be interested in...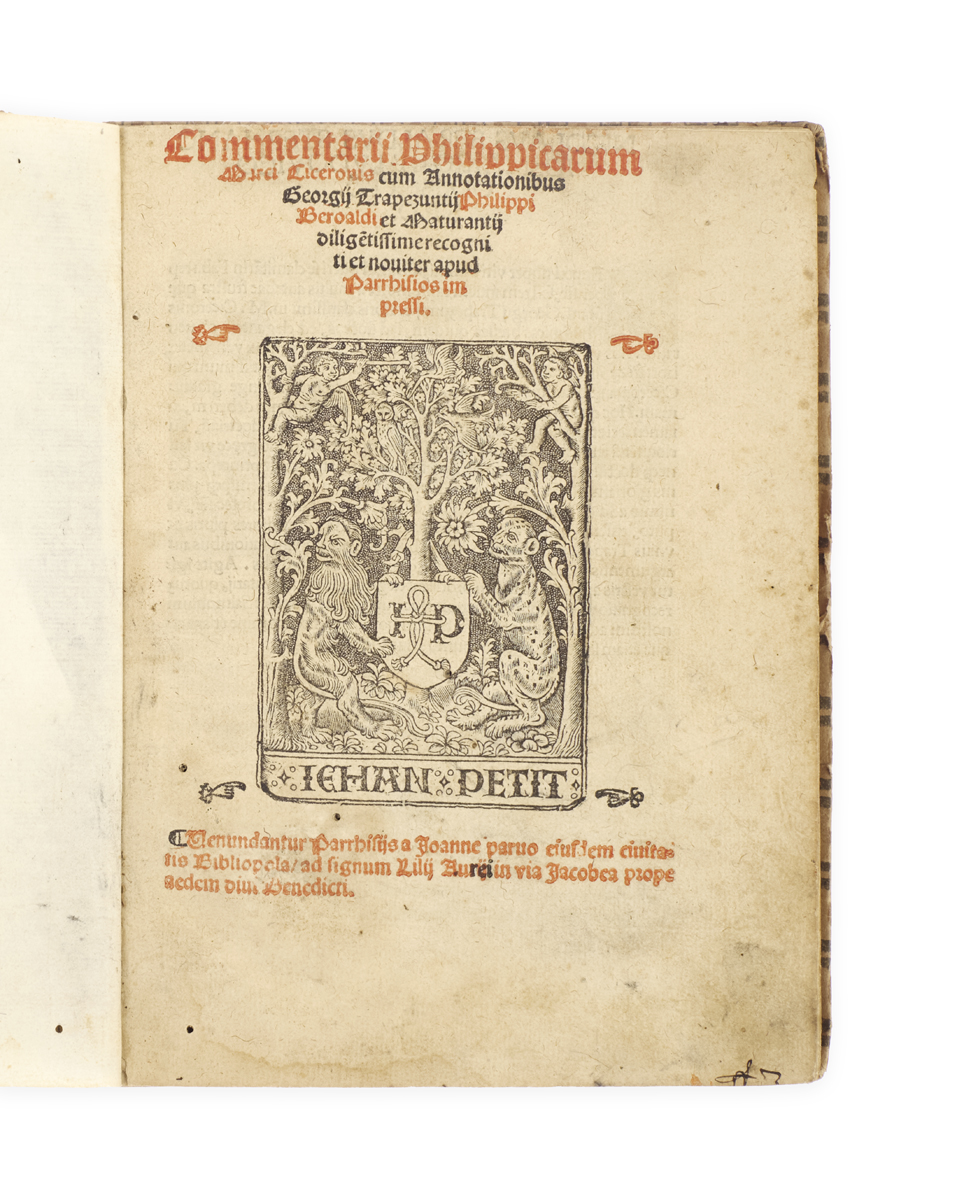 [CICERO, Marcus Tullius.]
Commentarii Philippicarum Marci Ciceronis cum annotationibus Georgii Trapezuntii Philippi Beroaldi et maturantii diligentissime recogniti et novited apoud Parrihisios impressi.
Rare edition, attractively printed and with occasional contemporary annotations, of Cicero's Philippics, comprising Cicero's text along with the commentaries of the Cretan humanist George of Trebizond (1396–1486), the Bolognese rhetorician Filippo Beroaldo (1453–1505), and the Perugia historian Francesco Maturanzio (c. 1443–1518). The printer, Thomas Caseus (or Kees) was active in Paris between 1507 and 1516.
HESIOD.
Poemata Hesiodi Ascraei, quae extant, omnia, Graece, cum varia interpretatione Latina. Una cum doctissimis Ioannis Tzetzis grammatici in omnia poemata eiusdem scholiis, nunc primum ex Graeco sermone in Latinum conversis, et in lucem editis, a Georgio Henischio ...
A handsome copy of Hesiod's poems, in a Justice and Lucretia binding, used by a student in Strasbourg at the end of the eighteenth century.