'MY FATHER OSBORNE' (SAMUEL PEPYS)
OSBORNE, Francis.
A sammelband of five works by Osborne.
Oxford and London, 1656-9.
12mo; occasional small marks, some marginal ink and pencil markings; very good copies in seventeenth-century calf; a little rubbed, head and tail bands broken, upper joint cracked at head, head of spine chipped, typed paper label to spine; initials I.L. in blind to upper cover, armorial bookplate of Hugh Cecil Earl of Lonsdale, small circular Selbourne Library ink stamp to verso of title and foot of p. 51 of first item.
£650

Approximately:
US $916
€757
Added to your basket:
A sammelband of five works by Osborne.
An attractive sammelband containing the chief works of Francis Osborne (1593–1659), whom Pepys fondly called 'my father Osborne'. After a career spent in various minor offices, Osborne's final years in Oxford were extraordinarily productive. His output of historical, political, and moral works from this period, influenced by the thinking of his friend Thomas Hobbes, were widely read during the Restoration and first part of the eighteenth century, making their author something of a celebrity. Advice to a Son, here in the enlarged 1658 edition, was written for Osborne's son John and first appeared anonymously in 1655. With sections on 'studies', 'love and marriage', 'travell', 'government', and 'religion', it was an immediate hit, being popular with a wide readership, including Oxford scholars. Calls to have it publicly burned for instilling atheism into young gentlemen only boosted sales. Osborne's other chief work, Historical memoires on the reigns of Queen Elizabeth, and King James is also here, in the first edition of 1658, with the portraits of both monarchs found only in some copies. Here too is the first edition of Osborne's Politicall reflections upon the government of the Turks, discussing, inter alia, Islam, Turkish politics and military matters, and with interesting asides on Machiavelli and Luther.

Provenance: bookplate of Hugh Cecil Lowther, fifth Earl of Lonsdale (1857–1944), patron of boxing and horse racing and the first president of the Automobile Association; from the library of Dr Hugh Selbourne (1906–1973).

Contents:

1. OSBORNE, Francis. Advice to a son. Or directs for your better conduct, through the various and most important encounters of this life ... The sixt edition. Oxford, H.H. for Tho: Robinson, 1658.

Pp. [viii], 188, [8, index and advertisement]. ESTC R25511; Wing O513.

2. —. Advice to a son. The second part. London, printed for Tho. Robinson in Oxford, 1658.

Pp. [xii], 189, [3, index]; title within border of type ornaments. First edition. ESTC R200733; Wing O514.

3. —. Politicall reflections upon the government of the Turks. Nicolas Machiavel. The king of Sweden's descent into Germany. The conspiracy of Piso and Vindex against Nero. The greatnesse and corruption of the court of Rome. The election of Pope Leo the XI. The defection from the church of Rome. Martin Luther. London, J.G. for Thomas Robinson in Oxford, 1656.

Pp. [viii], 112, 111-194; engraved initials. First edition. Atabey 891 ('an early work on the reasons for Ottoman greatness'); ESTC R23027; Wing O518.

4. —. Historical memoires on the reigns of Queen Elizabeth, and King James. London, J. Grismond for T. Robinson, 1658.

Pp. [xxiv], 108, [22], 148; with portraits of Elizabeth and James before each part, engraved initials. First edition. ESTC R23008; Wing O515.

5. —. A miscellany of sundry essayes, paradoxes, and problematicall discourses, letters and characters; together with politicall deductions from the history of the Earl of Essex, executed under Queen Elizabeth. London, John Grismond, 1659.

Pp. [xxvi], 260; wanting the portrait leaf; a few marginal annotations. First edition. ESTC R200748; Wing O516.
You may also be interested in...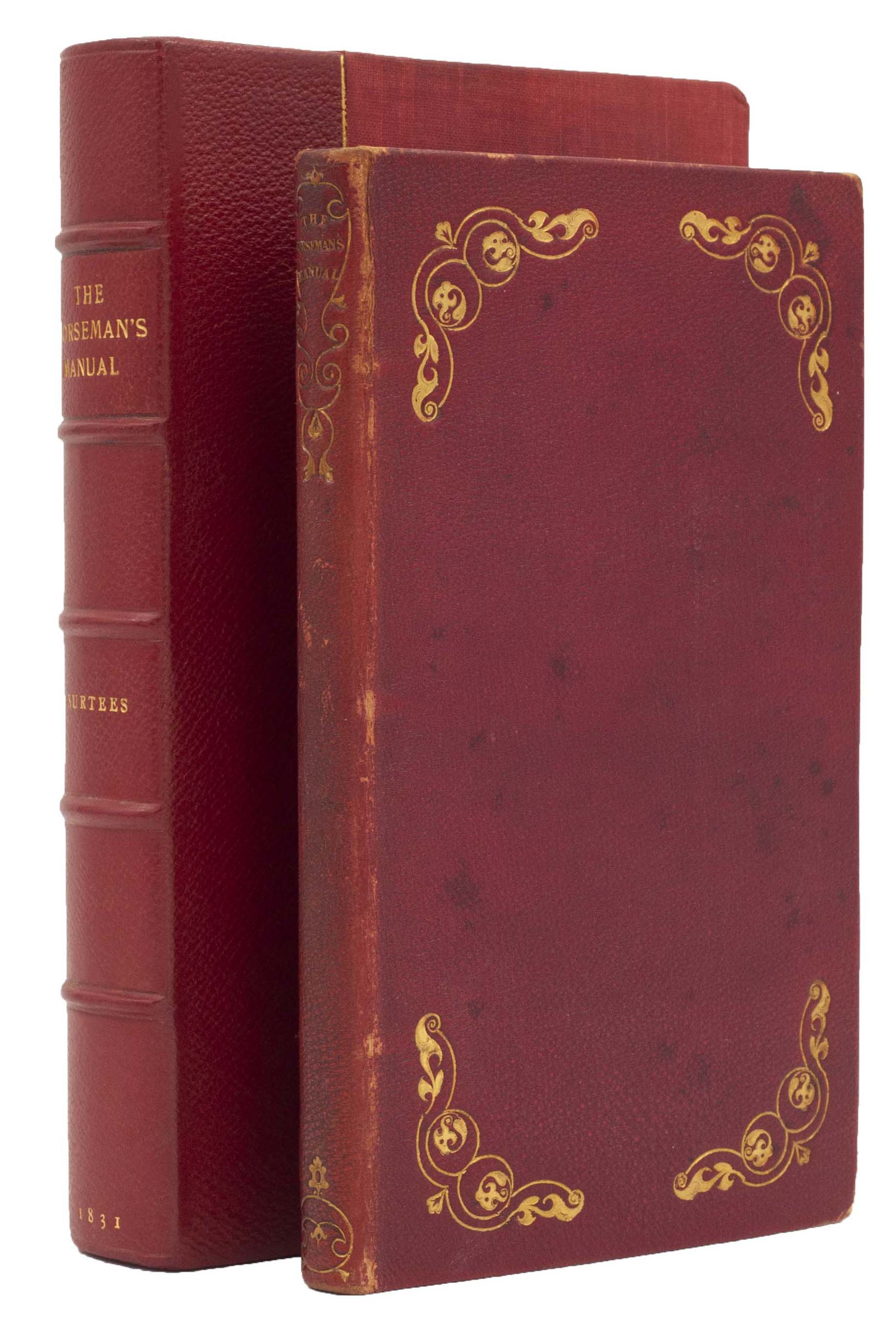 WITH LAMBTON DEDICATION AND BOOKPLATE SURTEES, Robert Smith.
The Horseman's Manual, being a Treatise on Soundness, the Law of Warranty, and generally on the Laws relating to Horses.
First edition of Surtees's first work, the only publication to bear his name, from the family of the dedicatee. Though best known for his sporting articles and novels, Robert Smith Surtees (1805–1864) was, alongside his landed interests, a respected jurist in County Durham, serving as justice of the peace and deputy lieutenant for the county from 1842 and in 1856 as High Sheriff. Surtees's only legal treatise, the Horseman's Manual was written while living at Lincoln's Inn Fields, in the period between his admission to chancery in 1828 and his return to Durham in the early 1830s.
[POLITICAL PHILOSOPHY.]
Collection of 11 treatises.
A highly interesting manuscript compendium of Spanish treatises on political philosophy and politics.