[OSTERWALD, Jean-Frédéric.]
Vue générale de la chaine des Alpes.
Neuchâtel, F.W. Moritz, n.d. [c. 1815].
Panorama, 17 x 330cm, in 6 joined sections, all with contemporary hand colouring; with captions, table of distance from Neuchâtel, altitude and geological details of each mountain depicted; in very good condition, rolled.
£2500

Approximately:
US $3496
€2842
A splendid panorama of the Alps, extremely rare, taken from Neuchâtel, ranging from Mount Pilatus (Emmental Alps) to Le Môle (Haute-Savoie) and including the Eiger, the Jungfrau and Mont Blanc.

Manuel du voyageur en Suisse (Zurich, 1819), p.40; Nouvel itinéraire portatif de Suisse (Paris, 1827), p.68.
You may also be interested in...
'THE FINEST AND MOST COMPLETE ATLAS OF PORTRAITS OF BRITISH AVIFAUNA … EVER PUBLISHED' (WOOD) MEŸER, Henry Leonard.
Coloured Illustrations of British Birds, and Their Eggs.
Second octavo edition. Meÿer's British Birds is, '[w]ith the possible exception of Lord Lilford's Birds, [which was published some fifty years later] […] the finest and most complete atlas of portraits of British avifauna (with their eggs) ever published' (Wood). Meÿer was a British artist of Dutch extraction aiming to represent birds in a natural, life-like manner. His characteristically wonderfully detailed, accurate and attractive plates resulted from a collaboration of the Meÿer family, headed by Meÿer's wife, 'an accomplished artist, [who] not only executed such drawings as were not made by her husband, but drew many of the plates upon the stones' (Mullens and Swann, p. 399), with colouring done by their children. Mrs Meÿer is known to have visited the gardens of the Zoological Society to study birds, while the eggs were collected by the family or sent by friends.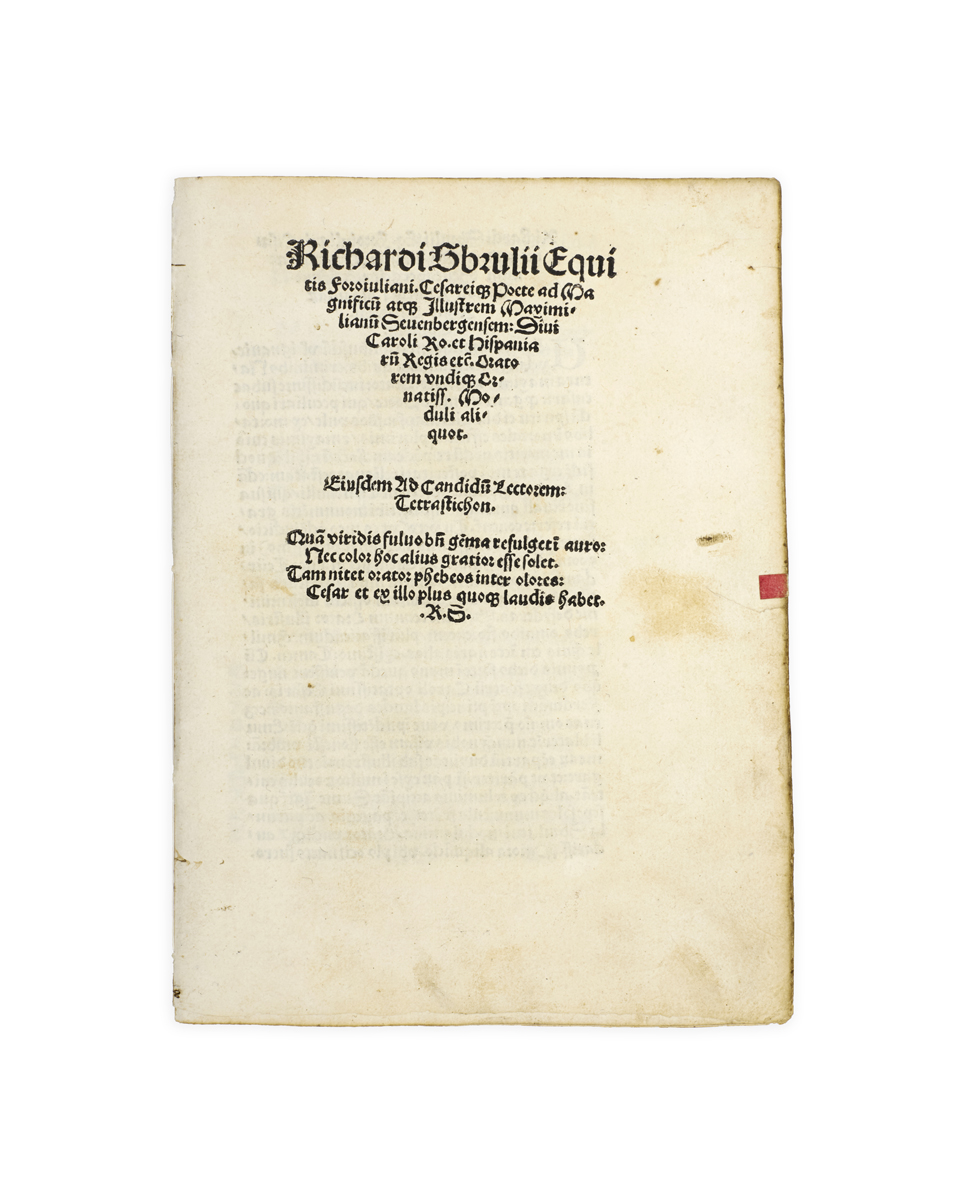 ACROSTIC POEMS HONOURING THE NEW HOLY ROMAN EMPEROR SBRUGLIO, Riccardo.
Richardi Sbrulii equitis Foroiuliani Cesareiq[ue] poete ad magnificu[m] atq[ue] illustrem Maximilianu[m] Seuenbergensem: Divi Caroli Ro. et Hispaniaru[m] regis etc. oratorem undique ornatiss. moduli aliquot. Eiusdem ad candidu[m] lectorem: Tetrastichon.
First, very rare, edition, of Sbruglio's Latin poems addressed to Maximilianus Transylvanus, published in the year that Charles V became Holy Roman Emperor. A native of Cividale in northern Italy, Sbruglio (c. 1480 – after 1525) studied and taught at Wittenberg (where the rector compared him to Ovid), Frankfurt, Cologne, and Ingolstadt, before being appointed poet and historiographer to the Emperor Maximilian I. 'Wherever he went he produced verses in honour of local princes and dignitaries. Reaction to them was mixed: Mutianus, Eobanus Hessus, Hermannus Buschius and Hutten were critical of Sbruglio and his talent but Erasmus, Zasius, Bonifacius Amerbach, Pirckheimer, and Vadianus showed appreciation' (Contemporaries of Erasmus III p. 211). Erasmus made Sbruglio one of the speakers in his colloquy Convivium poeticum (1523). Maximilianus Transylvanus (c. 1490-1538) was personal secretary to the Emperor Charles V and produced the earliest published account of Magellan's circumnavigation of the world.