[PALMIERI, Giuseppe].
Riflessioni sulla pubblica felicità relativamente al Regno di Napoli. Seconda edizione dall' autore accresciuta.
Naples, Vicenzo Flauto for Michele Stasi, 1788.
8vo, pp. viii, 359, [1] blank; scattered foxing and spotting throughout; contemporary vellum over boards, spine direct-lettered gilt.
£250

Approximately:
US $343
€292
Added to your basket:
Riflessioni sulla pubblica felicità relativamente al Regno di Napoli. Seconda edizione dall' autore accresciuta.
Second edition, substantially enlarged. 'Giuseppe Palmieri, Marchese di Martignano (1721–94?), was one of that brilliant band of Neapolitans in which Filangieri was perhaps the most widely known figure. Palmieri was primarily a practical administrator. But the welfare economics of the eighteenth-century Consultant Administrators can perhaps be best appreciated by reading his Riflessioni sulla pubblica felicità relativemente al regno di Napoli (1787) or his Pensieri economici … (1789) or his Della ricchezza nazionale (1792)' (Schumpeter, p. 177n).

Palmieri, born at Martignano near Otranto, joined the army at the age of 13 and fought at the siege of Messina. Back home at 18, he devoted himself to study, read very widely, and formed ties with leading thinkers of his time and place, including Genovesi. Soon he was off soldiering again, in the service of the Bourbon king of Naples, and in 1761 published a book on the art of war. It was not until 1783 when he had retired to Lecce (the distinguished Liceo there is named after him) that he obtained a civil service post as Head of Customs for the Otranto region. In 1787, admired for his administrative competence, he was named member of the Supreme Finance Council of the kingdom and moved to Naples. In the years before his death, he published four works on economic management, more particularly on how to promote the economic growth and prosperity of the relatively backward region from which he came and to which he had devoted his life.

Palmieri 'combats the doctrines of the Physiocrats, especially with respect to the importance of foreign trade, which he maintains to be a true source of wealth for the nation. He was the soul of the theoretic and practical reform of the study of economics and finance in the kingdom of Naples towards the end of the last century' (Palgrave).

Einaudi 4273; Kress Italian 572; Mattioli 2671; not in Goldsmiths'.
You may also be interested in...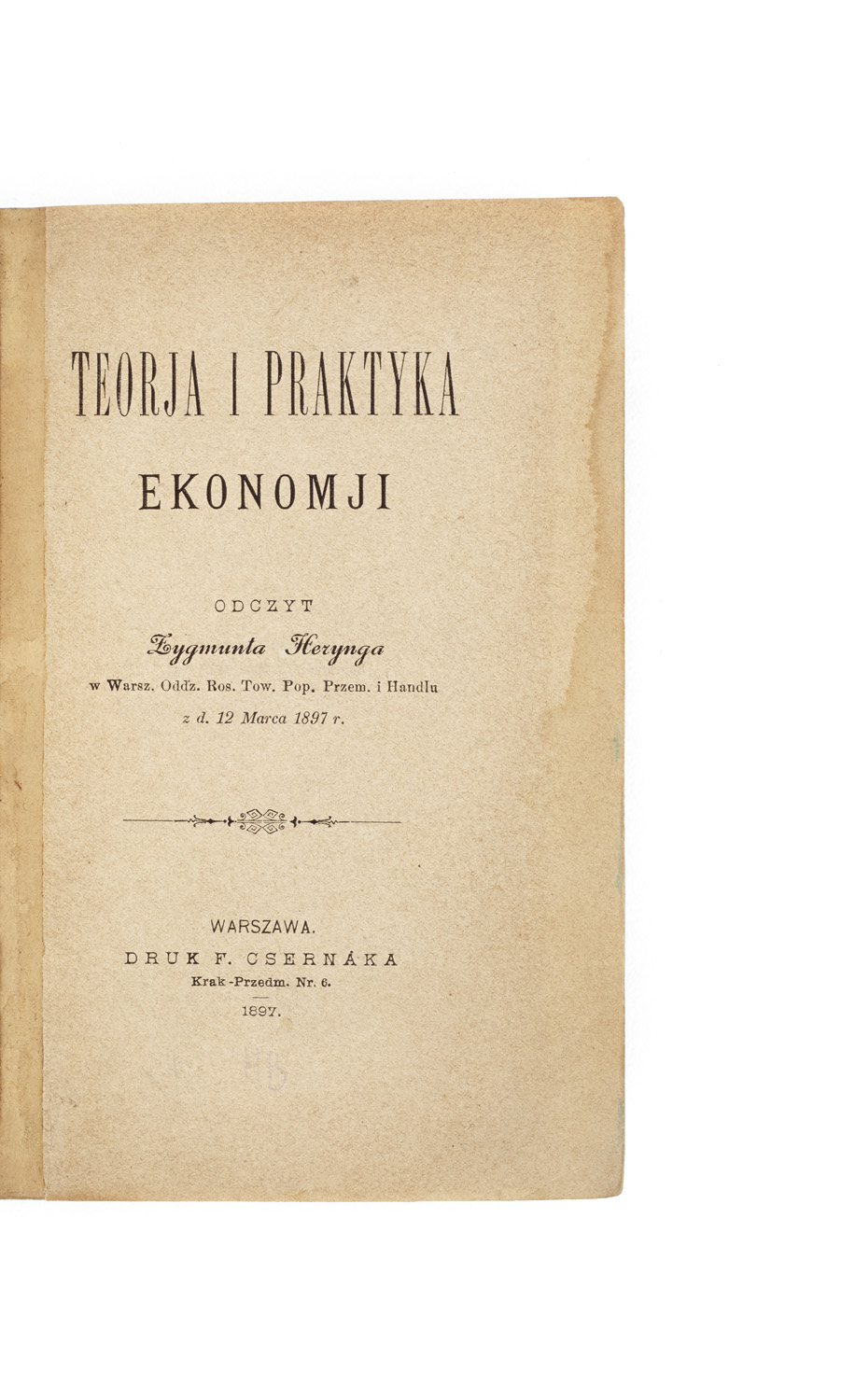 HERYNG, Zygmunt.
Teorja i praktyka ekonomji.
First edition, very rare, of Heryng's Theory and practice of economics. Zygmunt Heryng, Polish economist and political activist, was deeply concerned with economics as a science. He saw it as a systematic and conscious pursuit of efficiency in resource allocation in relation to targets. One of the categories he cherished was 'social energies', a concept he uses in relation to demand and supply, which he describes as 'mental states', or desires. Averse to the use of macro-data (average combinations and aggregate data) in the analysis of economic phenomena, Heryng believed that statistics should instead concentrate on presenting present figures and facts in the form of properly grouped raw material (micro-data), for a more precise identification of factors influencing people's behaviour.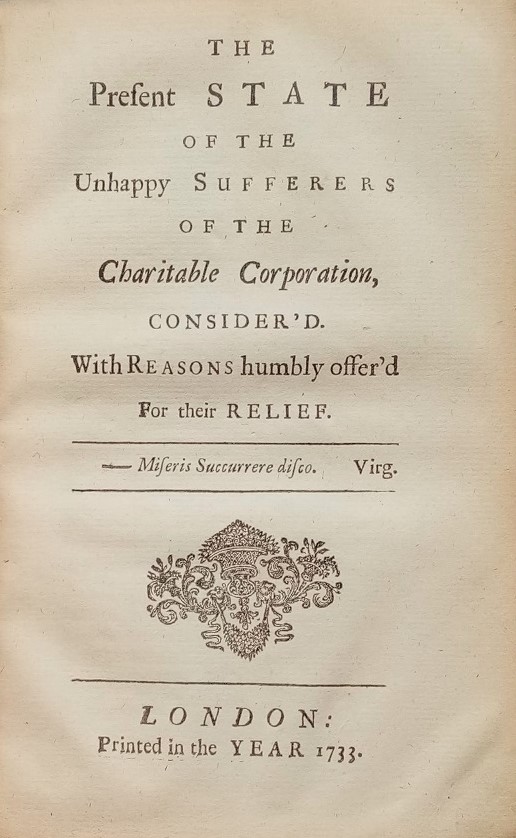 ECONOMIC CONSEQUENCES OF DAMAGED TRUST [INDUSTRIOUS POOR, Charitable Corporation for the Relief of.]
The present state of the unhappy sufferers of the Charitable Corporation consider'd. With reasons humbly offer'd for their relief.
First and only edition of an anonymous plea to Parliament for the rescue of the Charitable Corporation for the Relief of the Industrious Poor, a pawnbroker which granted credit at low interest to the 'deserving poor' who left a pledge. Founded in 1707, in the 1720s the Corporation came under scrutiny for large-scale fraud. In 1731 the City of London petitioned Parliament for relief against the interest rates, which witnesses reported to reach 30 percent, and against the sale of pledged goods at a price much lower than production cost. Four years and numerous pamphlets passed before Parliament was able to summon the evidence and the fraudsters, to deliver the act which devolved the Corporation's assets, and to grant lottery options to shareholders unconnected with the frauds.