A MOST AMAZING POLISH EMBASSY TO ROME
PARISI, Virginio.
Ver relatione della solenne entrata dell'Illustriss. & Eccellentiss. Sig. Giorgio Ossolinschi … Thesoriero della Corte del Regno di Polonia …
Rome, Francesco Cavalli, 1634.
[bound with:]

OSSOLINI, Giorgio. Oratio habita ab eodem … Romae in Aula Regia Vaticana sexta Decemb. MDCXXXIII. Rome, Francesco Cavalli, 1633.

[and:]

RONCALLI, Domenico. Panegyris in laudem Polonorum … habita Romae in Accademia Humoristarum … Georgio Ossolino … Rome, Francesco Cavalli, 1633.

3 works in one vol., 8vo, pp. 1: [12], 2: [8], 3: [8]; a very good set, bound longstitch in contemporary carta rustica; covers soiled; seventeenth-century manuscript shelfmark label to spine.
£950

Approximately:
US $1288
€1135
Added to your basket:
Ver relatione della solenne entrata dell'Illustriss. & Eccellentiss. Sig. Giorgio Ossolinschi … Thesoriero della Corte del Regno di Polonia …
An important miscellany comprising three rare works related to one of the most sumptuous seventeenth-century embassies to the Papal Court, headed by Jerzy Ossoliński (1595–1650) on behalf of the King of Poland, Ladislaus IV Vasa, in 1633.

The diplomatic mission, intended to pay tribute to Pope Urban VIII in the name of the newly elected king, and to obtain his approval for the restitution of rights to subjects of Orthodox faith, abolished by his predecessor, was entrusted to the Deputy Treasurer Jerzy Ossoliński, a wealthy, cultured man, a talented politician, and a close associate of the king, who in 1621 had already successfully headed an embassy to King James I.

Ossoliński 'not only intended to effectively fulfil his mission, but also set himself another goal, very ambitious from a propaganda point of view: his solemn entry into Rome was to exceed in magnificence and splendour the one carried out in June 1633 by the ambassador of Louis XIII, Prince Charles de Blanchefort de Créquy. The entry of the Frenchman was observed by a special envoy of Ossoliński, Stanisław F. Giza, who upon his return to Poland gave a detailed account of it, concluding, it seems, that it was "glitzy, but not magnificent". The Deputy Treasurer then decided that "[...] where they (that is, the French) had silver, we will have gold; where they had gold, we will have precious stones; where they had precious stones, we will have diamonds"' (Osiecka-Samsonowicz, Cerimonie e feste polacche nella Roma barocca 1587-1696 (2014), p. 39 trans.).

Towards the end of September 1633, Ossoliński left Poland with a long procession of about three hundred people, two carriages, eighteen chariots and eleven camels, arriving in Rome after two months of travel, on 20 November. The solemn entry of the Polish legation took place on 27 November 1633, from Villa Giulia to Porta del Popolo, and according to Jan Sobieski, Rome had never seen anything more notable and glorious. Ossoliński 'rode in with a hundred horses and camels decked in fabulously rich harnesses, the nobles sitting atop them in their national attire, escorted by exotic prisoners-of-war from the Polish-Lithuanian Republic's eastern wars. The horses had been shod with golden horseshoes before entering the city, purposefully affixed so that they should fall off, much to the glee of onlookers on the Roman streets. The noble Polish youths tossed gold coins into the crowd, the wings of the Hussars ruffled, and peacock feathers waved. Not even the royalty who visited the Papal capital in those times made such a grand entry' (Mrowcewicz, Europeans and Sarmatians – Polish Baroque: Ten centuries of Polish literature (2004)).

'On 23 December 1633, after only thirty-five days in Rome, Ossoliński left the city. Despite few political achievements, his mission was undoubtedly a huge propaganda success for Poland, for the king, and for himself. Thanks to the many manuscript reports and four printed ones, which described the splendour of the embassy, and thanks to his brilliant essay on the art of oratory at the consistory, published in various languages, to the etchings of Stefano della Bella, and to the paintings, as well as to the excellent publicity gained from the competition with the ambassador of Louis XIII, all of Europe was informed of the Polish diplomatic mission.' (Osiecka-Samsonowicz, p.48 trans.).

The first, rare, publication of the miscellany, published for the first time the previous year but in this second edition including a preface by the author dedicated to Stanisław Koniecpolski (1591–1646), Polish military commander who fought against the Turks, describes in detail the entrance and the procession. This is followed by the first edition of Ossoliński's famous Oration held on 6 December, in the Vatican Sala Regia, a speech so beautiful that the Pope reportedly said that Cicero himself would not have spoken it better: 'The Polish legate's speech was, from beginning to end, a praise of the Polish King and the Commonwealth, and the Pope was only indirectly glorified by the bracketing tribute motif at the beginning and at the end of the speech. The greater is Poland, the greater is Urban VIII too' (Barłowska, Jerzy Ossoliński's legacy to Rome in 1633, Muzeum of King Jan III's Palace at Wilanów online). Finally is bound the Panegyric in praise of the Polish people, delivered by the Protonotary Apostolic Domenico Roncalli at the Academy of Humorists, in which he celebrates their merits in the fight against the Turks.

1: Early modern festival books database 839. 2: Ciampi, Bibliografia critica delle antiche reciproche corrispondenze politiche... dall'Italia colla Russia, colla Polonia... (Florence, 1839) II, p. 190.
You may also be interested in...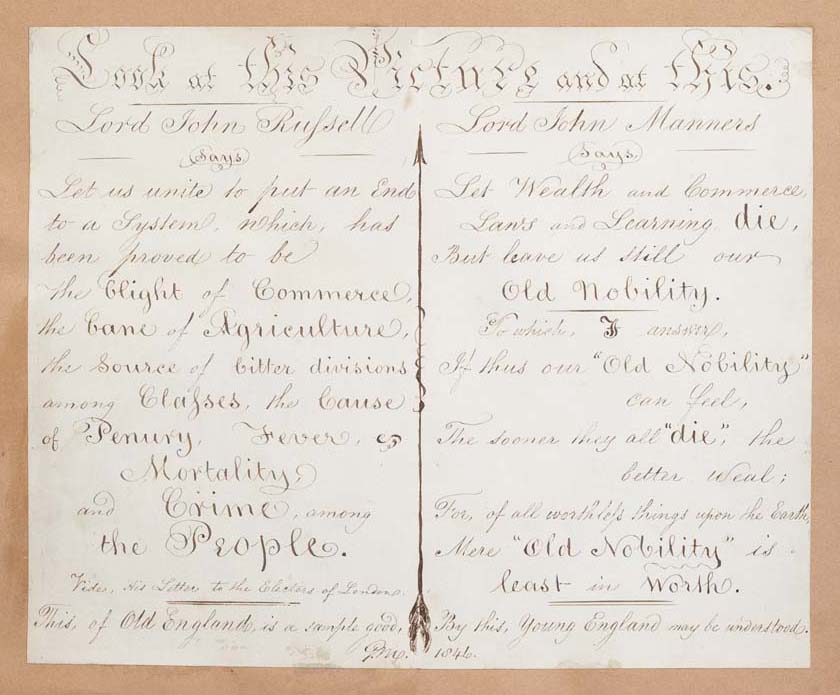 MURDERED IN LONDON BY A FRENCH REVOLUTIONARY MOORE, George.
Manuscript commonplace book of poems, songs, prayers, and letters.
An appealing commonplace book of verses and songs, with occasional prayers and letters, mostly written by George Moore (1794–1854), a London soda water manufacturer and amateur poet who was murdered by the notorious French revolutionary Emmanuel Barthélemy (1823–1855).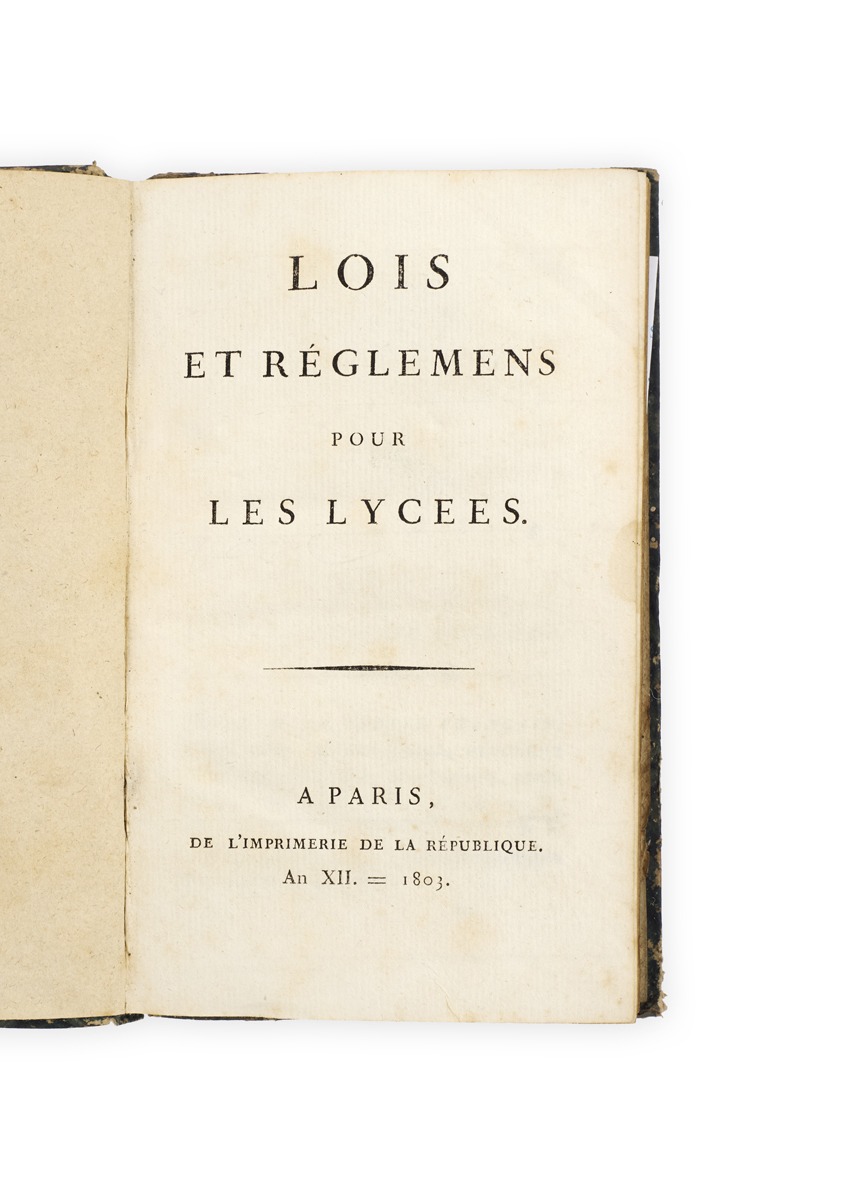 NAPOLEON REFORMS FRENCH EDUCATION [EDUCATION.]
Lois et réglemens pour les lycees.
Rare first edition of this extremely interesting collection of laws and regulations governing secondary education in France, reflecting the historic changes enacted between 1801 and 1803 by Napoleon as First Consul, in particular the establishment of lycées.