VIEWS OF VERSAILLES
[PERELLE, Gabriel, together with his sons Nicolas and Adam PERELLE.]
A collection of plates showing Versailles, its gardens and menagerie.
Poilly (and once only Langlois), [c. 1680].
Oblong folio (285 x 400 mm.), a collection of 28 engraved plates by the Perelles cut out and mounted in an eighteenth-century album, two plates cut close losing the lettering, four plates a bit browned, but the rest in fine impressions; generally clean and crisp, only two of the browned plates with small surface abrasions; bound in eighteenth-century marbled paper covered sturdy paste boards, recent calf spine.
£1250

Approximately:
US $1617
€1382
Added to your basket:
A collection of plates showing Versailles, its gardens and menagerie.
An interesting collection of the fine views of Versailles with which Louis XIV dazzled the rest of Europe. The Perelles' plates capture the splendour of the recently erected palace and its gardens, and include three bird's-eye views of the menagerie, built in the early 1660s by the architect Louis Le Vau. These offer glimpses of the menagerie's animal inhabitants, which include ostriches, camels, and two gigantic elephants.

The landscape views teem with courtly figures, and the impressive scale and complex layout of the new gardens are shown in a variety of views, some showing different versions of the same subject. Comparing these different versions, one is able to follow the designs changes over a period of time in the ever changing landscape of the Sun King's Versailles.

The art of the Baroque garden found its ultimate expression in the creations of the landscaper Andre le Notre (1613 – 1700). He transformed the former swamp into a princely garden of ingenious geometry, and mechanical and hydrological engineering. The immense estate of Versailles was built by a team of artists and architects. Charles Le Brun was the general director, Mansart and Le Va the architects, and Girardon and Tuby two of the many sculptors furnishing garden ornaments.

Cf. Berlin Kat. 2480-2483.
You may also be interested in...
MATTIOLI, Pietro Andrea, and Francesco CALZOLARI.
Compendium de plantis omnibus, una cum earum iconibus, de quibus scripsit suis in commentariis in dioscoridem editis, in eorum studiosorum commodum, atque usum, qui plantis conquirendis, ac indagandis student; accessit praeterea ad calcem opusculum de itinere, quo e Verona in Baldum montem plantarum refertissimum itur, iisdem studiosis utilissimum.
First edition of this scarce digest of Matthioli's commentaries on Dioscorides's Materia medica. A heavily illustrated compendium drawn from the author's earlier Commentarii (Venice, 1554), the Compendium offers a practical enchiridion to medicinal botany, with almost one thousand entries containing detailed woodcuts and notes on the form, location, and uses of each plant.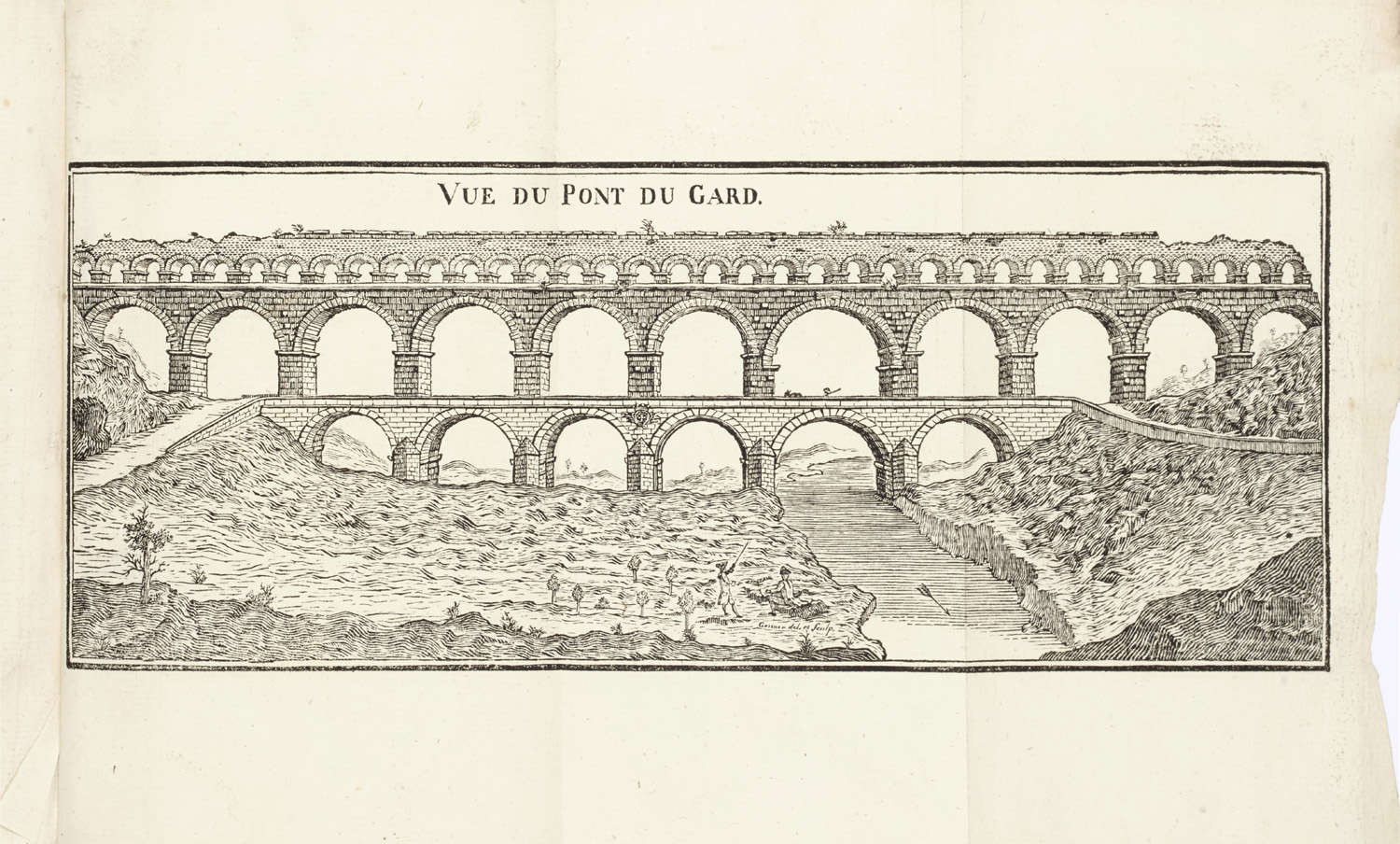 FRENCH EXILES AND A SCOTTISH MEDICAL FEUD [GRANT, Charles, Vicomte de Vaux.]
Recueil d'Essais, ou précis des opinions, et des mémoires, du Vte de *** …
An interesting tract volume, containing the scarce collected thoughts of Charles Grant, vicomte de Vaux (a subscriber's copy), a fine illustrated guide to Nîmes and the Pont du Gard, and three pamphlets relating to a controversy in the medical faculty in Edinburgh.