PFYFFER VON WYHER, Ludwig.
Panorama oder Zirkel-Aussicht vom Rigi Berg. Guide des voyageurs sur le mont Righi.
Lucerne, bey Xaver Meyer, 1820.
8v, folding engraved map in 15 segments, with contemporary colouring, mounted on linen with glazed blue paper border (53,8 x 53,8 cm), in excellent condition, with the original slip case covered in marbled paper, with engraved label on both sides, the French language label with an illustration of a knapsack, walking stick and traveller's telescope. Illustrated trade card (see below) of the publisher Xaver Meyer pasted on verso of map.
£850

Approximately:
US $1167
€996
Added to your basket:
Panorama oder Zirkel-Aussicht vom Rigi Berg. Guide des voyageurs sur le mont Righi.
Fine panorama of the 360 degree view from the Rigi Mountain in Switzerland. The panorama map also has 4 individual views engraved in the corners: view of the mountain from the valley; view of the cottage at the highest point, view from a higher mountain down to the Rigi mountain; and larger scale map. This is a fine survival from the time mountaineering was in its infancy. Twenty years later Turner climbed the mountain and painted his series of fine watercolours (Blue Rigi, Dark Rigi and Red Rigi; which were sold some years ago breaking auction records). Mark Twain visited in 1878 and wrote extensively about the Rigi Mountain.

The fine trade card by the bookseller, publisher and antiques dealer Xaver Meyer shows his fine house and shop on the ground floor just outside the Basle Arch going into Lucerne, the streets are full of people, a horse drawn carriage goes through the arch, and the mountains can be glimpsed in the background. The card (10,2 x 13,5 cm) is printed in bistre.

Ludwig Pfyffer von Wyher (1783-1845) was an architect and draughtsman. He built the Lucerne theatre in 1837. His Rigi panorama was engraved by the brothers Fr. and Al. Schmid.
You may also be interested in...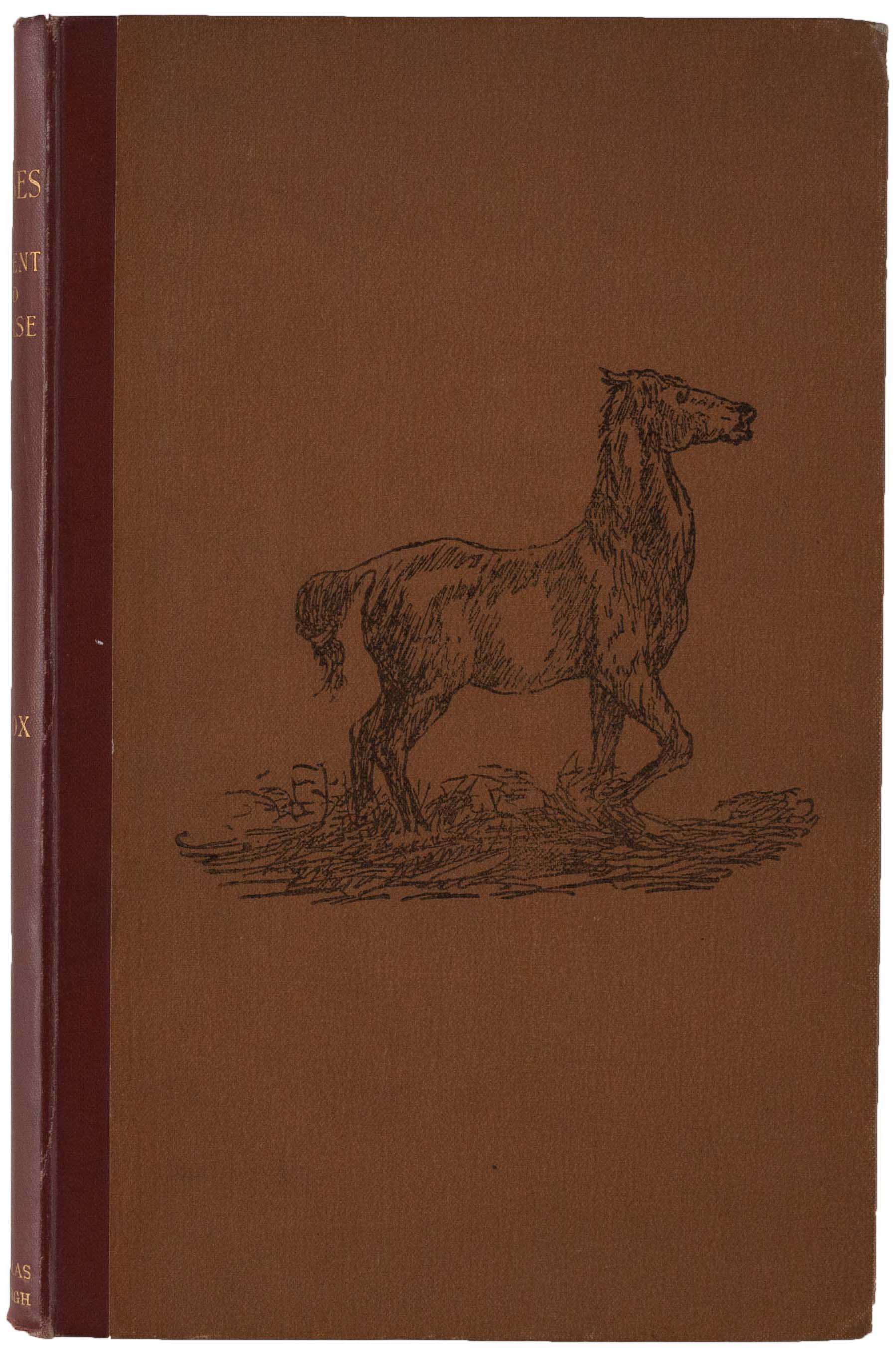 COX, John Roalfe.
Horses in Accident and Disease: Notes and Sketches.
First edition of an elegantly illustrated veterinary work. An early advocate of the use of chloroform anaesthetic when operating on horses, J. Roalfe Cox here offers tender line drawings and brief descriptions of twenty-eight equine ailments.
ALMANAC FOR LITERARY LADIES [ALMANAC.]
Le Parnasse des dames.
An attractive copy of Janet's Parnasse des dames, a pocket-book alamanac on art and literature aimed at a female readership. The little volume contains a broad miscellany of verse, some by female authors, prefaced by engraved copies of works by seventeenth-century French and Dutch painters (Nicolas Poussin, Metzu, Antoine Le Nain, David Teniers twice, and van der Heyden), each accompanied by explanatory text.