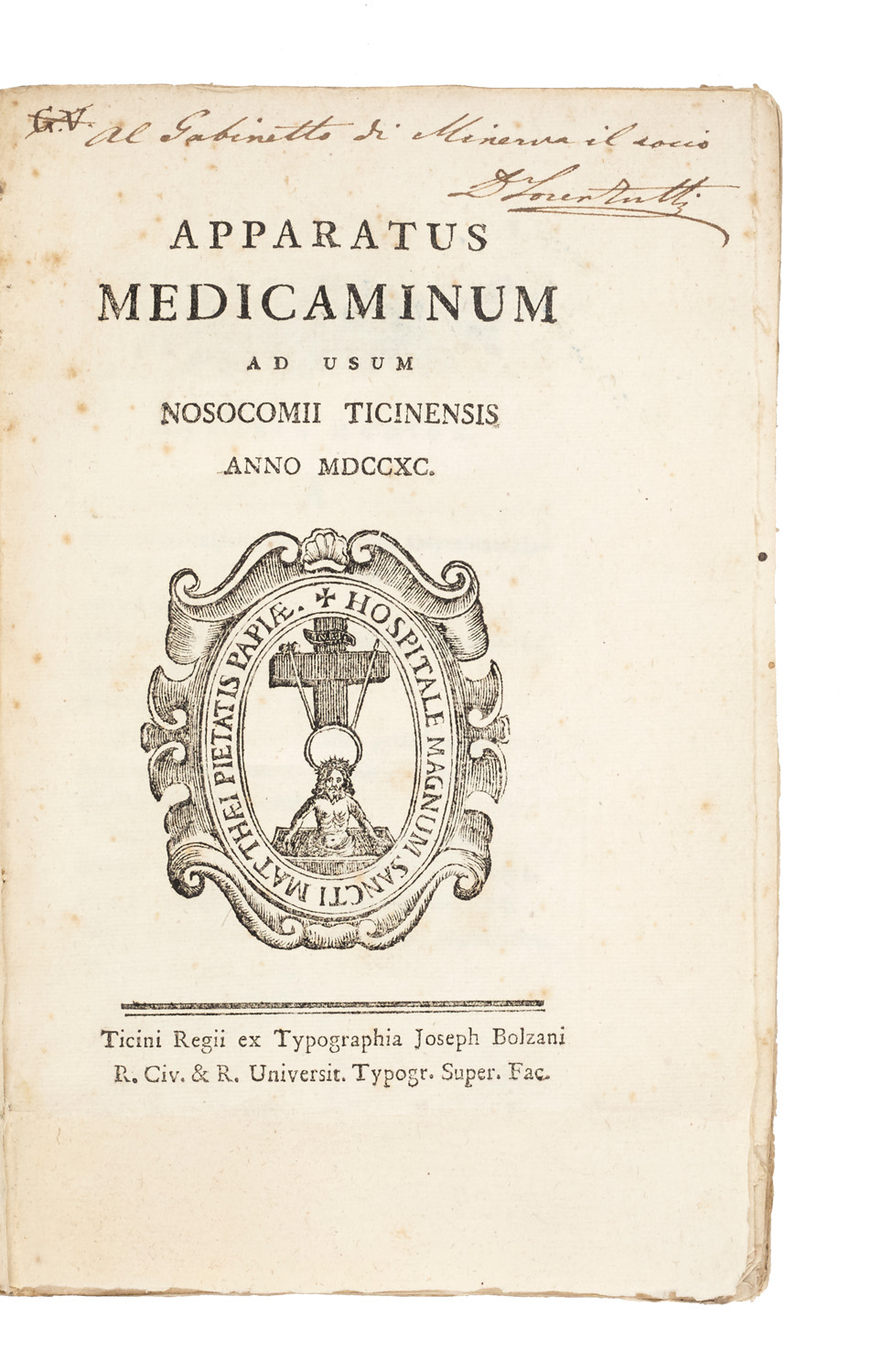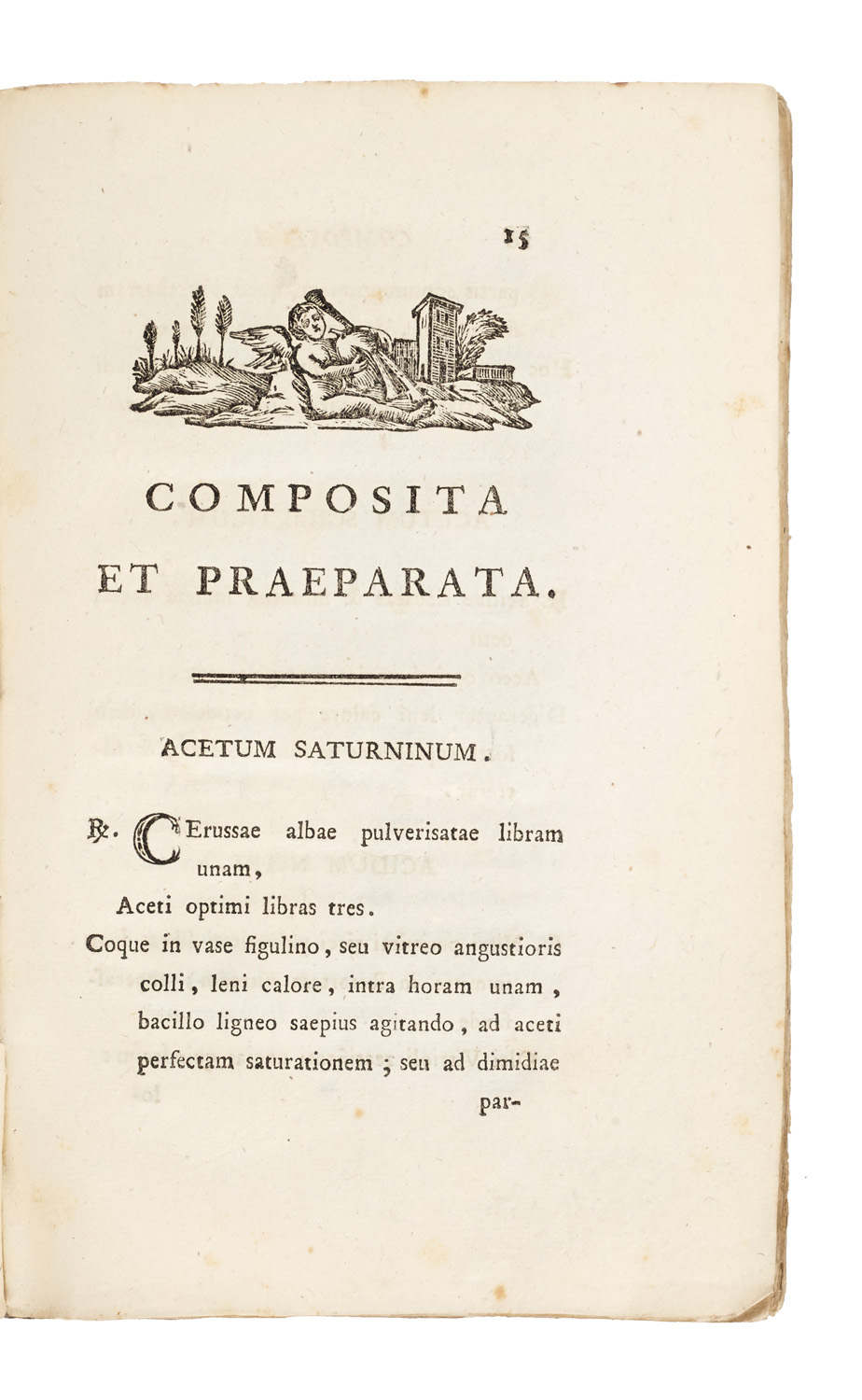 PAVIAN PHARMACOPOEIA
[PHARMACOPOEIA.]
Apparatus medicaminum ad usum nosocomii Ticinensis anno MDCCXC.
Pavia, Joseph Bolzani, [1790].
8vo, pp. 101, [1 blank]; woodcut device of the Ospedale Grande di San Matteo, Pavia to title, elegant woodcut head- and tail-pieces; blank lower margin of title cut away (very neatly repaired), a little light spotting; a very good uncut copy in contemporary light brown sprinkled paper wrappers; a few neat repairs; initials 'G.V.' and 19th-century ownership inscription of Dr Lorenzutti at head of title (see below).
£750

Approximately:
US $1042
€867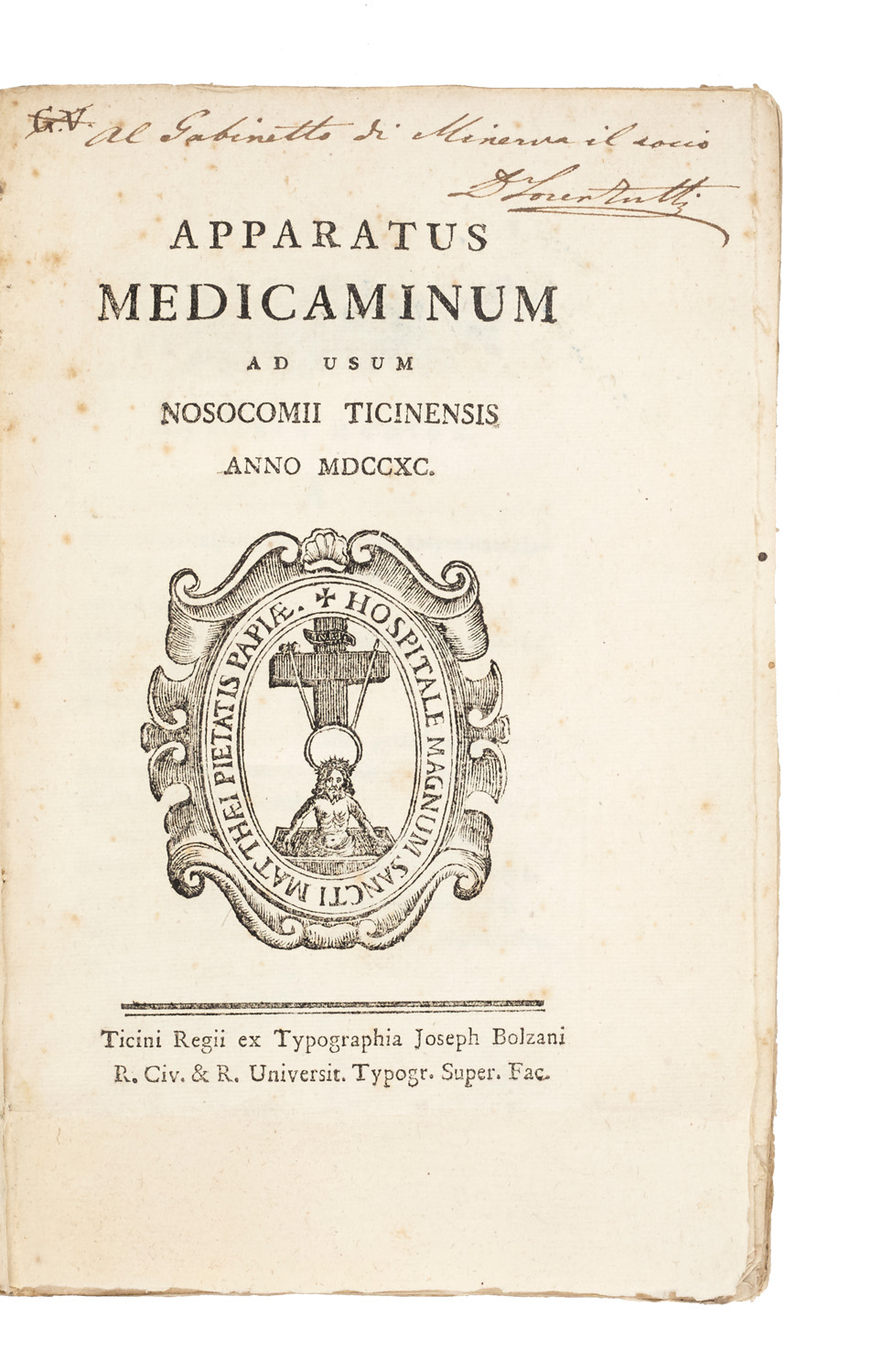 Added to your basket:
Apparatus medicaminum ad usum nosocomii Ticinensis anno MDCCXC.
Very rare first edition of this pharmacopoeia for use at the Ospedale Grande di San Matteo, also known as the Pietà, in Pavia, one of the foremost medical schools in Europe at the time of this publication. Founded in 1449, the Ospedale remained the centre of healthcare in the city for almost five centuries, the buildings now forming part of the University of Pavia. Opening with a list of materia medica, the Apparatus contains 161 receipts, arranged alphabetically, detailing the ingredients and measures for all manner of poultices, electuaries, elixirs, plasters, draughts, mercuries, oils, pills, powders, spirits, syrups, tinctures, and unguents.

Provenance: inscription to title 'Al Gabinetto di Minerva il socio Dr Lorenzutti' i.e. most likely from the library of Dr Antonio Lorenzutti (b. 1806). Lorenzutti studied medicine and surgery at Vienna, Pavia and Padova, before working in Trieste hospital and serving as director, librarian and archivist of the Gabinetto di Minerva. Lorenzutti gave a funeral oration for Dr Giovanni Vordoni of Trieste (d. 1830), and it may be his initials 'G.V.' that appear here on the title.

No copies on COPAC (a different edition of the same year printed 'apud Joseph Galeatium' is at the Wellcome); OCLC shows University of Wisconsin only in the US.
You may also be interested in...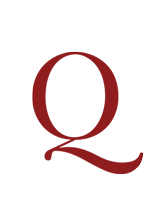 MARKHAM, 'J.' [Gervase], G. JEFFERIES, 'and Experienced INDIANS', [and C.D. LESHER (editor)].
The Citizen and Countryman's experienced Farrier, containing: I. the most and best approved Method of Ordering, Dieting, Exercising, Purging, Scowering, and Cleansing of Horses, also choice Restoratives to cheer the Heart, procure an Appetite, and to clear the Lungs and Pipes, so as to strengthen the Wind, and give large Breath to the Running or Race-Horse; II. a certain sure Method to know the true State of any Horse's Body, as to his Sickness or Health; III. the true Shape of a Horse explained, with choice Directions for Burying; IV. an experienced and approved Method for Raising of Horses, as to Ordering, Keeping, & c., also Mares, Colts, and Stallions; V. a sure and certain Rule to know the Age of any Horse, from one Year to ten, with good Observations as he further advances in Years; VI. the best and experienced Way of Keeping the common Hackney, or Hunting Horse, so as to keep him lively, cheerful, free from Colds, Strains, Windgalls, and gross Humours; VII. an approved Method of Purging, Bleeding, and Feeding Cattle, with choice approved Recipts for the Diseases they are incident to, with Signs to know the Disease, and Directions for the Use of Medicines; to all which is added a valuable and fine Collection of the surest and best Receipts in the known World, for the Cure of all Maladies and Distempers that are incident to Horses, of what Kind soever, with Directions to know what is the Ailment, or Disease.
Undated Chambersburg edition. Among the most popular farriery manuals in America, the Experienced Farrier remained in print almost a century after its first appearance, with this Chambersburg edition following those of Wilmington and Baltimore. Intended, like its predecessors, for the common farmer 'who is scarcely able to read', the present edition adds for the first time German names for plants and chemicals for medicines 'so that you may not be at a loss to obtain the ingredients' (p. vii).
POMET, Pierre, LEMERY, and Joseph Pitton de TOURNEFORT.
A compleat History of Druggs, written in French … to which is added, what is further observable on the same Subject … divided into three Classes, vegetable, animal, and mineral, with their Use in Physick, Chymistry, Pharmacy, and several other Arts, illustrated with above four hundred Copper Cutts, curiously done from the Life, and an Explanation of their different Names, Places of Growth, and Countries from whence they are brought, the Way to know the True from the False, their Vitrues, &c., a Work fo very great Use and Curiosity, done into English from the Originals, the second Edition.
Second English edition of Pomet's Histoire générale des drogues. Among the most complete pharmacopoeias of the period, the Compleat History of Druggs is expanded from the work of Pierre Pomet (1658 – 1699), chief druggist to Louis XIV. Copiously illustrated with copper plates, the History describes the uses of botanical, animal, and mineral materials, including Lemery's catalogue of seeds 'lately brought back from the American islands' and accounts of the preparation of tobacco and sugar.