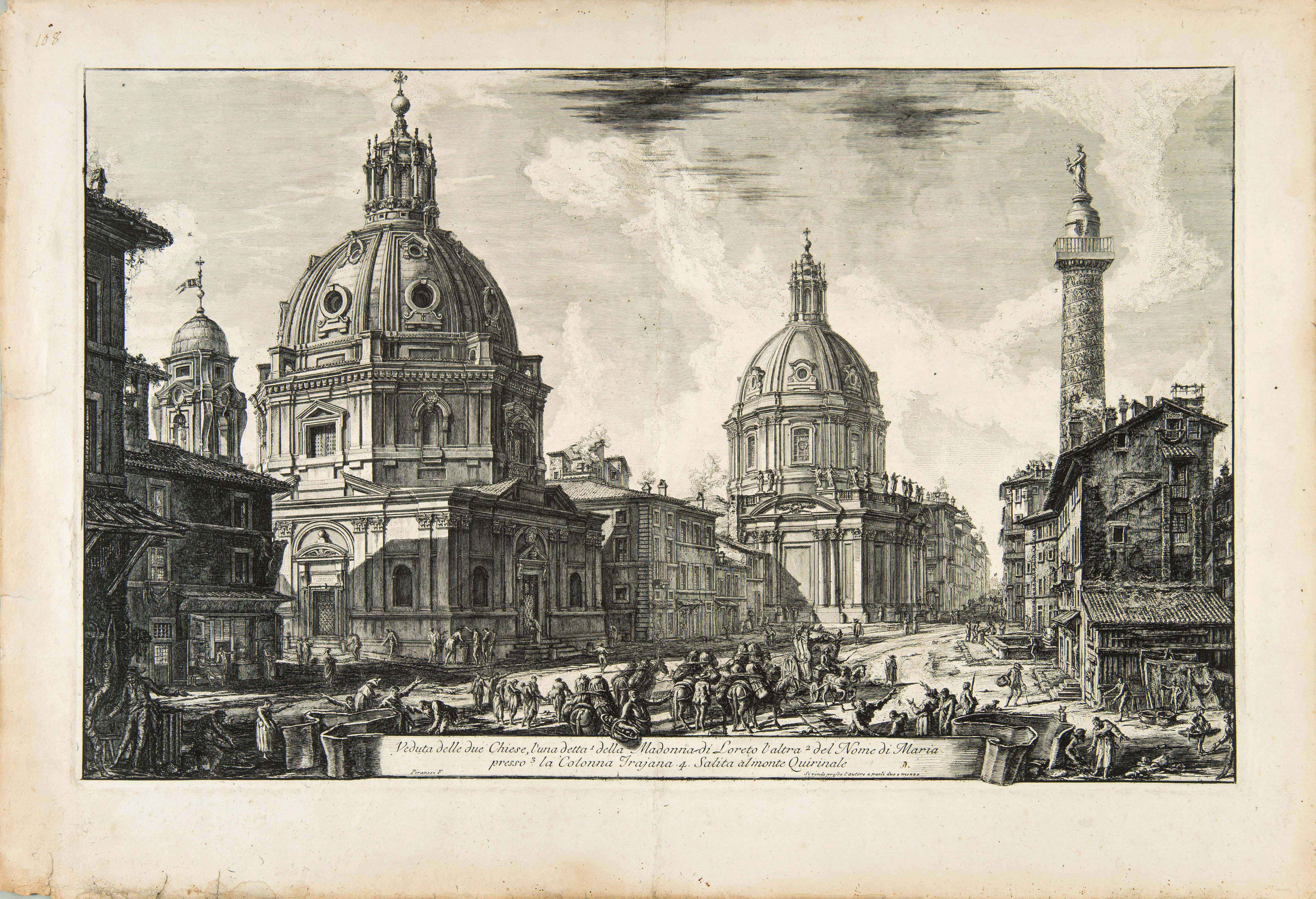 PIRANESI, Giovanni Battista.
Veduta delle due Chiese, l'una detta della Madonna di Loreto l'altra del Nome di Maria presso la Colonna Trajana. Salita al monte Quirinale.
[Rome, c. 1762].
One sheet, engraved and etched on laid paper (535 x 785 mm); first state of four; title engraved in plate; to lower left: Piranesi F.; to lower right: si vende presso l'autore a paoli due e mezzo; watermark, 'double encircled fleur-de-lys'; two small tears and minor defects along margins, not affecting plate, central fold, else a fresh impression, in good condition; small contemporary initial in ink to title scroll.
£2200

Approximately:
US $2453
€2501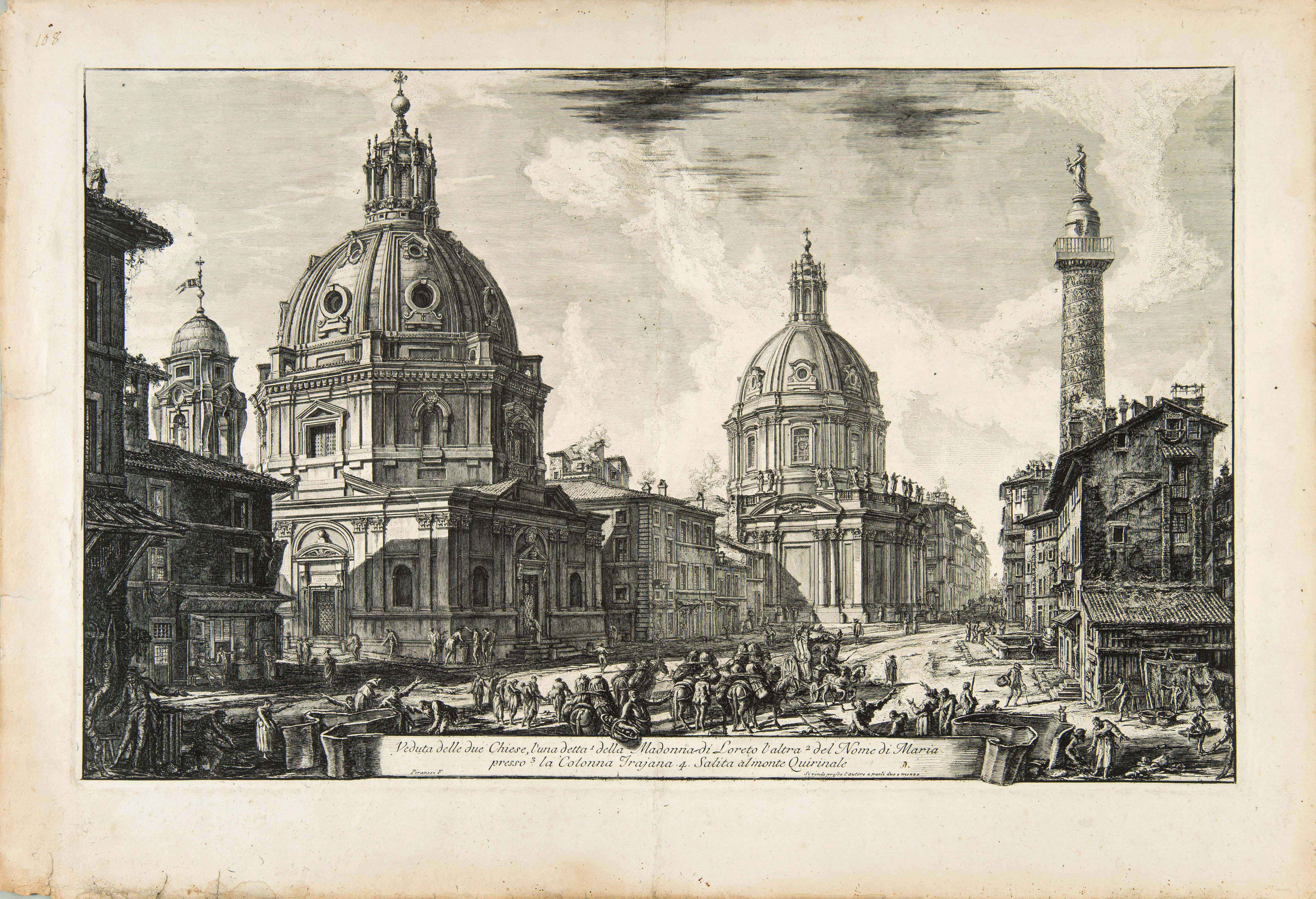 Added to your basket:
Veduta delle due Chiese, l'una detta della Madonna di Loreto l'altra del Nome di Maria presso la Colonna Trajana. Salita al monte Quirinale.
A marvellous view of Rome by Piranesi, from an original edition printed in Rome, bearing the price ('a paoli due e mezzo'), with wide margins and the 'double encircled fleur-de-lys' watermark.

The plate is from Piranesi's best-known work, Vedute di Roma (Views of Rome), consisting of 135 plates, which had been individually produced by Piranesi for some thirty years, from c. 1745 until his death. They were first printed in 1751 (34 plates) by the editor Giovanni Bouchard, afterwards printed by Piranesi himself in Rome; after his death, Piranesi's son Francesco inherited the plates, editing them first in Rome and then in Paris. Later the plates were printed in Paris by Firmin Didot and finally by Calcografia Camerale, now the Calcografia Nazionale, which has purchased the plates.

Giovanni Battista Piranesi was a visionary Italian artist, best known as a vedutista, who liked to refer to himself as a "Venetian Architect". Piranesi anticipated Impressionism by going out to work on the spot, and observe: 'to breath the ancient air', as his friend Robert Adam (1728–1792) recalled. In the work of Piranesi the complexity and development of the artist and his art is self-evident: 'the sublime dreams of Piranesi, who seems to have conceived visions of Rome beyond what it boasted even in the meridian of its splendour ... savage as Salvator Rosa, fierce as Michaelangelo, and exuberant as Rubens, he has imagined scenes that would startle geometry, and exhaust the Indies to realise. He piles palaces on bridges, and temples on palaces, and scales Heaven with mountains of edifices' (Horace Walpole).

Hind 66, I/IV; Focillon 849.
You may also be interested in...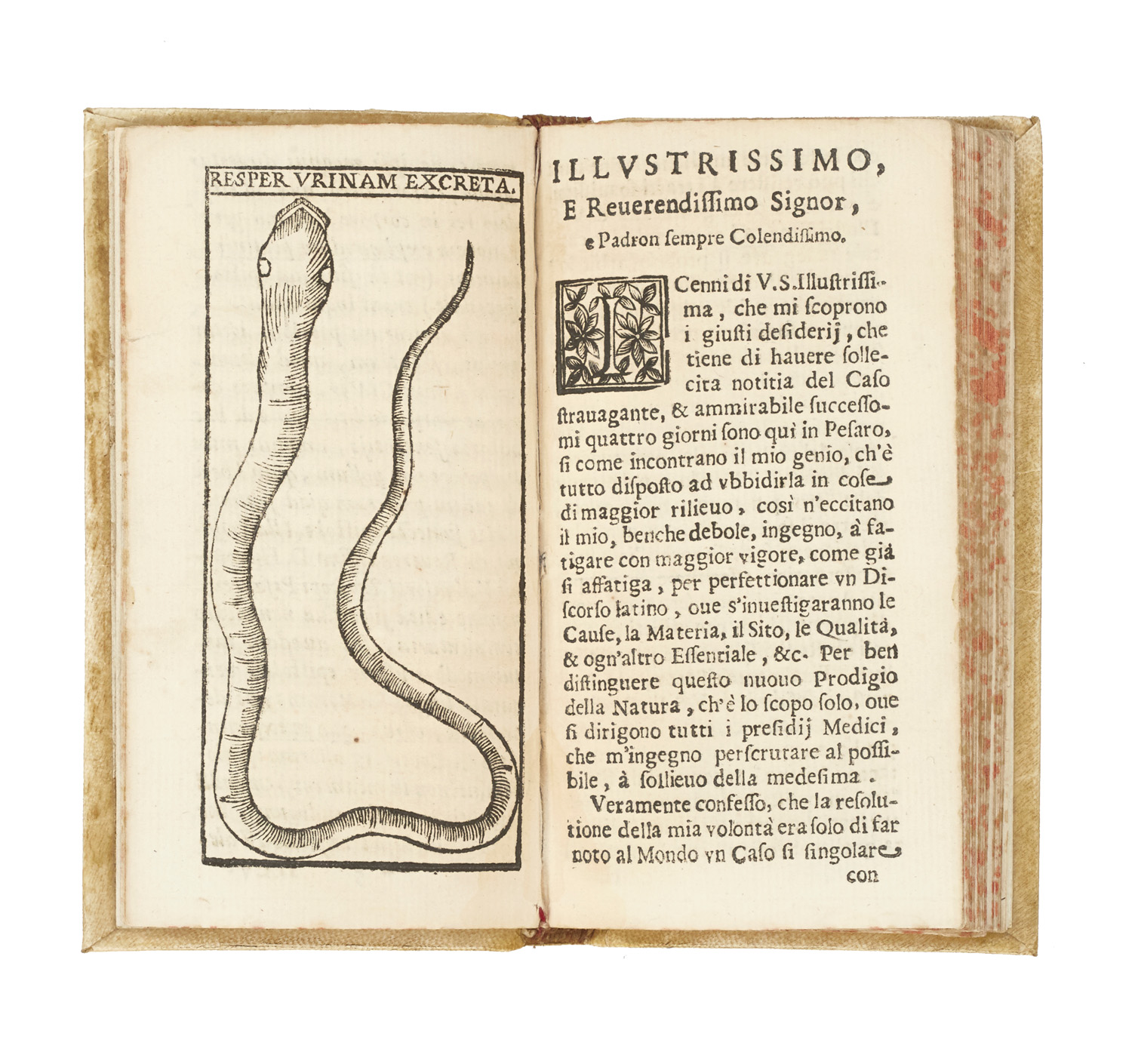 A WONDER WORM MARINIS, Dominico de.
Dissertatio philosophico-medica de re monstrosa à Capuccino Pisauri per urinam excreta. Plura de sanguinis grumis, polypis, serpentibus, ac praecipuè de vermibus in corpore humano procreatis non iniucunda complectens ...
First edition of this scarce dissertation on worms focussing on the extraordinary case of a capuchin preacher from Pesaro who in 1677 passed a 'monster' worm in his urine, which upon subsequent examination was declared to be a serpent. The Dissertatio begins with a prefatory letter in Italian by Alessandro Cocci discussing the case of the capuchin friar Stefano da Cammerino who for 13 months had suffered from kidney pains and bloody and lumpy urine. Following treatment by Cocci and Cesare Cesareo, Cammerino passed, with excruciating pain, a long thin worm through his urinary meatus, initially trying to pull it out, only to break it in two, and then passing the remainder, to his subsequent great relief. The worm caused much local interest and Cocci describes how it was initially put on display to satisfy the curious, before being examined under a microscope. The conclusion of this examination was that the 'prodigio della natura' passed by Cammerino was in fact a serpent.
CASTLEREAGH'S HALF-BROTHER IN CONSTANTINOPLE LONDONDERRY, Charles William Vane, Marquess of.
A Steam Voyage to Constantinople, by the Rhine and the Danube, in 1840-41, and to Portugal, Spain, &c., in 1839 … To which is annexed, the author's correspondence with Prince Metternich, Lords Ponsonby, Palmerston, &c. …
First edition, scarce on the market, of this 'very interesting work' (Blackmer) by Vane (1778-1854), the half-brother of Lord Castlereagh who served under Wellington in the Peninsular War and later as ambassador at the Congress of Vienna.