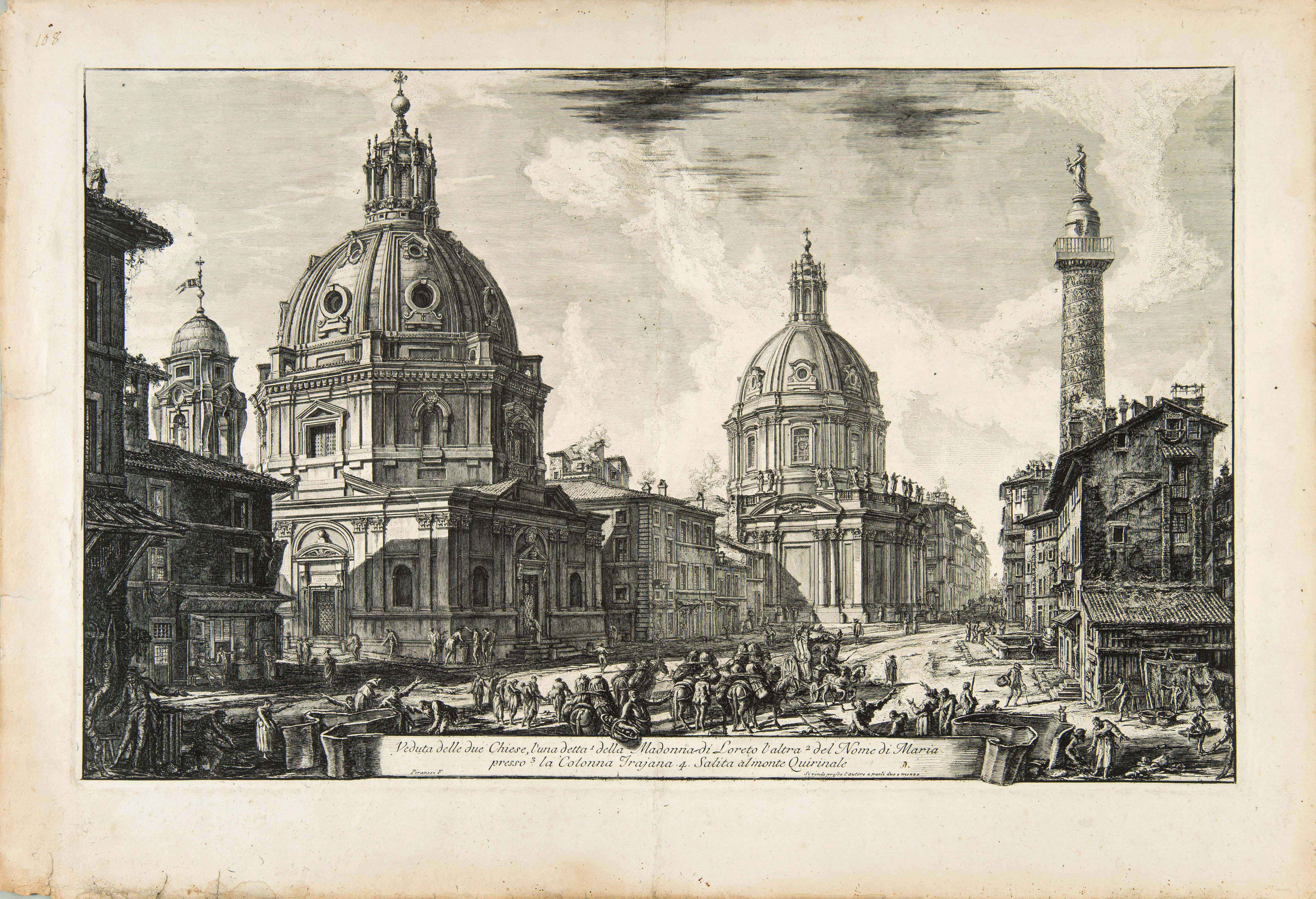 PIRANESI, Giovanni Battista.
Veduta delle due Chiese, l'una detta della Madonna di Loreto l'altra del Nome di Maria presso la Colonna Trajana. Salita al monte Quirinale.
[Rome, c. 1762].
One sheet, engraved and etched on laid paper (535 x 785 mm); first state of four; title engraved in plate; to lower left: Piranesi F.; to lower right: si vende presso l'autore a paoli due e mezzo; watermark, 'double encircled fleur-de-lys'; two small tears and minor defects along margins, not affecting plate, central fold, else a fresh impression, in good condition; small contemporary initial in ink to title scroll.
£2200

Approximately:
US $3043
€2549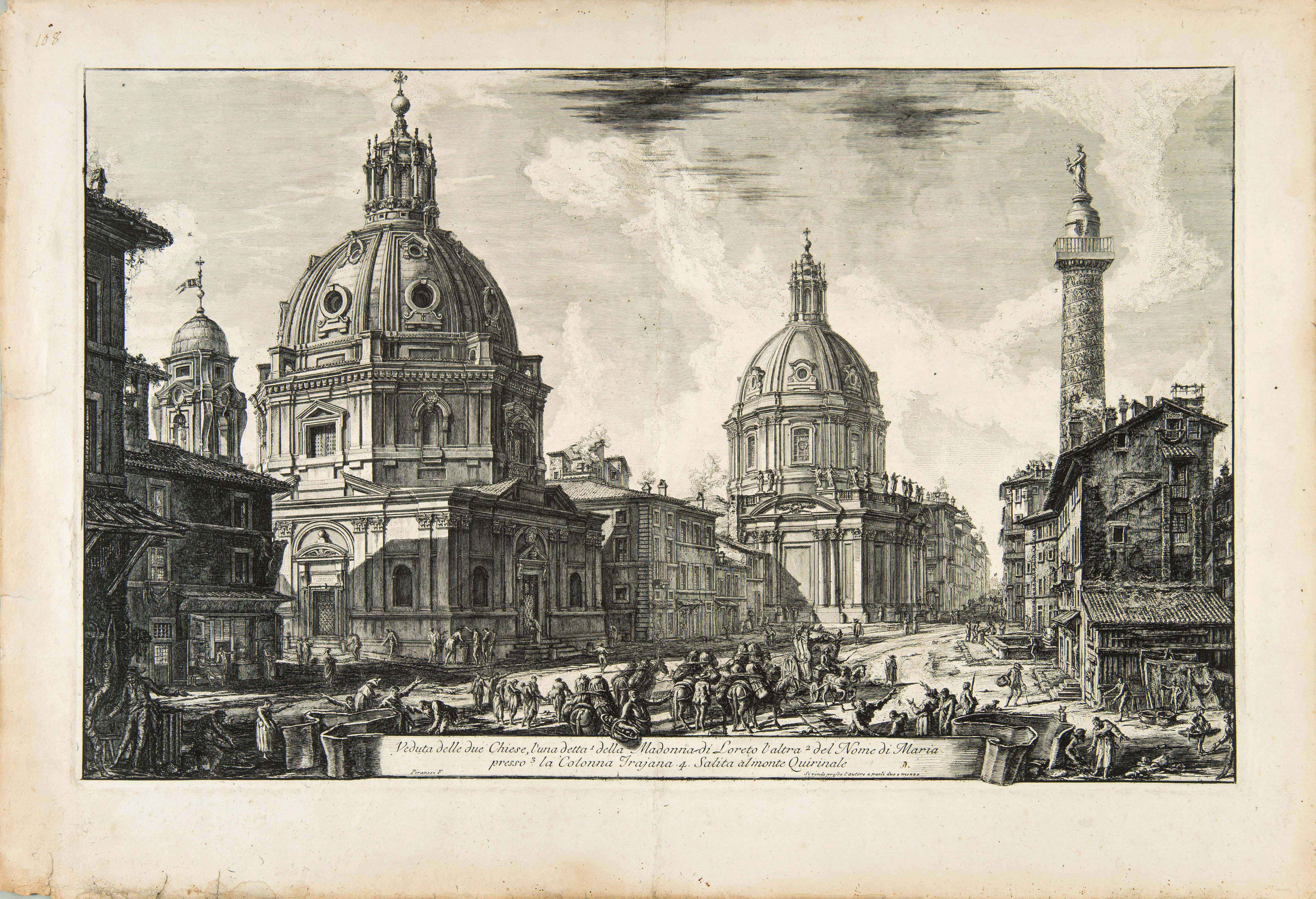 Added to your basket:
Veduta delle due Chiese, l'una detta della Madonna di Loreto l'altra del Nome di Maria presso la Colonna Trajana. Salita al monte Quirinale.
A marvellous view of Rome by Piranesi, from an original edition printed in Rome, bearing the price ('a paoli due e mezzo'), with wide margins and the 'double encircled fleur-de-lys' watermark.

The plate is from Piranesi's best-known work, Vedute di Roma (Views of Rome), consisting of 135 plates, which had been individually produced by Piranesi for some thirty years, from c. 1745 until his death. They were first printed in 1751 (34 plates) by the editor Giovanni Bouchard, afterwards printed by Piranesi himself in Rome; after his death, Piranesi's son Francesco inherited the plates, editing them first in Rome and then in Paris. Later the plates were printed in Paris by Firmin Didot and finally by Calcografia Camerale, now the Calcografia Nazionale, which has purchased the plates.

Giovanni Battista Piranesi was a visionary Italian artist, best known as a vedutista, who liked to refer to himself as a "Venetian Architect". Piranesi anticipated Impressionism by going out to work on the spot, and observe: 'to breath the ancient air', as his friend Robert Adam (1728–1792) recalled. In the work of Piranesi the complexity and development of the artist and his art is self-evident: 'the sublime dreams of Piranesi, who seems to have conceived visions of Rome beyond what it boasted even in the meridian of its splendour ... savage as Salvator Rosa, fierce as Michaelangelo, and exuberant as Rubens, he has imagined scenes that would startle geometry, and exhaust the Indies to realise. He piles palaces on bridges, and temples on palaces, and scales Heaven with mountains of edifices' (Horace Walpole).

Hind 66, I/IV; Focillon 849.
You may also be interested in...
GERARD, John and Thomas JOHNSON (editor).
The Herball, or generall Historie of Plantes … very much enlarged and amended.
Second edition of Gerard's Herball, edited and expanded by Thomas Johnson, with an extensive new set of Plantin woodcuts. The Herball is the principal work of John Gerard (c. 1545 – 1612) and the most substantial English vernacular herbal: though working closely from Dodoen's famous Cruydeboeck, Gerard contributed his own observations, often from specimens from his own garden near Barnards Inn on land likely belonging to his patron William Cecil, Lord Burghley, and notes on localities in England. Notable is his description of the potato, which he grew with success in London: though erroneously identified as the 'Virginian potato', Gerard's illustration was the first to appear in any herbal.
SHIPWRECKS, DOG-BIRDS, AND CANNIBALS BINGFIELD, William, pseud.
The Travels and Adventures of William Bingfield, Esq; containing, as surprizing a Fluctuation of Circumstances, both by Sea and Land, as ever befel one Man ... with an accurate Account of the Shape, Nature, and Properties of that most furious, and amazing Animal, the Dog-Bird. Printed from his own Manuscript ... Vol. I [-II].
First edition of one of the most entertaining imaginary voyages of the eighteenth century.