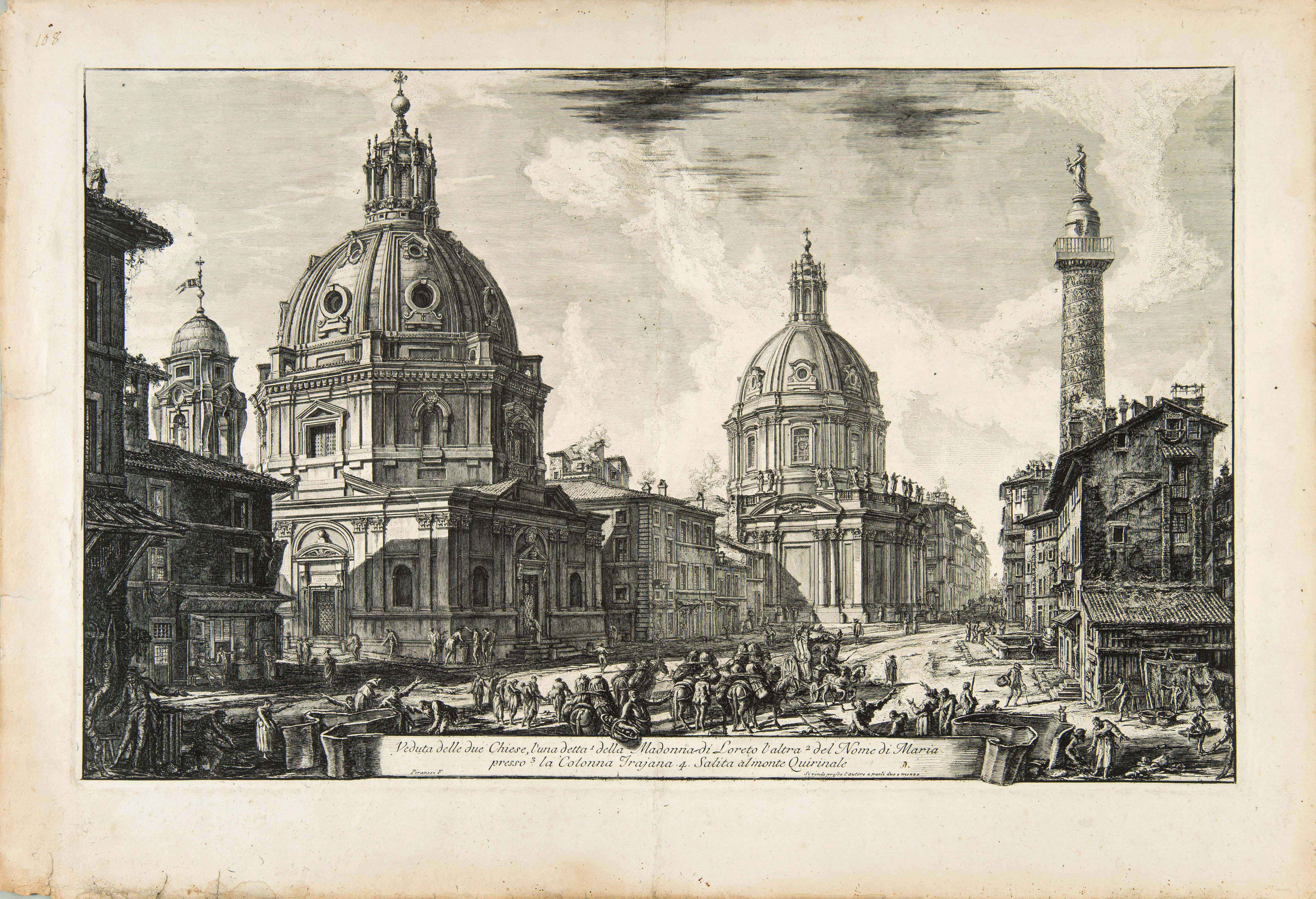 PIRANESI, Giovanni Battista.
Veduta delle due Chiese, l'una detta della Madonna di Loreto l'altra del Nome di Maria presso la Colonna Trajana. Salita al monte Quirinale.
[Rome, c. 1762].
One sheet, engraved and etched on laid paper (535 x 785 mm); first state of four; title engraved in plate; to lower left: Piranesi F.; to lower right: si vende presso l'autore a paoli due e mezzo; watermark, 'double encircled fleur-de-lys'; two small tears and minor defects along margins, not affecting plate, central fold, else a fresh impression, in good condition; small contemporary initial in ink to title scroll.
£2200

Approximately:
US $3103
€2563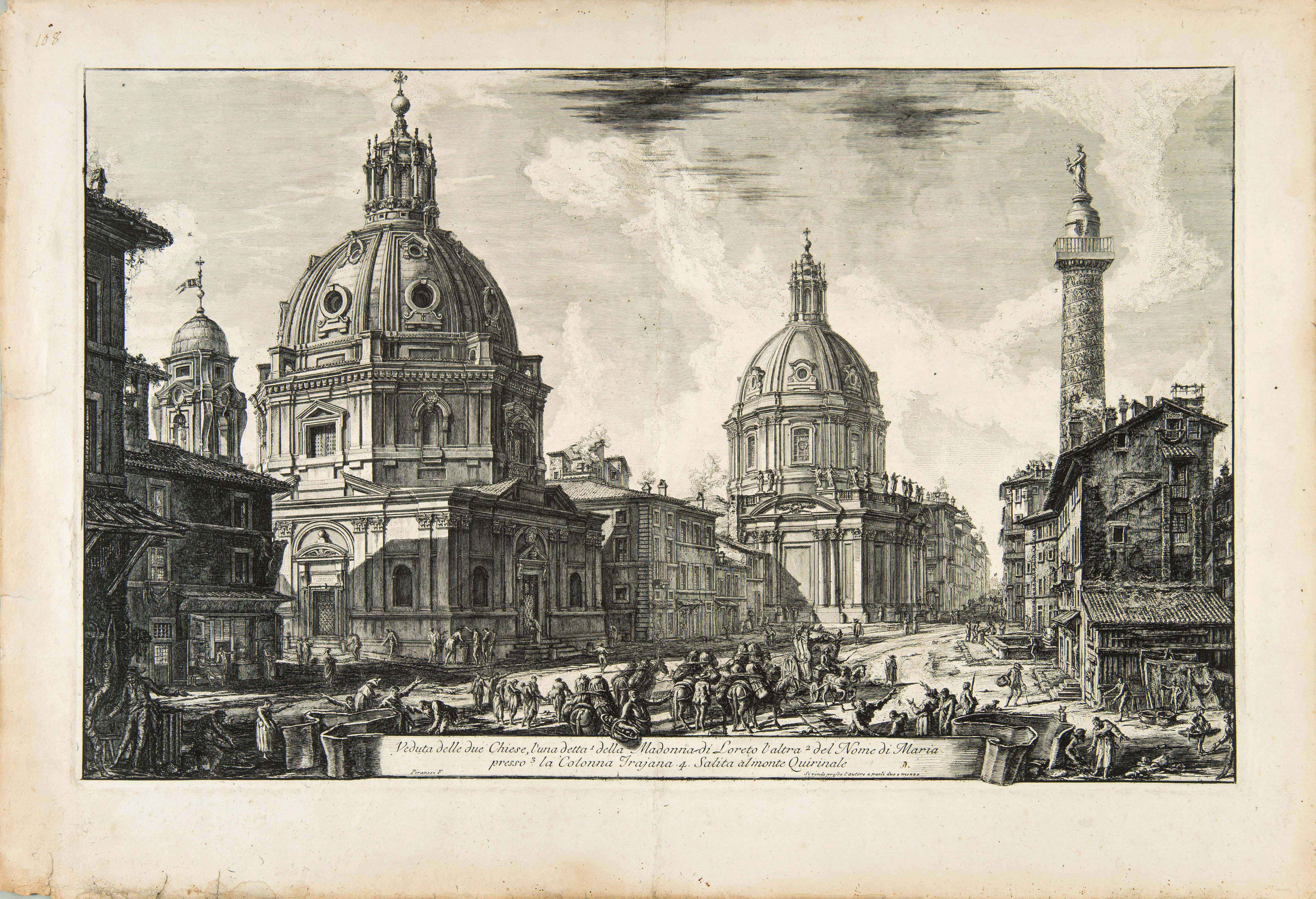 Added to your basket:
Veduta delle due Chiese, l'una detta della Madonna di Loreto l'altra del Nome di Maria presso la Colonna Trajana. Salita al monte Quirinale.
A marvellous view of Rome by Piranesi, from an original edition printed in Rome, bearing the price ('a paoli due e mezzo'), with wide margins and the 'double encircled fleur-de-lys' watermark.

The plate is from Piranesi's best-known work, Vedute di Roma (Views of Rome), consisting of 135 plates, which had been individually produced by Piranesi for some thirty years, from c. 1745 until his death. They were first printed in 1751 (34 plates) by the editor Giovanni Bouchard, afterwards printed by Piranesi himself in Rome; after his death, Piranesi's son Francesco inherited the plates, editing them first in Rome and then in Paris. Later the plates were printed in Paris by Firmin Didot and finally by Calcografia Camerale, now the Calcografia Nazionale, which has purchased the plates.

Giovanni Battista Piranesi was a visionary Italian artist, best known as a vedutista, who liked to refer to himself as a "Venetian Architect". Piranesi anticipated Impressionism by going out to work on the spot, and observe: 'to breath the ancient air', as his friend Robert Adam (1728–1792) recalled. In the work of Piranesi the complexity and development of the artist and his art is self-evident: 'the sublime dreams of Piranesi, who seems to have conceived visions of Rome beyond what it boasted even in the meridian of its splendour ... savage as Salvator Rosa, fierce as Michaelangelo, and exuberant as Rubens, he has imagined scenes that would startle geometry, and exhaust the Indies to realise. He piles palaces on bridges, and temples on palaces, and scales Heaven with mountains of edifices' (Horace Walpole).

Hind 66, I/IV; Focillon 849.
You may also be interested in...
HANWAY, Jonas.
An historical account of the British trade over the Caspian Sea, with a journal of travels from London through Russia into Persia, and back again through Russia, Germany and Holland, to which are added, the revolutions of Persia during the present century, with the particular history of the great usurper Nadir Kouli ...
First edition of Hanway's narrative of his trade mission to Russia, Persia, and the Caspian Sea. Having joined the Russia Company in 1743, Jonas Hanway (1712–1786) sailed for Riga in April that year, before travelling on to St Petersburg, Moscow, and Astrakhan in an attempt to re-establish the fragile trade route to Persia via the Caspian Sea. His mission proved unsuccessful: he was robbed by Khyars and later concluded 'that the trade held no great promise, for Persia was too poor and Russia was wholly disinclined to see the expansion of Persian power on its southern frontier' (ODNB). Published after his return to London in 1750, his Account is notable as one of the first European reports of the Caspian region, for its considerable information on the Russian court, where he spent several years, and the German cities visited on his return journey, and for its extensive contemporary history of Persia.
ANTIPHONAL.
Common of Martyrs; a complete folio leaf.
A complete leaf from a late thirteenth-century antiphonal from Bologna, with a large historiated initial.