BIRDS DO IT, BEES DO IT…
PIRON, Alexis.
Oeuvres badines …
Paris, chez les marchands de nouveautés, 1797.
12mo, pp. 144, with 8 engraved plates; some foxing; overall very good in contemporary marbled sheep, gilt vine leaf border to covers, spine gilt in compartments with gilt red morocco lettering-piece, marbled endpapers; corners worn, a little wear to joints and rubbing to covers.
£975

Approximately:
US $1199
€1137
Added to your basket:
Oeuvres badines …
Scarce illustrated edition of the 'frolicsome works' of the French dramatist and wit Piron (1689–1773), collecting sixty-eight salacious poems accompanied by eight erotic engraved plates. The collection includes the notorious Ode à Priape, the publication of which obliged Piron to leave his native Dijon for Paris, and prompted Louis XV to veto his election to the Académie française.

The volume opens with a frontispiece depicting an orgy involving men, women, cherubs, a faun, and a herm outside a temple to Priapus. Seven further plates follow, each illustrating a particular poem. That accompanying Tirliberly (slang for the male member) shows a dapper young man presenting a dildo to a naked woman in bed. The Ode à Priape has two plates: the first depicting a man and a woman, camels, whales, birds, flies and butterflies, all copulating in couples ('Aigle, baleine, dromadaire, / Insecte, animal, homme, tout, / Dans les cieux, sous l'eau, sur la terre, / Tout nous annonce que l'on fout'), and the second portraying an aroused Achilles in the company of a woman exposing herself on the banks of the river Scamander.

The remaining plates show an amorous King David watching Bathsheba from his balcony with a magnifying glass (Betzabée); an ejaculating gardener (La fille charitable); Briseis revealing her admirable bottom ('aimable cul') to an aroused Grecian (Rondeau); and a Carmelite friar in the company of a naked widow (La veuve inconsolable).

OCLC records only two copies in the US (Newberry Library and UCLA) and one in the UK (British Library).
You may also be interested in...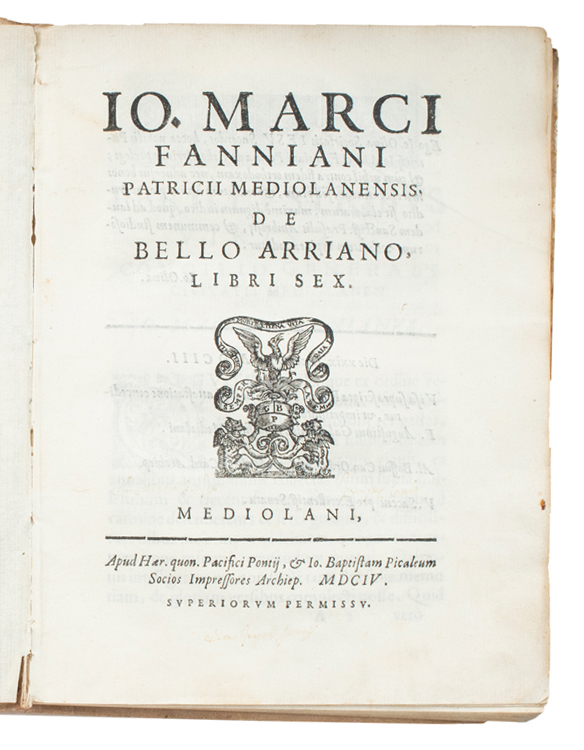 ST AMBROSE FIGHTS ARIANISM FAGNANI, Giovanni Marco. 
De bello Arriano libri sex. 
First and only edition of the sole published work by the Italian nobleman Giovanni Marco Fagnani (1524–1609), an epic poem recounting Ambrose of Milan's campaign against local Arians in late fourth-century Lombardy.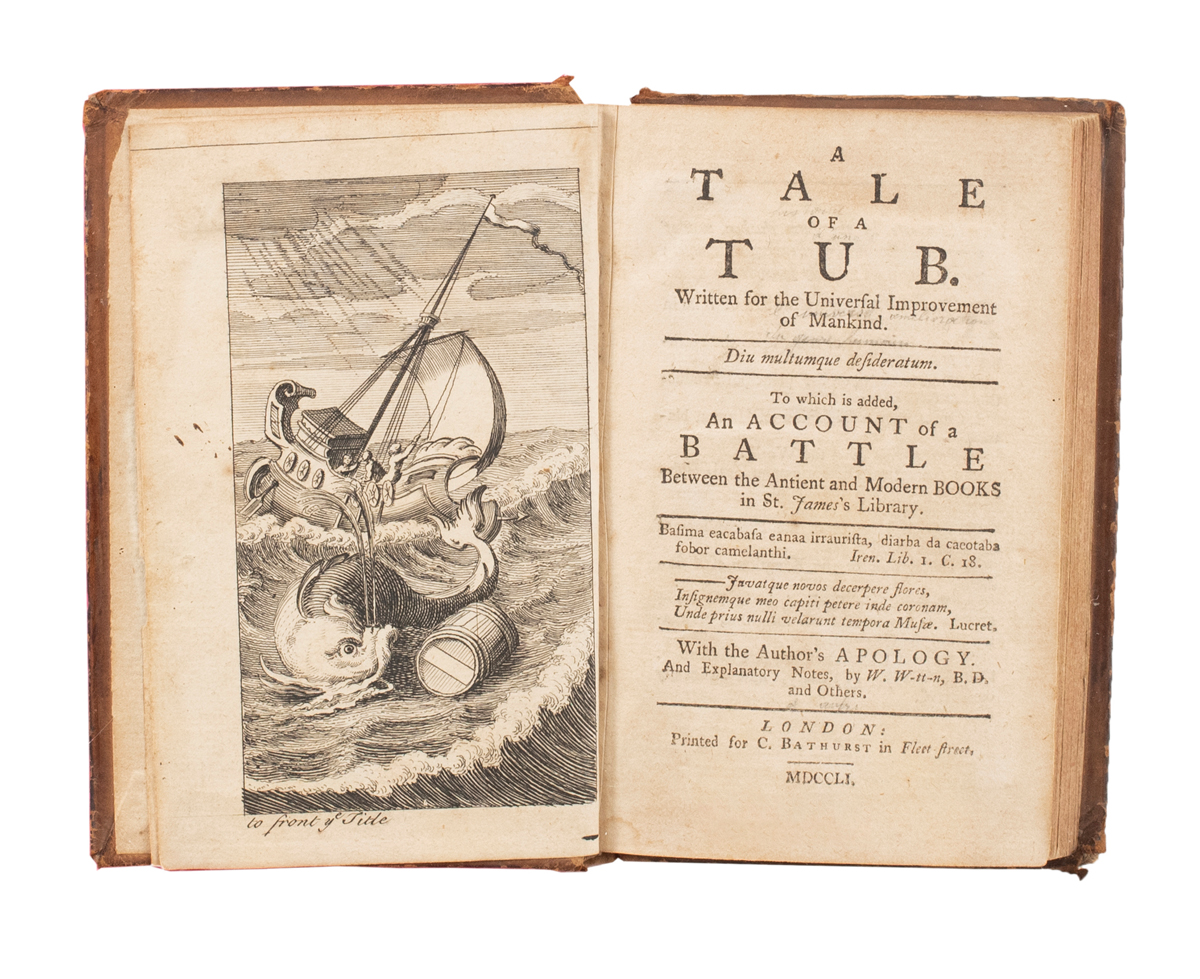 BIBLIOMACHIA SWIFT, Jonathan. 
A Tale of a Tub … to which is added, an Account of a Battle between the antient and modern Books in St. James's Library … with the Author's Apology, and explanatory Notes … 
A scarce later edition of Swift's classic satires on corruption in religion and learning, as exemplified in the conduct of Peter (Roman Catholicism), Martin (Luther), and Jack (Calvin) in the Tale of the Tub, and the spirited fight over the highest peak of Parnassus in the Battel of the Books.  Both pieces were written at Moor Park about 1696-7, when Swift was acting as secretary to Sir William Temple, whose uncritical praise of the spurious Epistles of Phalaris had stirred up the controversy over ancient and modern learning.