EROTIC EPISTOLARY NOVEL BY A POPE
PIUS II (Nicolaus von WYLE, editor).

Epistolae familiares.
Nuremberg, Anton Koberger, 17 July 1486.
4to, ff. [245]; 11-line initial I in blue, green and red to b2r, red and blue paragraph marks, capitals supplied in red and blue, printed capitals highlighted in red; leaves k4-5 cut slightly shorter, a very few small paper repairs to blank margins, occasional light marks, three tiny wormholes (touching some letters); a very good copy in late 18th-/early 19th-century half vellum, fragments from large manuscript antiphonary to sides, lettering to spine, red edges; small worm track to rear endpapers; 18 pp. of early 16th-century MS bound at beginning, 2 pp. of German medical recipes (dated 1536) at end, occasional marginalia in various early hands, some underlining, marginal manicules.
£9500

Approximately:
US $11729
€10939
Added to your basket:
Epistolae familiares.
Second Koberger edition of the Epistolae familiares of Aeneas Sylvius Piccolomini (1405–1464), the great Renaissance humanist who became Pope Pius II in 1458, a handsome copy enhanced with manuscript additions comprising epistolary models, a German-Latin wordlist, and German medical recipes.

The Epistolae include Pius's famous 'Tale of two lovers' ('De duobus amantibus Euryalo et Lucretia'), composed in 1444, one of the earliest epistolary novels, full of erotic imagery, and a fifteenth-century bestseller. It appears here between f. i2r and f. l3r. Other content includes Poggio Bracciolini's 'Epistola ex balneis', and Leonardo Bruni's 'De duobus amantibus Guiscardo et Sigismunda', a Latin version of Boccaccio's Decameron IV.1. The 'Dialogus contra Bohemos' (epistola 130), 'De curialium miseria' (166), 'Epistola ad Mahumetem' (410), and 'De condemnatione Hieronymi heretici' (426) are particularly well annotated in this copy.

The printed text is here preceded by twenty-one elegantly written Latin epistolary models, covering ecclesiastical business, financial matters, and letters to friends, some with headings such as 'Ex Italia epistola missa', 'Epistola bona et utilis', 'Alia epistola de novitatibus', and 'Alia epistola familiaris'. The dates given in the letters range from 1484 to 1504 and places referred to include Cologne, Strasbourg, Lommatzsch, Meissen, and Verona. While the letter 'N' is often used to stand in for surnames and place names, several full names are given, including Petrus Siber of Ulm, Petrus Blasius, Johannes de Insulis, Johannes Erlynger, and Johannes de Weissenbach (who was bishop of Meissen between 1476 and 1487). The letters are followed by a German-Latin wordlist in the same hand, giving German words and their several Latin equivalents, arranged A-V. At the end of the volume are various medical recipes in German for coughs and stones, the latter dated 1536.

BMC II 430; Bod-inc P-320; Goff P719; ISTC ip00719000.
You may also be interested in...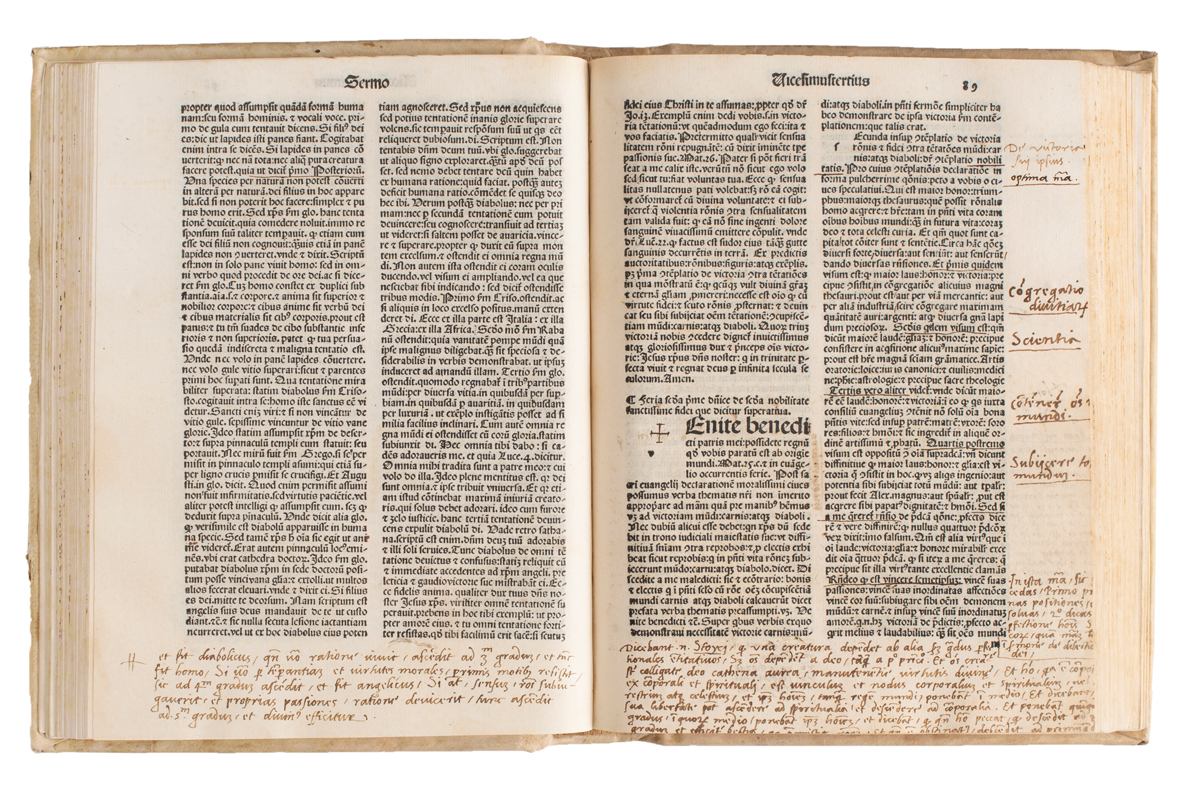 HOMILETIC WORKANNOTATED BY MACHIAVELLI'S LAST CONFESSOR ANTONIUS de Vercellis. 
Sermones quadragesimales de XII mirabilibus Christianae fidei excellentiis [with additions by Ludovicus Brognolo]. 
A remarkable copy of the first edition of Antonius de Vercellis' sermons, owned and annotated by three contemporary Franciscans, one of whom, Andrea Alamanni, may be the confessor who administered Machiavelli's last rites. 
THE GERMAN DON QUIXOTE COMPLETE [CERVANTES SAAVEDRA, Miguel de.]
Don Quixote Von Mancha, Abentheurliche Geschichte. Erster [– Anderer] Theil.
First edition, first issue, of the first complete translation of Don Quixote into German. An earlier translation under the title 'Juncker Harnisch aus Fleckenland' (Frankfurt 1648, reprinted 1669 (the Cöthen 1621 edition is a ghost)) comprised only the first twenty-two chapters of Part I. The translator here signs himself 'J.R.B.' under a dedication to Elizabeth Charlotte of the Palatinate, Duchess of Orleans. The engravings are cut by Diodati from those prepared by Bouttats for the 1662 Brussels edition.