PLUCHE, Noël-Antoine.
The History of the Heavens, considered according to the Notions of the Poets and Philosophers, compared with the Doctrines of Moses. Translated from the French … by J. B. de Freval, Esq. …
London: Printed [by Samuel Richardson] for J. Osborn … and sold by C. Rivington, C. Davis, T. Longman, T. Astley, S. Austin [and eight others in London, one in Bath]. 1740.
Two vols. in one, 8vo., pp. [4], x, [2], 288, [8]; [2], 312, [8], with a frontispiece to each volume and twenty-three other leaves of plates depicting inscriptions and carvings on ancient monuments, all mounted in accordance with the instructions to the binder: 'The Bookbinder is desir'd to paste the Cuts (which are the original [12mo.] ones, engraven at Paris), upon an Octavo Leaf, the Size of this Work'; a fine copy in contemporary mottled calf, somewhat rubbed, spine gilt, red morocco label; the Macclesfield copy.
£1000

Approximately:
US $1309
€1138
First edition in English of Histoire du ciel consideré selon les idées des poëts, des philosophes, et de Moïse (Paris, 1739).

Noël-Antoine Pluche, a controversial professor of rhetoric at Rheims, became tutor in physics to, among others, the Earl of Stafford's son. His most famous work, Spectacle de la nature (1732), was immensely popular but brought him ridicule in Voltaire's Candide for its philosophical optimism. Here, he attempts to make modern science conform with the teachings of Genesis. 'La première partie est presque une mythologie complète, fondée sur des idées neuves, mais simples et ingénieuses; la seconde partie est l'histoire des idées philosophiques sur la formation du monde' (Nouvelle bibliographie générale); there is an extended discussion of 'The world of Newton' (II, 189-224).

The translator, John Baptist de Freval was a friend of Samuel Richardson; his letter in praise of 'the high-meriting tho' low-descended' Pamela prefaced Richardson's novel, which was in the press at the same time as this work.

Sale 266; Wallis, Newton and Newtoniana, 403.287.
You may also be interested in...
SECOND, ENLARGED EDITION OF A BEST-SELLING ACCOUNT OF RUSSIA AND THE CRIMEA ON THE EVE OF THE CRIMEA OLIPHANT, Laurence.
The Russian Shores of the Black Sea in the Autumn of 1852 with a Voyage down the Volga, and a Tour through the Country of the Don Cossacks ... Second Edition – Revised and Enlarged.
Second edition, revised and enlarged. The diplomat and traveller Oliphant (1829-1888) and his companion Oswald Smith journeyed through Russia and the Crimea shortly before the outbreak of the Crimean War, and his overview of the region also includes details of visits to Nizhnii Novgorod (which is depicted in the frontispiece) and other Russian cities, including Sevastapol, which Oliphant and Smith entered in disguise in order to map its fortifications. Nerhood considers that Oliphant 'describes places and people in an informative way, especially the long journey down the Volga River, with its peculiar means of transportation and the peoples along its banks', and this, together with the approach of the Crimean War (which led Lord Raglan to approach Oliphant for information), ensured the work's popularity. The first edition appeared in late 1853 as the Crimean War broke out (an advertisement on p. 10 of The Times of 25 October 1853 describes it as 'preparing for publication') and this second edition was published shortly afterwards (the preface is dated December 1853), with an additional chapter, since '[t]he Eastern Question has now assumed so serious an aspect, that facts connected with the Russian Shores of the Black Sea, which at the period of my visit in 1852 were devoid of any special political interest, are invested with the utmost importance, for it is possible that the southern portion of the Empire may shortly become the theatre of war, and considerations, the value of which I scarcely appreciated a few months ago, have since occurred to me as possessing strong claims upon our attention' (p. [v]). Third and fourth editions, which were reprints of this second edition, appeared in 1854.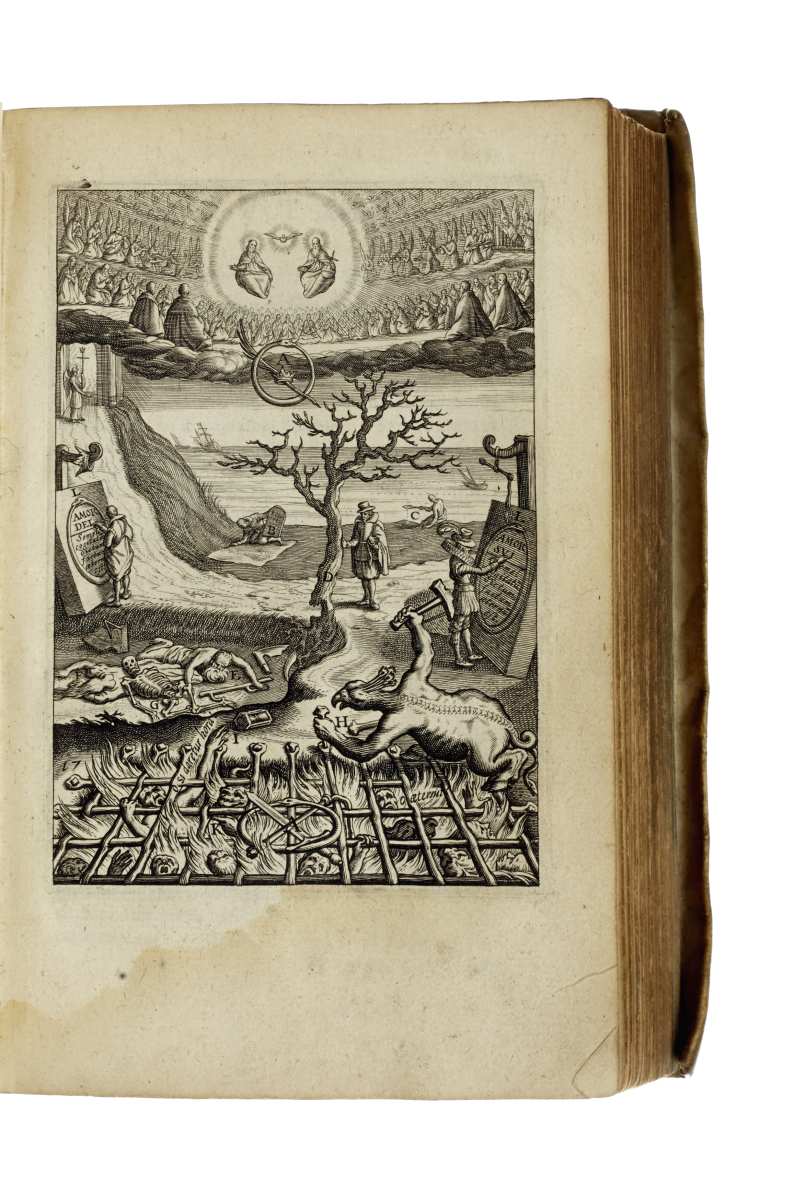 HEAVEN AND HELL GLIMPSED BY RUBENS' ENGRAVER SUCQUET, Antoine.
Via vitae aeternae iconibus illustrata per Boetium a Bolswert.
First edition, a very clean, attractive copy, of an emblem book which unites the spiritual meditations and practices of the Belgian Jesuit Antoine Sucquet with fine emblematic illustrations devised by the great baroque engraver Boetius a Bolswert (c. 1580-1633), called by Praz 'the illustrator of the sentimental and ecstatic states of the soul'. Boetius a Bolswert's exquisite refinement gives here, again in Praz' words, views of Hell and glimpses of Heaven. Man's worse drives are iconized in satyrs, ghouls, harpies, werewolves, semi-human lizards, his progress towards eternal life ever hindered by the multifarious and rapacious beast within. With his brother Schilte, Boetius was among the most sensitive and felicitous engravers to render Rubens' drawings. Sucquet's emblem book was extremely successful, with 177 editions in Latin within a decade, and many vernacular translations.