PLUCHE, Noël-Antoine.
The History of the Heavens, considered according to the Notions of the Poets and Philosophers, compared with the Doctrines of Moses. Translated from the French … by J. B. de Freval, Esq. …
London: Printed [by Samuel Richardson] for J. Osborn … and sold by C. Rivington, C. Davis, T. Longman, T. Astley, S. Austin [and eight others in London, one in Bath]. 1740.
Two vols. in one, 8vo., pp. [4], x, [2], 288, [8]; [2], 312, [8], with a frontispiece to each volume and twenty-three other leaves of plates depicting inscriptions and carvings on ancient monuments, all mounted in accordance with the instructions to the binder: 'The Bookbinder is desir'd to paste the Cuts (which are the original [12mo.] ones, engraven at Paris), upon an Octavo Leaf, the Size of this Work'; a fine copy in contemporary mottled calf, somewhat rubbed, spine gilt, red morocco label; the Macclesfield copy.
£1000

Approximately:
US $1312
€1118
First edition in English of Histoire du ciel consideré selon les idées des poëts, des philosophes, et de Moïse (Paris, 1739).

Noël-Antoine Pluche, a controversial professor of rhetoric at Rheims, became tutor in physics to, among others, the Earl of Stafford's son. His most famous work, Spectacle de la nature (1732), was immensely popular but brought him ridicule in Voltaire's Candide for its philosophical optimism. Here, he attempts to make modern science conform with the teachings of Genesis. 'La première partie est presque une mythologie complète, fondée sur des idées neuves, mais simples et ingénieuses; la seconde partie est l'histoire des idées philosophiques sur la formation du monde' (Nouvelle bibliographie générale); there is an extended discussion of 'The world of Newton' (II, 189-224).

The translator, John Baptist de Freval was a friend of Samuel Richardson; his letter in praise of 'the high-meriting tho' low-descended' Pamela prefaced Richardson's novel, which was in the press at the same time as this work.

Sale 266; Wallis, Newton and Newtoniana, 403.287.
You may also be interested in...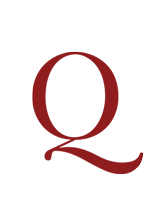 A FAMOUS BAWD, AND POPE'S LOVERS TANNER, Anodyne, M.D., pseud.
The Life of the late celebrated Mrs. Elizabeth Wisebourn, vulgarly call'd Mother Wybourn; containing secret Memoirs of several Ladies of the first Q---y, who held an Assembly at her House; together with her last Will and Testament … London: Printed for A. Moore … [1721?].
First edition of a scurrilous account of Elizabeth Wisebourn[e], a famous bawd, and the goings-on in the gilded apartments of her elegant London brothel in Drury-Lane. Born in 1653 and educated in Rome under the tuition of a Lady Abbess to whom 'she ow'd all that she knew of her Business', Elizabeth made the acquaintance of ladies of first rank on her return to London, setting up a House where they could consort in private with the greatest variety of gallants. She also maintained a supply of the latest anti-venereal nostrums (a medical theme underlies the main narrative). Although her clients, female and male, are concealed by dashes and invented names, they must have been readily recognized by readers of the day. As her business increased she joined forces with the opera manager John James Heidegger, and together they conceived scandalous masquerades 'to promote the Trade of her House'.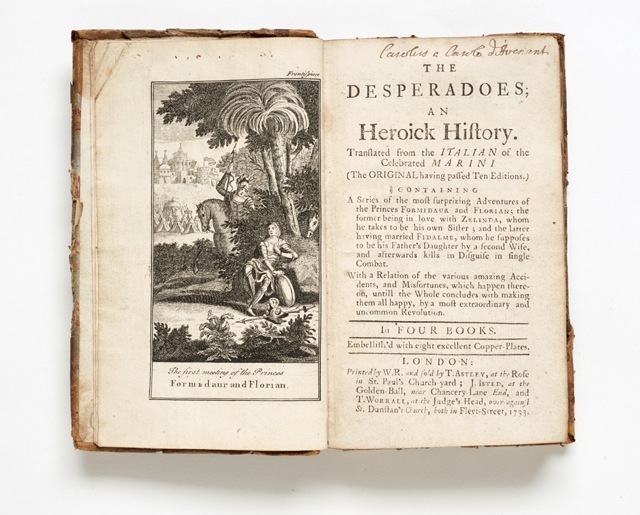 MARINI, Giovanni Ambrogio.
The Desperadoes; an heroick History. Translated from the Italian of the celebrated Marini (the Original having passed ten Editions.) Containing a Series of the most surprizing Adventures of the Princes Formidaur and Florian … In four Books. Embellish'd with eight excellent Copper-Plates.
First and only edition in English of Le gare de' disperati (1644), the second of three romances by Marini (1596-1668). Inevitably, 'It was necessary to omit many Things that were contrary to our Morals; to Decency, and to the Purity of the English Tongue …'. But the general scheme of events is the same as the original, and is outlined on the title-page: 'A Series of the most surprizing Adventures of the Princes Formidaur and Florian; the former being in love with Zelinda, whom he takes to be his own Sister; and the latter having married Fidalme, who he supposes to be his father's Daughter by a second Wife, and afterwards kills in Disguise in single Combat. With a Relation of the various amazing Accidents, and Misfortunes, which happen thereon, until the Whole concludes with making them all happy, by a most extraordinary and uncommon Revolution.'