FLORIOGRAPHY
[POETRY.]
Anthology of manuscript floriographic poetry,
dated June 1853.
12mo, pp. [60], [8, blank]; manuscript in black ink, some leaves blindstamped De La Rue & Co; presentation inscription in pencil to first page, 'From Uncle James to Joshua'; bound in half maroon straight-grain morocco over marbled boards, some loss to corners and spine, but holding firm.
£250

Approximately:
US $330
€280
A collection of twenty-six apparently unpublished poems in manuscript, presented as an alphabetical acrostic. The poems express the perfection and the language of flowers – that is, the meaning embodied by each variety. Examples given here include ox-eye for patience, quince blossom for temptation, and yellow xanthiums for rudeness.

The style and sentiment reflect the heightened popularity floriography enjoyed in the period, both in Britain and America.

The poems comprise:
Amaranth, everlastingly the same
Bay leaf, I change but in death
Canterbury Bell – Youthful constant
Daisy, Cheerfulness
Everlasting flower, Never forget Immortal
Forget-me-not
Geranium, Home a place of rest
Hawthorn, Hope on hope ever
Ivy, I cling to thee!
Juniper – Help or Protection
King's Cup – Youthful gays
Lily – purity and sweetness
Moss Rose – Beauty
Nasturtium, Splendour
Ox Eye, Patience
Periwinkle – Early Friendship
Quince Blossom – Temptation
Rose Red – Happy Love
Speedwell – Faithful Love
Travellers Joy – Safety
Union, Rose-Thistle-Shamrock
Violets Blue, Faithfulness
Wallflower, Fidelity in Misfortune
Xanthium Yellow, Rudeness
Yew, Melancholy
Zephyr Flower, Expectation
You may also be interested in...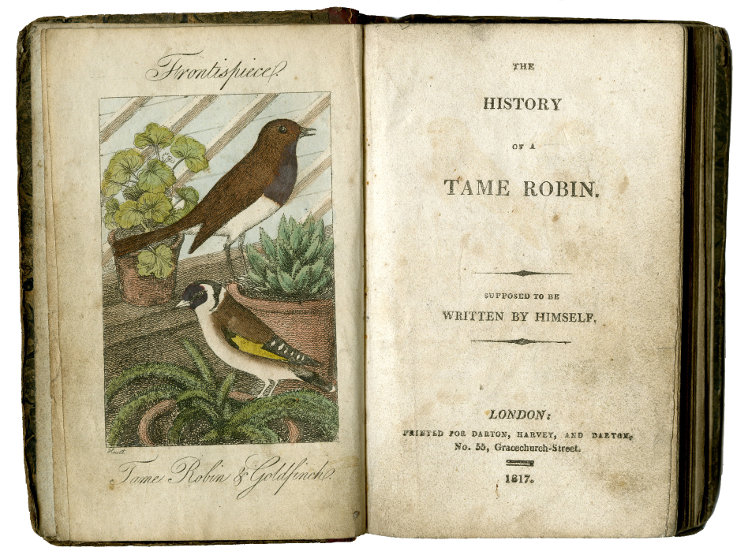 [KEENE, Marian].
The History of a tame Robin. Supposed to be written by Himself.
First and only edition. The tame Robin recalls a life of adventure enriched by human and avian friendships. A childhood spent in a school-room helped him attain 'a sufficient knowledge of literature to relate my adventures'. His life, though happy, is not without its vicissitudes: he loses a close friend, Goldey the goldfinch, to a bird of prey and spends a disconcerting time in the ownership of a spoilt child who starves sparrows to death.
EDITED BY THE POET COWPER'S UNCLE [COWPER, Ashley, editor].
The Norfolk poetical Miscellany. To which are added some select Essays and Letters in Prose. Never printed before. By the Author of the Progress of Physick. In two Volumes …
First edition. This lively miscellany, containing a large number of amusing short poems (but nothing for the libertine), was assembled by William Cowper's uncle, the father of Theodora, later Lady Hesketh, with whom the poet fell in love. The dedication to the young Lady Caroline [Cowper] is subscribed 'Timothy Scribble': 'Too true it is, that the present Age has been fruitful of Miscellanies; and I wish it was less true, that even the best Collections of them (tho' handed to us by the brightest Wits of our Family [i.e. Scribblers and Scriblerians]) are not without some Impurities, which make them very unfit Companions for Youth ….' 'But to say a Word of the following Collection. It consists chiefly of Original Pieces – many of them (and those I fear the worst) are the Editor's own – some never so much as handed about in Manuscript – few ever committed to the Press before ….'