[POLITICAL PHILOSOPHY.]
Collection of 11 treatises.
Spain, c. 1750.
Manuscript on paper, in Spanish, folio (310 x 220 mm approx.), ff. [110]; neatly written in brown ink in a single hand, c. 25-30 lines per page; a few light marks and smudges; overall very good in contemporary vellum, title inked to spine ('Asuntos politicos'), remains of ties; a few small chips to spine, a little creased and marked; 'Sr Pedro A. Parizio' inked to lower cover.
£975

Approximately:
US $1353
€1123
Added to your basket:
Collection of 11 treatises.
A highly interesting manuscript compendium of Spanish treatises on political philosophy and politics.

Three of the works are classically framed: an essay on governance addressed by Seneca to the emperor Nero ('Instruccion de Seneca a Neron para su govierno'), which appeared in Juan Pablo Martir Rizo's Historia de la vida de Lucio Anneo Seneca (1625); an order from the emperor Augustus to the governor of Dacia ('Instruccion del Emperador Augusto al Govenador Escauro de la Provincia de Dacia'); and a letter from Plutarch to the emperor Trajan ('Carta de Plutarco al Emperador Trajano').

Three further treatises consist of philosophical and political aphorisms: 'Sentencias de Philosofos, y diferentes Noticias', containing references to Vespasian, Emperor Sigismund, Aristotle, Sallust, Plutarch, Herodotus, Euripides, Homer, Seneca etc.; 'Aforismos politicos y de razon de Estado'; and 'Sentencias Philosoficas del doctor Persa Seaid, traducidas por Vizente Bratuti año de 1662' - Bratuti, who served as interpreter in oriental languages to Philip IV and Charles II of Spain, published this text in his Anales de Egipto in 1678.

The remaining works comprise: 'Diseño de Primer Ministro', apparently by the political thinker and writer Melchor Rafael de Macanaz (1670-1760); an anonymous plan for a royal court, 'Traza para fundar una Corte Real'; an interesting piece on the political claims of the Pope, Holy Roman Emperor etc. over various parts of Europe ('Pretenciones de los Potentados de la Europa'), attributed in the version in BL Egerton MS 1817 to Isidoro Rubio, a monk of Arlanza; an account of graces granted by the Pope to the King of Spain ('Razon de las gracias que su Magestad pide a su Santidad'); and a letter from Joaquin Ponce de Leon, Duke of Arcos, to Philip V of Spain, written shortly after the latter's accession ('Representacion echa por el Duque de Arcos D. Joaquin Ponze de Leon al Rey D. Ph. V sobre haver conferido a los Duques y pares de Francia, las Dignidades de Grandes de España con recuerdo de su Abuelo el Rey Christianisimo de Francia año de 1701').

The first eight items here are also found (in a different order) in Biblioteca Nacional de España MS 9669.
You may also be interested in...
DEFENDING THE UNITED PROVINCES HEXHAM, Henry.
A Tongue-Combat, lately happening betweene two English Souldiers in the Tilt-boat of Gravesend, the one going to serve the King of Spaine, the other to serve the States Generall of the United Provinces. Wherein the Cause, Course, and Continuance of those Warres, is debated, and declared …
First edition, written in reply to a rare pamphlet with a near-identical title by Richard Verstegan [or Rowlands], an intelligence agent in the Netherlands for the English Jesuits. Verstegan's original Toung-Combat comprised a dialogue between the pro-Catholic Red Scarf and the Protestant Tawny Scarf, the latter a patsy for Red Scarf's arguments. Here Hexham reprints Red Scarf's portion of the conversation in its entirety, but rewrites Tawny-Scarf's rejoinders at length to expose the 'many falshoods … wrapt up in those waste-papers' – it is as a result an unusual sort of palimpsest, enabled by the dialogic structure of the original work.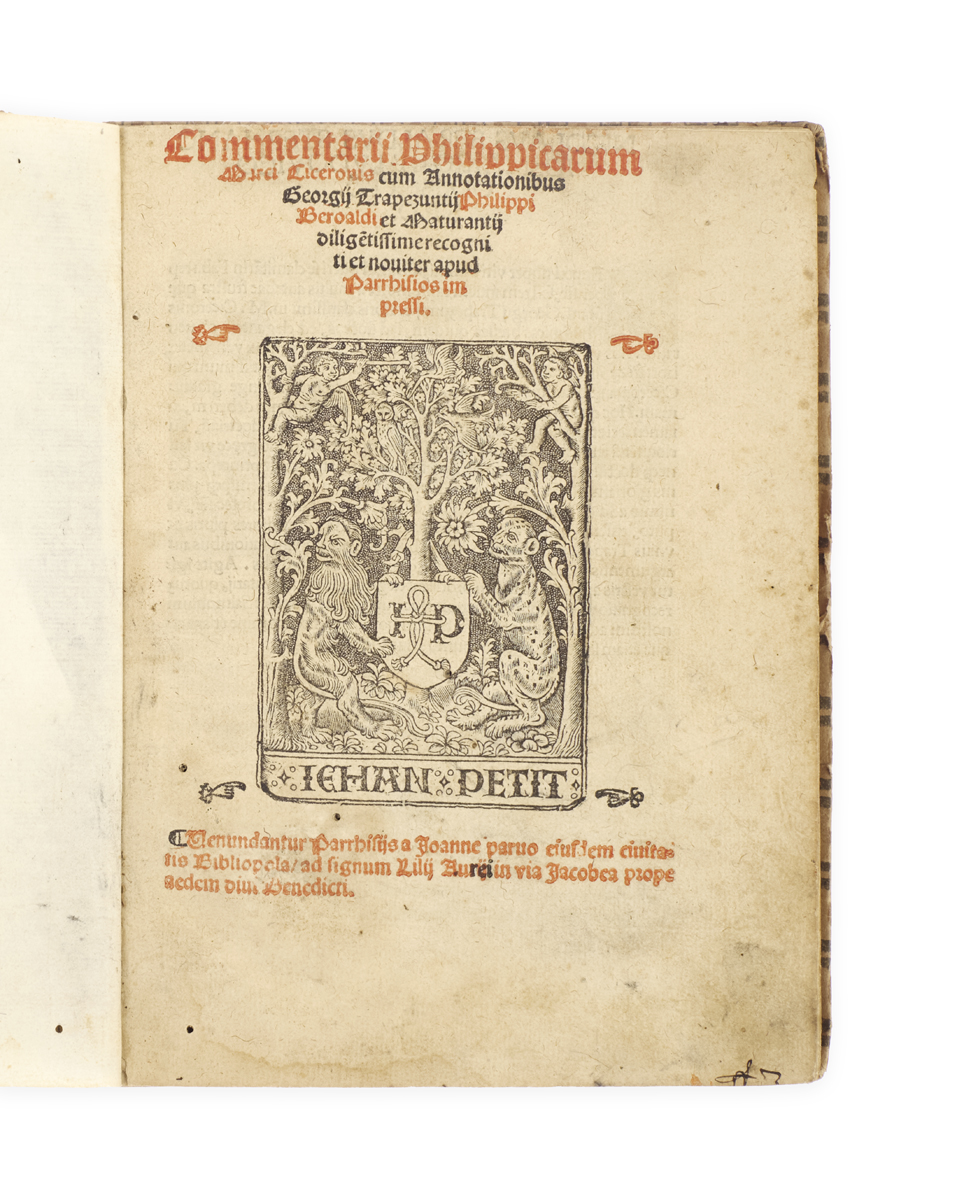 [CICERO, Marcus Tullius.]
Commentarii Philippicarum Marci Ciceronis cum annotationibus Georgii Trapezuntii Philippi Beroaldi et maturantii diligentissime recogniti et novited apoud Parrihisios impressi.
Rare edition, attractively printed and with occasional contemporary annotations, of Cicero's Philippics, comprising Cicero's text along with the commentaries of the Cretan humanist George of Trebizond (1396–1486), the Bolognese rhetorician Filippo Beroaldo (1453–1505), and the Perugia historian Francesco Maturanzio (c. 1443–1518). The printer, Thomas Caseus (or Kees) was active in Paris between 1507 and 1516.