[POPULAR DEVOTION].
L'heureuse benediction des maisons.
Vannes, N. De Lamarzelle, [c.1840].
Single sheet (430x261mm), woodcut with text below within decorative border; edges slightly frayed, but otherwise clean and fresh.
£250

Approximately:
US $314
€279
Added to your basket:
L'heureuse benediction des maisons.
A wonderful devotional broadside printed in the Breton town of Vannes, comprising a crude woodcut depiction of the scene at Calvary, signed 'Desloge' at the base, with two cantiques spirituels. The image is identical to one that appeared in a similar publication, also undated, that appeared in Mourtain in Normandy, printed by Lebel; the surrounding border and the text, however, differ, and we are unable to establish priority. Similar images, appearing under the same title, were not uncommon in the mid nineteenth century in provincial France, but survivals are very rare. Lamarzelle was the publisher of numerous works, both religious and secular, throughout the nineteenth century. Nicolas de Lamarzelle, the present printer, was active between 1835 and 1849.
Neither the present version nor the Mourtain one recorded by OCLC.
You may also be interested in...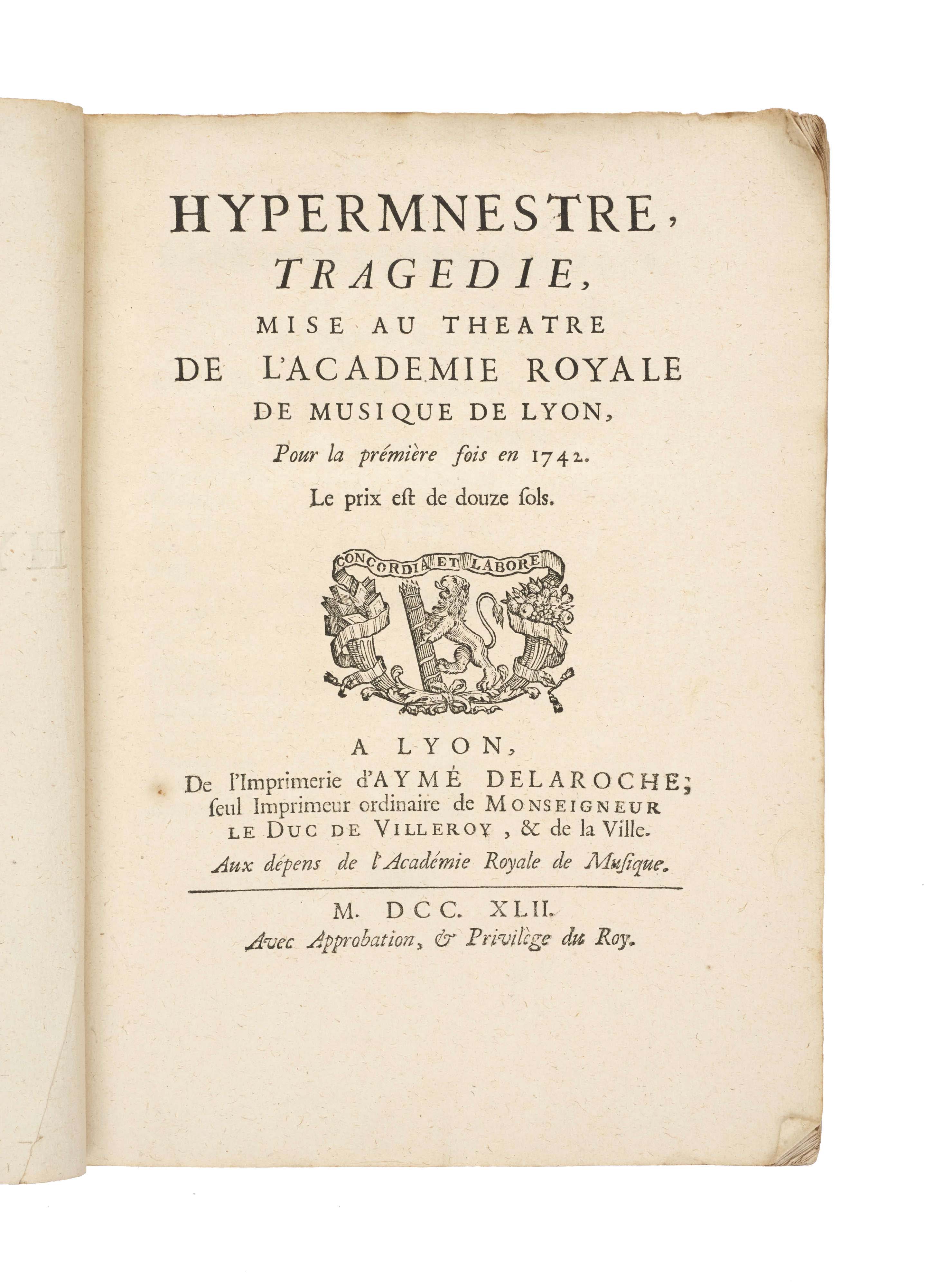 [LAFONT, Joseph de.]
Hypermnestre, tragedie, mise au theatre de l'Academie Royale de Musique de Lyon, pour la prémière fois en 1742. Le prix est de douze sols.
Very scarce Lyon edition of the libretto for the tragedy Hypermnestre by the French playwright Joseph de Lafont (1686-1725). First performed in 1716, with music by Charles-Hubert Gervais, the play was initially criticised for its fifth act, but after rewriting by abbé Simon-Joseph Pellegrin enjoyed considerable success both with the public and at court. Lafont died at the age of 39, succumbing to his affection for wine.
In 1742 Hypermnestre was performed for the first time at the Royal Academy of Music in Lyon, and this edition gives the names of the singers, actors and actresses who performed. The title role was played by Mlle Louise Jacquet (b. 1722) who began her singing career at the Paris Opera in 1738 and subsequently moved to Aix-en-Provence. An attractive portrait of her was painted by Jean-Etienne Liotard.
In Greek mythology, Hypermnestra was one of the fifty daughters of Danaus, king of Argos, who defied her father by refusing to kill her husband Lynceus.
We have traced only 3 copies, at the BnF, BM Lyon, and the Library of Congress.
POEM ON THE 1755 LISBON EARTHQUAKE ALMEIDA, Theodoro de.
Lisboa destruida poema, author o P. Theodoro de Almeida, da Congregaçaõ do Oratorio de Lisboa.
First edition of this poem in six cantos, with extensive notes, on the disastrous 1755 Lisbon earthquake, by the Oratorian priest and philosopher Almeida (1722-1804). One of the deadliest in history, the earthquake almost totally destroyed the Portuguese capital and accentuated political tensions within the kingdom. It was widely discussed by European Enlightenment philosophers, including Voltaire and Rousseau, and led to important debates around theodicy and philosophical optimism.
Almeida was one of the most important figures of the iluminismo in Portugal and spent time in exile in France following the persecution of his congregation by the Marquis of Pombal. He wrote Lisboa destruida soon after the earthquake but it remained in manuscript until 1803, its publication perhaps motivated by the outbreak of the Napoleonic Wars, which threatened to bring fresh disaster to his country. In his prologue, Almeida refers to Voltaire's Poème sur le désastre de Lisbonne as 'obra dictada, naõ pelas Musas Christãs, mas certamente pelas Furias infernaes'. Almeida's poem has been praised by the bibliographer Inocênio for its historical value and is illustrated with beautiful vignettes alluding to the earthquake.
Provenance: this copy belonged to one Captain Saunders of the 14th Light Dragoons who no doubt acquired it on service with the 14th during the Peninsula War between 1808 and 1814.
Only one copy on Library Hub, at the British Library.