FOUR STEPS
POUND, Ezra, and D. G. BRIDSON.
'Four Steps' by Ezra Pound. Produced by D. G. Bridson.
[7 May 1958].
Carbon copy typescript, 2 pages folio, stapled at the head; folded twice but in excellent condition; from the collection of D. G. Bridson.
Added to your basket:
'Four Steps' by Ezra Pound. Produced by D. G. Bridson.
Typescript of the broadcast of 'Four Steps', as recorded by Bridson in Washington in 1956, aired on the evening of Pound's release from St Elizabeth's Hospital in 1958, along with Bridson's introductory statement, explaining the genesis of the recording. Here Pound carefully explained the four incidents in his life that demonstrated to him the manner in which the executive had exceeded its legal powers, and which led to his controversial Italian broadcasts. It was for these broadcasts that he had been charged with 19 counts of treason in 1945 and then detained as incompetent to stand trial.
You may also be interested in...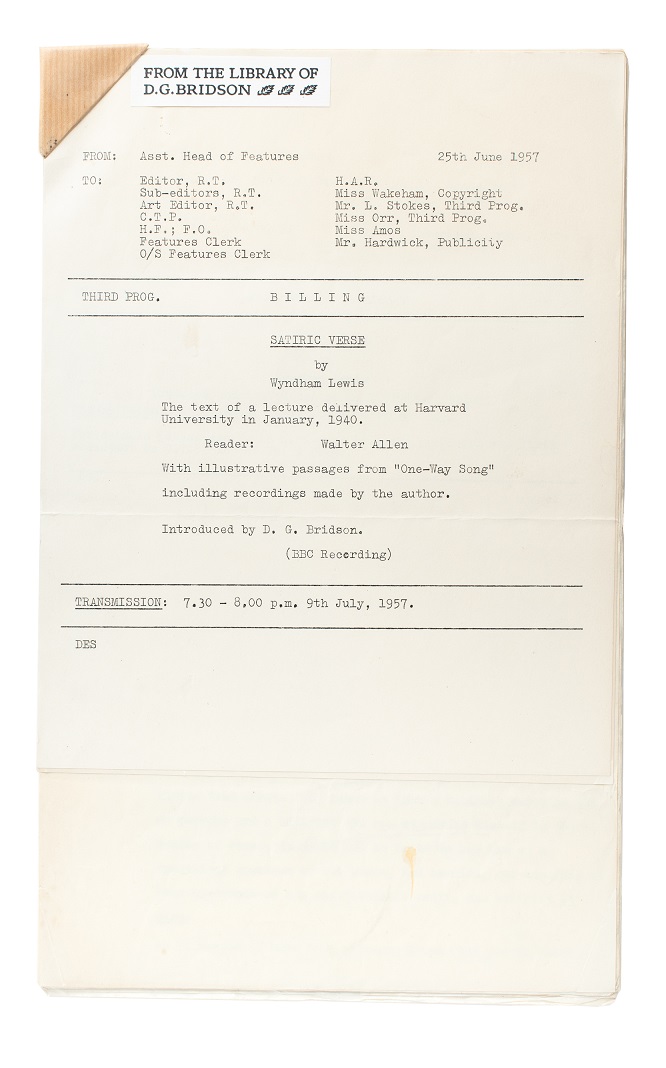 CORRECTED BROADCAST SCRIPT LEWIS, Wyndham, and D. G. BRIDSON.
Typescript for broadcast: 'Satiric Verse … The text of a lecture delivered at Harvard University in January, 1940'.
Although a recording of Lewis reading from 'One Way Song' was made at Harvard in 1940, the lecture that accompanied it, 'Satiric Verse', was not then recorded. For the 1957 broadcast it was read by Walter Allen 'from Lewis's own manuscript notes'. Several other sections were read by Stephen Murray. Bridson produced, and provided an introduction and some linking remarks between sections.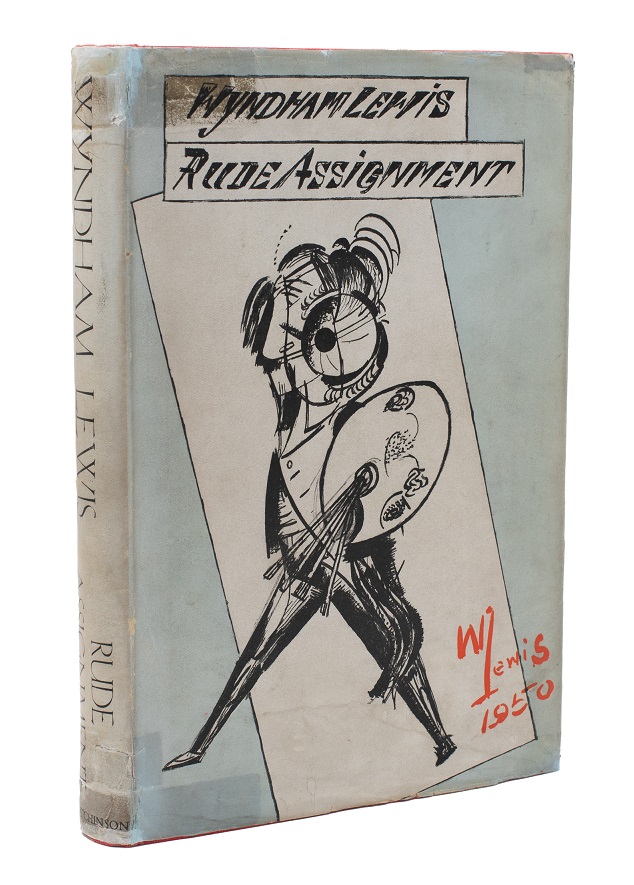 AUTOBIOGRAPHICAL REVISIONISM LEWIS, Wyndham.
Rude Assignment. A Narrative of my Career up-to-date … Illustrated with works by the Author.
First edition, first impression, 'one of the most readable of his later works ... also one of the most illuminating' (Bridson, Filibuster). Written throughout the late '40s, and originally titled The Politics of Intellect, Rude Assignment is divided into three parts, the first devoted to 'the ambivalent position of the intellectual in the modern world; the nature of satire; and the overriding influence of politics in contemporary thought. The second part provides 'the personal background to his career'; and Part Three re-examines earlier works, trying to square away his politics of the '30s, and reaffirming his sympathies for both Socialism and Internationalism.