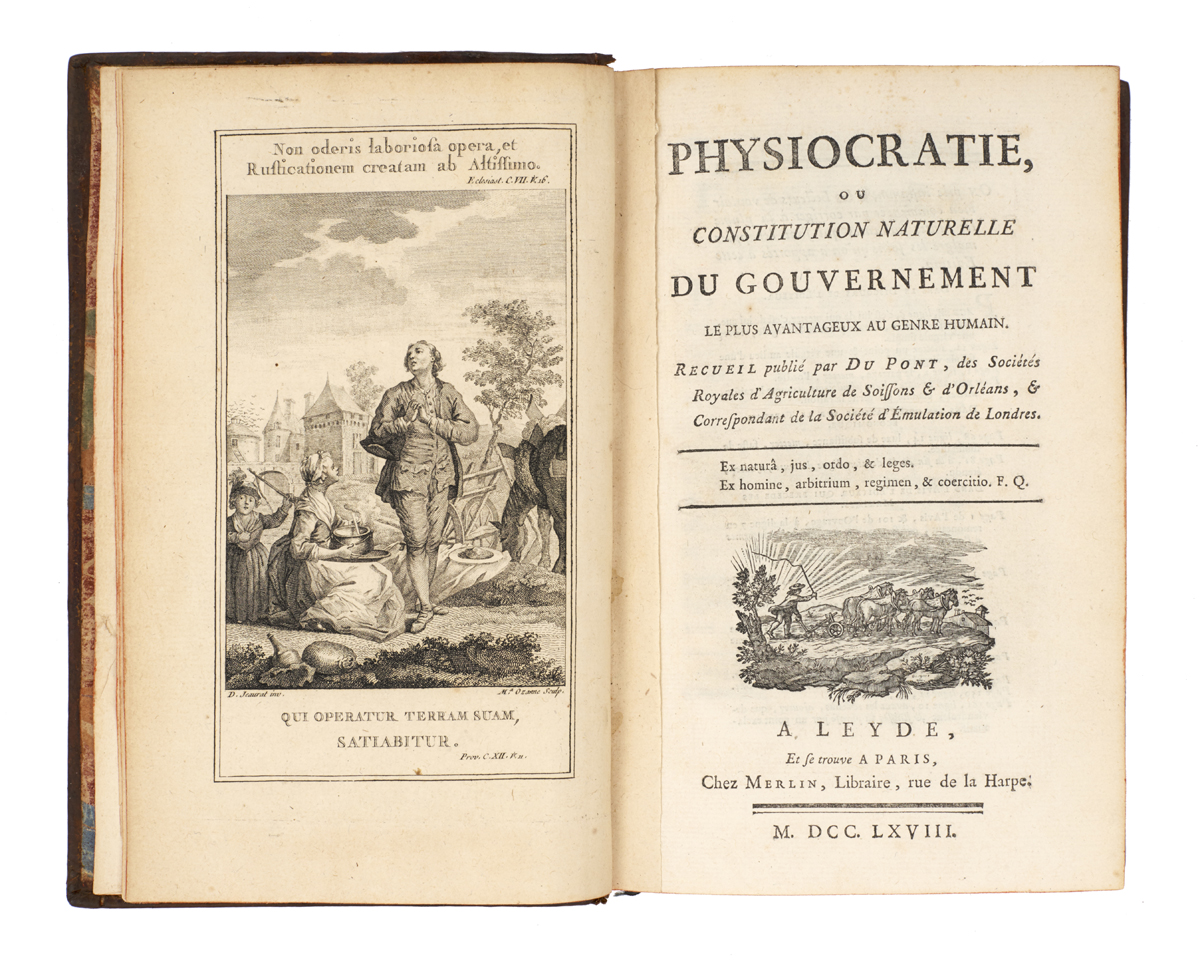 THE 'BIBLE' OF THE PHYSIOCRATS
[QUESNAY, François.] DU PONT DE NEMOURS, Pierre Samuel (editor).

Physiocratie, ou constitution naturelle du gouvernement le plus avantageux au genre humain …
Leiden and Paris, Merlin, 1768.
[with:]

—. Discussions et développemens sur quelques-unes des notions de l'économie politique. Pour servir de seconde partie au Receuil intitulé: Physiocratie. Leiden and Paris, Merlin, 1767.

Two parts in one volume, 8vo, continuously paginated, pp. [4], cxx, 172; [173]–520, with engraved frontispiece and wood-engraved vignettes to both title-pages; a little light foxing, a few small marks; a very good copy in contemporary speckled calf, flat spine richly gilt, with morocco lettering-piece; upper joint cracked at head, a little light wear to extremities; all edges red.
£37500

Approximately:
US $45997
€43571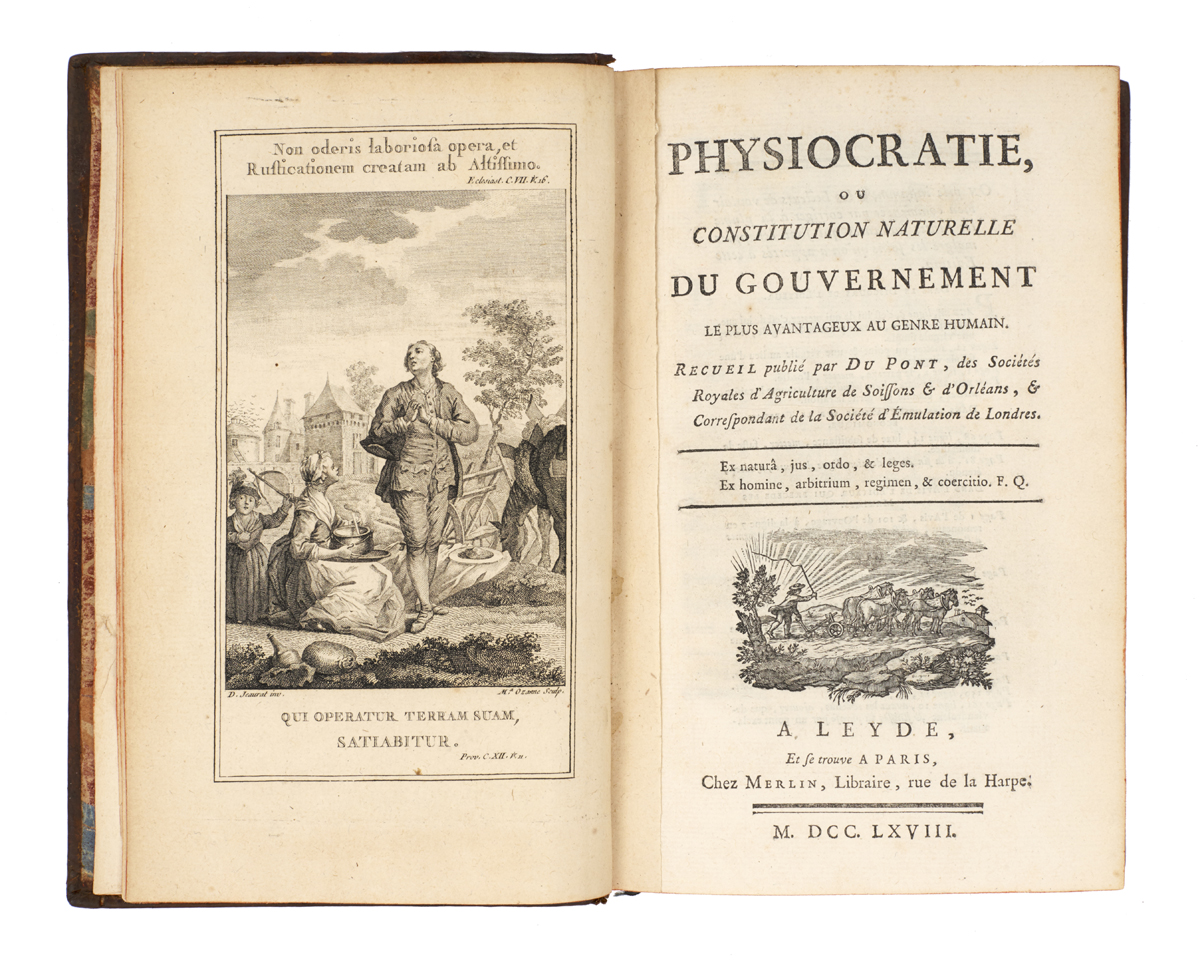 Added to your basket:
Physiocratie, ou constitution naturelle du gouvernement le plus avantageux au genre humain …
First edition of the 'Bible' of the Physiocrats and one of the most important and original works on political economy to be published before the Wealth of Nations. The excessively rare 'Pékin' imprint was printed in very small numbers and swiftly withdrawn because of a statement on page 104 of the Avis in volume I. In that issue, Du Pont wrote that the Tableau économique was printed at Versailles in December 1758 'sous les yeux du Roi … Peut-être est-ce une de ces choses qui honorent à la fois les Auteurs & les Monarques, & qui méritent de passer à la postérité'. This passage was deleted and a cancel replaces the offending leaf.

'Je rassemble, sous un titre général & commun, des Traités particuliers qui ont servi à mon instruction, & qui pourront servir à celle des autres. Leur auteur m'en a donné la plûpart successivement pour en enrichir un Ouvrage périodique, dont j'étais alors chargé … Il ne suffit point à mon zèle de les avoir consigné séparément dans ces volumes détachés. Je crois devoir les rapprocher pour rendre leurs rapports plus sensibles, & pour en former un corps de doctrine déterminé & complet, qui expose avec évidence le Droit naturel des hommes, l'Ordre naturel de la Société, & les Loix naturelles les plus avantageuses possibles aux hommes réunis en Société' (Discours de l'éditeur).

Physiocratie contains the major writings of Quesnay, first published in the Journal de l'Agriculture, assembled by Du Pont de Nemours for the first time, thus offering in one work the complete Physiocrat doctrine.

Adam Smith had a copy of this work, given to him by Quesnay, and he speaks of both their system and their master with a veneration which no disciple could easily surpass. He pronounced the system to be 'with all its imperfections, perhaps the nearest approximation to the truth that has yet been published upon the subject of political economy', and the author of the system to be 'ingenious and profound, a man of the greatest simplicity and modesty, who was honoured by his disciples with a reverence not inferior to that of any of the ancient philosophers for the founders of their respective systems' (quoted in Rae's Life of Adam Smith).

The present copy has got more cancels than the usual pages 103/4: The additional cancels are pp. 21/22, and pp. 227-8.

Einaudi 4431; En Français dans le Texte 163; Goldsmiths' 10391; Higgs 4263; INED 1618; Kress 6548.