ILLUSTRATED BY ISAAC CRUIKSHANK
ROACH, James, editor.
ROACH'S BEAUTIES OF THE POETS of Great Britain carefully selected & arranged from the Works of the most admired Authors. Particularly Milton, Pope, Dryden, Thomson [etc.] … &c. &c. In six Volumes ...
London. Printed by J. Roach, at the Britannia Printing Office … 1794. [1793-1795].
24 parts in 6 vols, 12mo., with an engraved general title-page in each volume, an engraved title-page with a vignette to each part, and 24 further engraved plates (one in each part, intended as frontispieces but here often bound within the text), most by Barlow or Murray after Isaac Cruikshank (parts 22-24 after Gilchrist); an attractive copy in contemporary calf, spines gilt, red and green morocco labels.
£1250

Approximately:
US $1616
€1378
Added to your basket:
ROACH'S BEAUTIES OF THE POETS of Great Britain carefully selected & arranged from the Works of the most admired Authors. Particularly Milton, Pope, Dryden, Thomson [etc.] … &c. &c. In six Volumes ...
First collected edition, a complete set of James Roach's popular poetical miscellany, with fine illustrations by Isaac Cruikshank, father of the caricaturist, issued in twenty-four monthly parts.

What began with a one-off publication at the end of 1792 (Evening Reflections at Westminster Abbey) quickly turned into a profitable series, and Roach issued collected sets of his Beauties … in three Volumes in 1793[-4], comprising the first 12 parts, and then in six volumes as here. Nos. I-IV are apparently found in several issues: here No. I has a later issue title-page (with a different vignette) and engraving, dated November 1794, Nos. II-IV have the running title 'Roach's Beauties of the Poets' added to the head of the engraved titles, and No. IV is dated 1794 not 1795.

Roach (fl. 1789-96) and Cruikshank were close friends, with a shared passion for the stage (Roach's shop was opposite the Theatre Royal) – the two families (along with a young Edmund Kean) used to stage theatricals in the Roach kitchen. Roach 'sold from his Drury Lane, London, shop prompt-book plays, odd volumes, children's anthologies, and jest and song books' (Oxford DNB, which incorrectly names him John rather than James). But he also plied a seamier trade in salacious books and prints, and spent February-June 1795 in prison for his role in publishing the last edition of Harris's List of Covent Garden Ladies– see Janet Ing Freeman, 'Jack Harris and "Honest Ranger", The Library, 13:4, 2012.
You may also be interested in...
BORLASE, William.
The natural History of Cornwall: The Air, Climate, Waters, Rivers, Lakes, Sea, and Tides; Of the Stones, Semimetals, Metals, Tin, and the Manner of Mining; The Constitution of the Stannaries; Iron, Copper, Silver, Lead, and Gold, found in Cornwall; Vegetables, rare Birds, Fishes, Shells, Reptiles, and Quadrupeds; Of the Inhabitants, their Manners, Customs, Plays or Interludes, Exercises, and Festivals, the Cornish Languages, Trade, Tenures, and Arts; illustrated with a new Sheet Map of the County, and twenty-eight Folio Copper-Plates from the original Drawings taken on the Spot.
First edition of Borlase's monumental survey of Cornwall. Though aged over sixty at the time of publication, William Borlase (1696 – 1772), rector of Ludgvan, toured central and eastern Cornwall between 1752 and 1757, gathering material for his Natural History. The result, though less ambitious than intended, provides a detailed account of the county, its flora, fauna, geology, and culture, elegantly illustrated with large copper plates.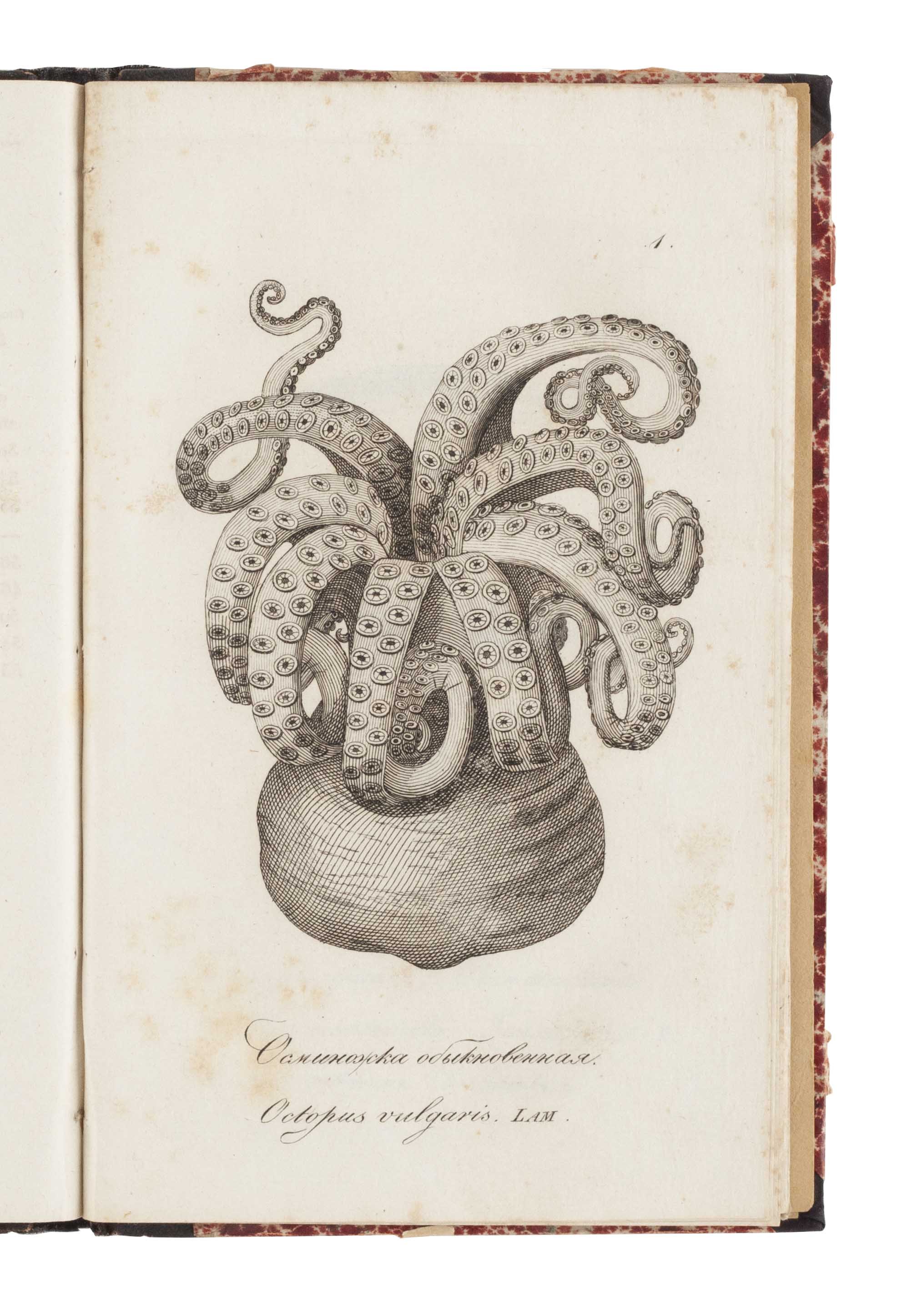 DVIGUBSKII, Ivan Alekseevich.
Opyt estestvennoi istorii vsekh zhivotnykh Rossiiskoi Imperii … S izobrazheniiami zhivotnykh. [Fly-title:] Zhivotnyia miagkiia i rakovinnyia [- An Attempt at the natural history of all the animals of the Russian Empire … with illustrations of the animals. [Fly-title:] Soft and shelled animals].
First edition, rare, one of a series of six works on the flora and fauna of the Russian Empire, published 1829-1833 under the same general title. The present volume covers molluscs, including cephalopods and gastropods.