ROBERTSON, James, & Felice BEATO.
Church of the Holy Sepulchre.
1857.
Albumen print, 9½ x 11⅞ inches (24.3 x 30.2 cm.); signed Robertson & Beato photog, titled (cropped), and dated 1857 in the negative; titled in pencil on the reverse Church of the Sepulchre and surrounding buildings before restoration of Great Dome in 1868-69.
£500 + VAT

Approximately:
US $695
€578
Added to your basket:
Church of the Holy Sepulchre.
You may also be interested in...
MILTON, John. Paolo ROLLI, translator.
Del Paradiso perduto Poema inglese.
First edition of the first complete Italian translation of Milton's Paradise Lost, the second issue, with a cancel title-page dated 1736 and further enumerating Rolli's academic titles. Rolli started to work on this translation in 1719, publishing the first six books in London in 1729. Still incomplete, Rolli's work was placed on the Index librorum prohibitorum in January 1732. The complete translation was finally published in 1735 by Charles Bennet ('Despite the change in imprint to Charles Bennet, Samuel Aris [who had printed the first six books] probably printed the entire poem, for his signed ornaments appear on sheets throughout the work', Coleridge, p. 207), and then often reprinted throughout the eighteenth century.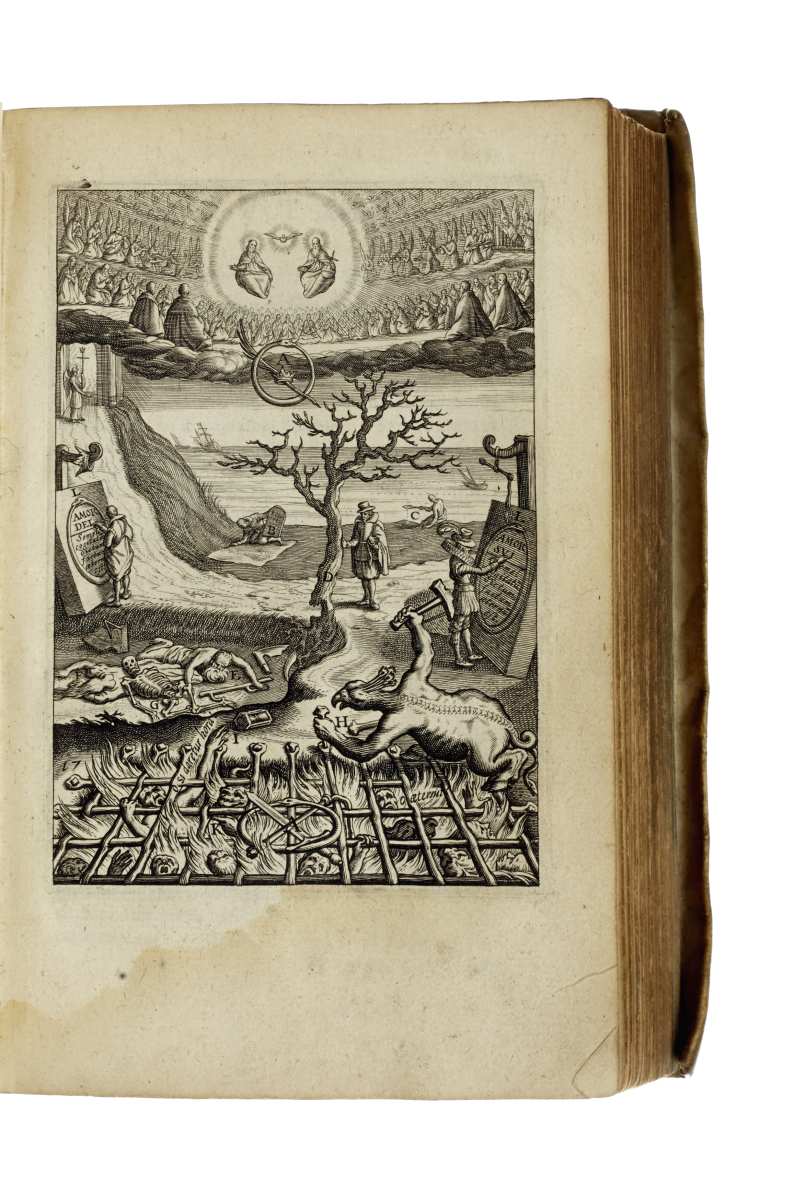 HEAVEN AND HELL GLIMPSED BY RUBENS' ENGRAVER SUCQUET, Antoine.
Via vitae aeternae iconibus illustrata per Boetium a Bolswert.
First edition, a very clean, attractive copy, of an emblem book which unites the spiritual meditations and practices of the Belgian Jesuit Antoine Sucquet with fine emblematic illustrations devised by the great baroque engraver Boetius a Bolswert (c. 1580-1633), called by Praz 'the illustrator of the sentimental and ecstatic states of the soul'. Boetius a Bolswert's exquisite refinement gives here, again in Praz' words, views of Hell and glimpses of Heaven. Man's worse drives are iconized in satyrs, ghouls, harpies, werewolves, semi-human lizards, his progress towards eternal life ever hindered by the multifarious and rapacious beast within. With his brother Schilte, Boetius was among the most sensitive and felicitous engravers to render Rubens' drawings. Sucquet's emblem book was extremely successful, with 177 editions in Latin within a decade, and many vernacular translations.