ROME - SCULPTURE - FOUNTAINS.
Composite volume containing engraved plates showing the many fountains in Rome, taken from a variety of sources.
Rome, c. 1640s
4to (260 x 200 mm.), 87 fine engraved plates of fountains (of which 7 are folding) + 6 engraved plates of statues (signed Stefano Scolari and Sadeler, printed in Munich?); there are two or three wormholes throughout at the foot of the book, not touching any image, one of the wormholes becomes large in the last twenty plates, again not affecting any plates, it does not distract, and contributes to the volume's rustic charm; the plates are on the whole in very strong and excellent impressions, there is some light marginal finger soiling; bound in contemporary vellum. Bold mss ownership inscription of Hyacinthus Jacek Lopacki, Archpresbyter of Krakow (d. 1761) who vigorously crossed out an early mss ownership inscription; Lopacki was responsible for the baroque make-over of the main Krakow church, St. Mary's.
£2500

Approximately:
US $3235
€2764
Added to your basket:
Composite volume containing engraved plates showing the many fountains in Rome, taken from a variety of sources.
A fascinating volume assembling plates from a variety of sources to illustrate the many fountains which are to be found in Rome. All engravings have etched in the plate the name of the fountain depicted, but they vary in style. Some have busy staffage; others show the fountain in their architectural or garden setting, some are just shown starkly on their own. A number of fountains illustrated here have not survived the ravages of time; others are illustrated twice but from different angles or after having changed their appearance.

It is very difficult to assign the plates to series. There are the title page and 22 plates taken from Parasacchi's Raccolta delle principali fontane dell'inclitta citta di Roma, dessegnate et intagliate da Domenico Parasacchi, con la nova agiunta da Girolamo Felice Romano et intagliata da Pietro Miotte (Rome, Giovanni Battista de Rossi,1647). A further 22 elaborate and figurative plates come from Maggi's Fontane diverse (Rome 1645). Four plates are signed by Francesco Corduba.
You may also be interested in...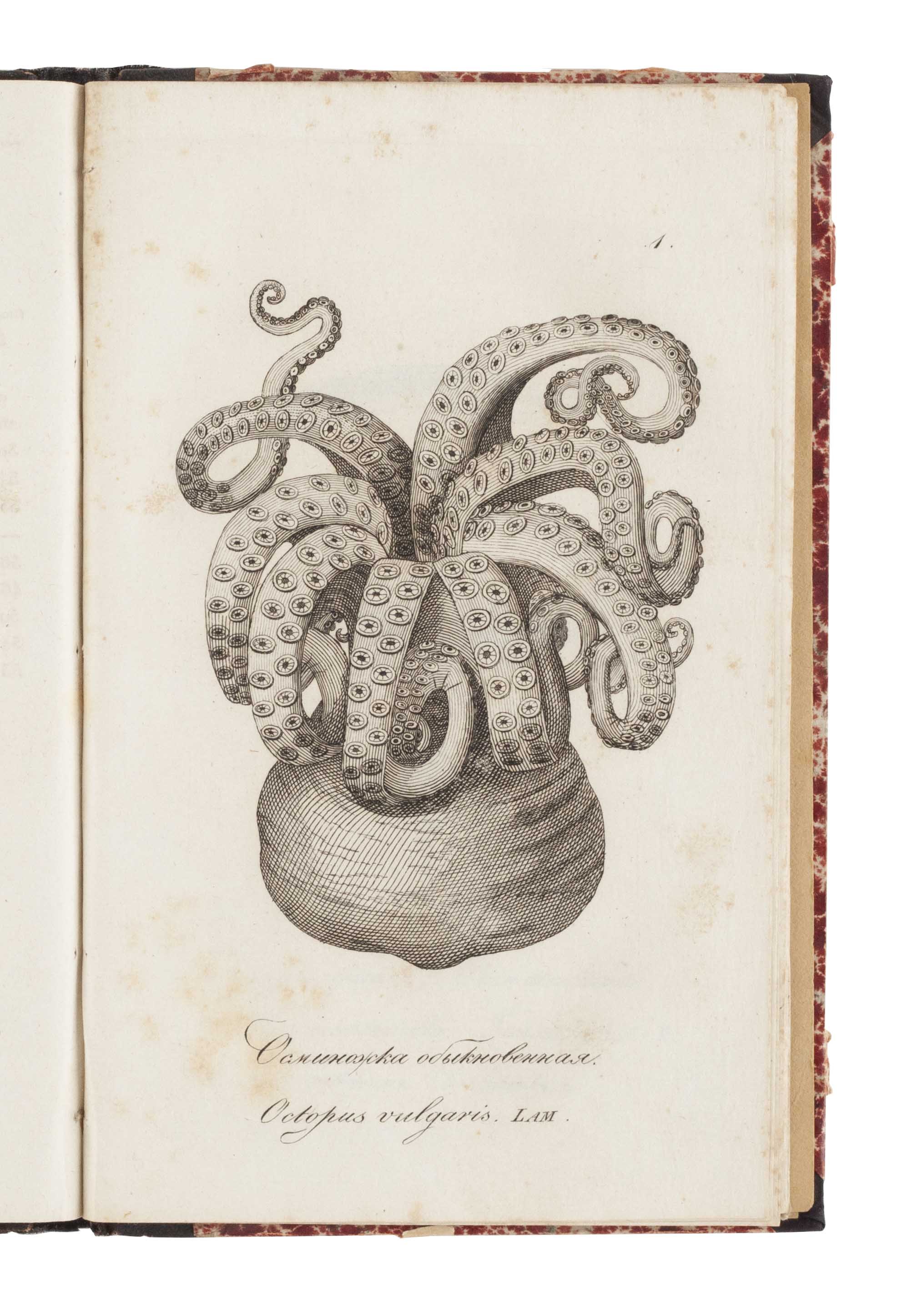 DVIGUBSKII, Ivan Alekseevich.
Opyt estestvennoi istorii vsekh zhivotnykh Rossiiskoi Imperii … S izobrazheniiami zhivotnykh. [Fly-title:] Zhivotnyia miagkiia i rakovinnyia [- An Attempt at the natural history of all the animals of the Russian Empire … with illustrations of the animals. [Fly-title:] Soft and shelled animals].
First edition, rare, one of a series of six works on the flora and fauna of the Russian Empire, published 1829-1833 under the same general title. The present volume covers molluscs, including cephalopods and gastropods.
CHANDLER'S TRAVELS IN GREECE: 'THE ACCOUNT OF ATHENS IS VERY IMPORTANT; IT WAS THE MOST DETAILED CHANDLER, Richard.
Travels in Greece: or an Account of a Tour made at the Expense of the Society of Dilettanti.
First edition. The classical scholar, traveller, and author Chandler (bap. 1737, d. 1810) was educated at Winchester College and Queen's College, Oxford, and awarded a demyship at Magdalen College in 1757. Following the publication of an annotated collection of fragments by Tyrtaeus, Simonides, Theognis, Alcaeus, Sappho, and other Greek poets in 1759, Chandler published a catalogue of the Arundel marbles in 1763 as Marmora Oxoniensis. 'In 1764 Chandler was introduced to the Society of Dilettanti by Robert Wood, editor of The Ruins of Palmyra, and was commissioned by the society to undertake a tour of exploration in Asia Minor and Greece in the first independent mission funded by the society. As treasurer he was given command of the expedition, and was accompanied by Nicholas Revett [...] and by the watercolour painter William Edmund Pars. They were instructed to make Smyrna their headquarters and thence "to make excursions to the several remains of antiquity in that neighbourhood"; to make exact plans and measurements; to make "accurate drawings of the bas-reliefs and ornaments"; and to copy all inscriptions, all the while keeping "minute diaries". Having embarked from Gravesend on 9 June 1764 the party spent about a year in Asia Minor [...]. On 20 August 1765 they left Smyrna for Athens, where Chandler gloomily noted that the Parthenon was in danger of being completely destroyed. He bought two fragments of the Parthenon frieze that had been built into houses in the town and was presented with a trunk that had fallen from one of the metopes and lay neglected in a garden. Although the party visited other parts of the Greek mainland their plans to visit Ithaca, Cephallonia, and Corfu were abandoned, principally because of the group's poor health' (ODNB).