[RUSSIAN ORTHODOX CHURCH, CHINA.] 
东教宗史记 [Dongjiao Zongshi Ji; 'Orthodox Ecclesiastical History'].
Hankou, 1893.
Folio, ff. [1], 15, 158; printed on double leaves, with an unusual stylised calligraphic title-page, the Chinese characters given decorative elements reminiscent of Old Church Slavonic texts and manuscripts; a fine copy bound Chinese-style in the original red printed paper wrappers; later folding cloth box.
£9500

Approximately:
US $11646
€11041
Added to your basket:
东教宗史记 [Dongjiao Zongshi Ji; 'Orthodox Ecclesiastical History'].
First edition of a summary of Russian Orthodox Church history for a Chinese audience, with a foreword by Archimandrite Innokenty (Ivan Figurovsky, 1863–1931), who was to be leader of the spiritual mission to Beijing from his arrival in 1897 until his death in 1931.

Innokenty acquired a vast mastery of the language during his long stay in China, compiling a Chinese-Russian dictionary in 1906; he was largely responsible for the complete revival of the Russian mission after its destruction in the Boxer Rebellion.
You may also be interested in...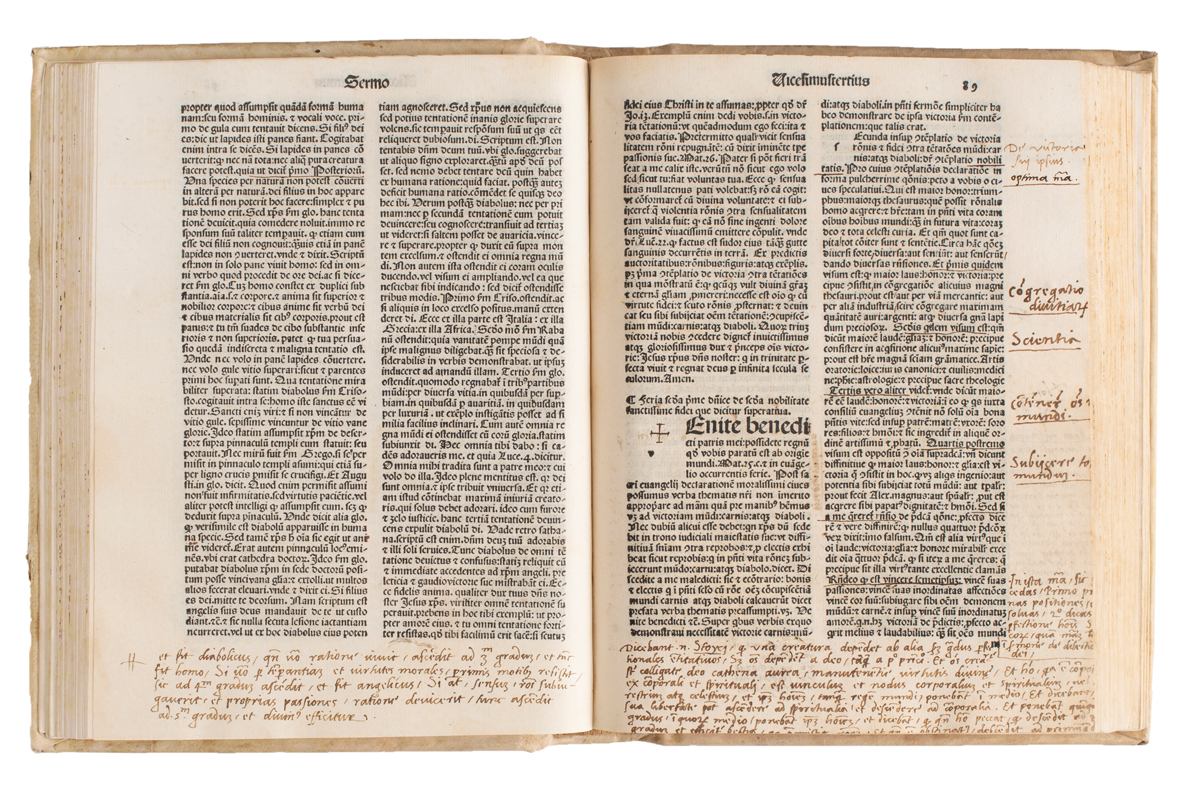 HOMILETIC WORK
ANNOTATED BY MACHIAVELLI'S LAST CONFESSOR ANTONIUS de Vercellis. 
Sermones quadragesimales de XII mirabilibus Christianae fidei excellentiis [with additions by Ludovicus Brognolo]. 
A remarkable copy of the first edition of Antonius de Vercellis's sermons, owned and annotated by three contemporary Franciscans, one of whom, Andrea Alamanni, may be the confessor who administered Machiavelli's last rites. 
BOUND AT BRONNBACH WITH MANUSCRIPT WASTE
AND ADDITIONAL MANUSCRIPT SERMON PELBARTUS de Themeswar. 
Pomerium sermonum de Sanctis per anni circulum tam hyemalium quam estivalium, vulgate per venerabilem fratrem Pelbartum de Themesrvar [sic] Minoritanum vere theologie professorem eximium, annotaciunculis in margine denuo additis, opus divini verbi Seminatoribus fere utilissimum, cum materiarum singularum indice copiosissimo. 
Handsome early editions of two collections of sermons by Pelbartus of Themeswar, an exceptional volume with an additional manuscript sermon, bound at the monastery of Bronnbach using fragments from three medieval manuscripts.