THE RIGHT TO WORK AT CHRISTMAS
[SAINTE-HILAIRE, Émile Marco de.]
Réclamation addressée à S. Ece. Mgr. Delavau, préfet de police, par Modeste Agnès, patentée exerçant au Palais-Royal.
Paris, chez les marchands de nouveautés, 1821.
8vo, pp. 12; very good in recent marbled boards.
£850

Approximately:
US $1032
€1005
Added to your basket:
Réclamation addressée à S. Ece. Mgr. Delavau, préfet de police, par Modeste Agnès, patentée exerçant au Palais-Royal.
Rare first edition of this work on Parisian prostitution, attributed to the writer and journalist Émile Marco de Sainte-Hilaire (1796–1887). The Réclamation is presented as a letter from the prostitute Modeste Agnès to the newly-appointed Paris chief of police, Guy Delavau (1787–1874), protesting attempts by retailers to exclude prostitutes from the Palais-Royal over the forthcoming Christmas and New Year holidays.

Modeste Agnès argues that she and her colleagues have as much right to do business in the Palais-Royal as anyone else, and that they pay for the right to ply their trade. Furthermore, they attract locals, provincials, and foreigners to the area to the benefit of the local economy, since their clients spend money in cafes, and on clothes and jewellery. In addition, they perform a service to society by rendering men more 'aimables, galans, entreprenans', by making the German less brutal, the Englishman less phlegmatic, the Spaniard less grave, the provincial less awkward, and young sons less timid. In her appeal for Delavau's support, Modeste Agnès also remarks with envy on the freedom of London's prostitutes.

OCLC finds only two copies, at Cleveland Public Library and the BnF.
You may also be interested in...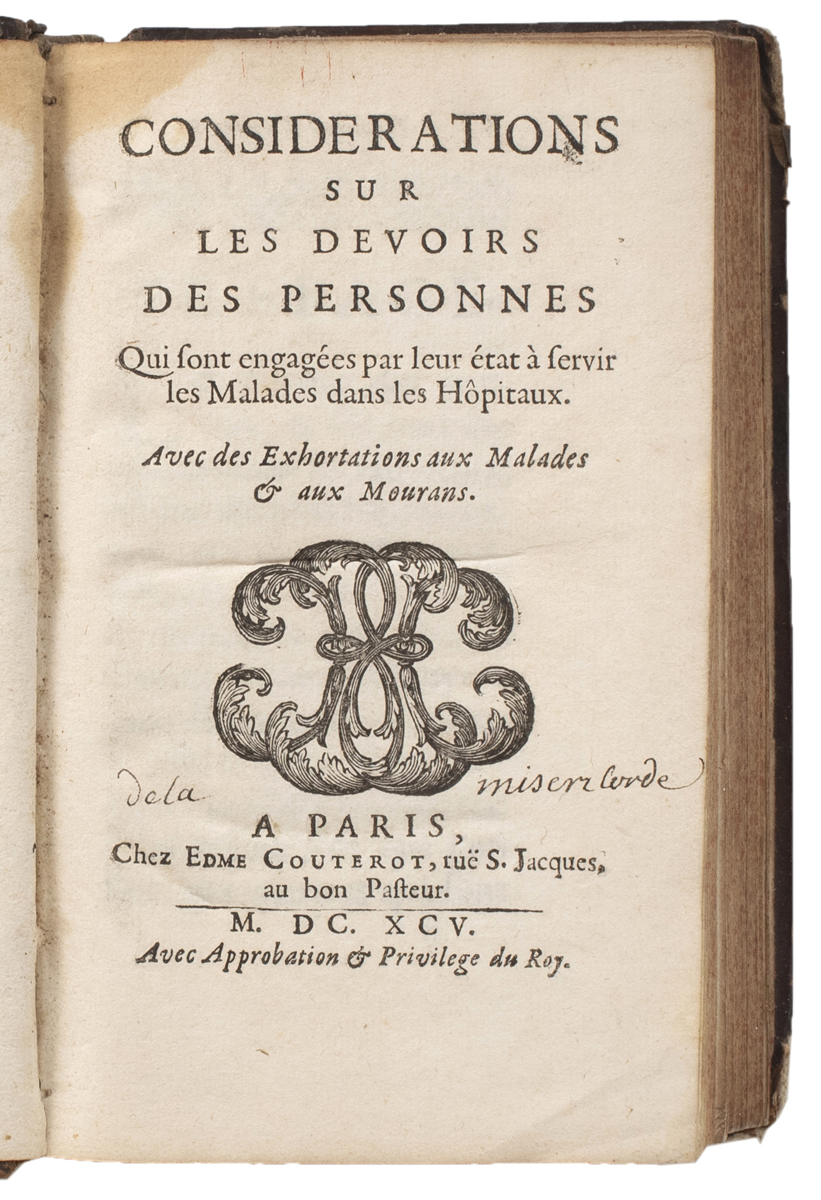 HOSPITAL HELPERS CLOSER TO HEAVEN [CHARTONNET, Antoine-François.] 
Considerations sur les devoirs des personnes qui sont engagées par leur état à servir les malades dans les hôpitaux.  Avec des exhortations aux malades et aux mourans. 
Rare first edition of this religious manual of instruction aimed at those caring for the sick in hospitals, exhorting carers to look after the bodily and spiritual needs of their charges 'with charity, gentleness, compassion, patience, diligence, zeal, respect and humility'. 
'MISS HURRICANE' ON THE TOMBS OF THE ENGLISH ROMANTICS IN ROME WHITE MARIO, Jessie. 
Sepolcri inglesi a Roma. 
First edition, extremely rare, of this offprint of an article on the burials of the English Romantic poets in Rome by the renowned 'Miss Hurricane'.