[SALM-REIFFERSCHEID-DYCK, Joseph von.]
Catalogue raisonné des Espèces et variétés d'Aloès décrites par Ms. Willdenow, Haworth, de Candolle et Jacquin, et ce celles, non décrites, existantes dans les Jardins de l'Allemange, de la France et du Royaume des Pays-bas.
[Duesseldorf, 1817].
8vo, pp. [7], 72, an excellent copy, uncut and unopened in the original drab wrappers.
£220

Approximately:
US $288
€246
First edition of Joseph von Salm-Reifferscheid-Dyck's first publication, simultaneously also published in a German language edition. This is the first of a long list of pamphlets in which he describes in some detail his extraordinary collection of succulents or fat plants assembled in the gardens of Schloss Dyck. His collection was the most important collection of succulents in Europe, particularly strong with American and South-African species. The Hortus Dyckensis was also an important arboretum and Schloss Dycke, a picturesque moated castle in the Rhineland, was expanded into one of the most important gardens in Germany. From 1820 to 1835 the gardens were re-modelled and re-designed by the Scottish landscape architect Thomas Blaikie. The gardens are still there today.

Pritzel 8008.
You may also be interested in...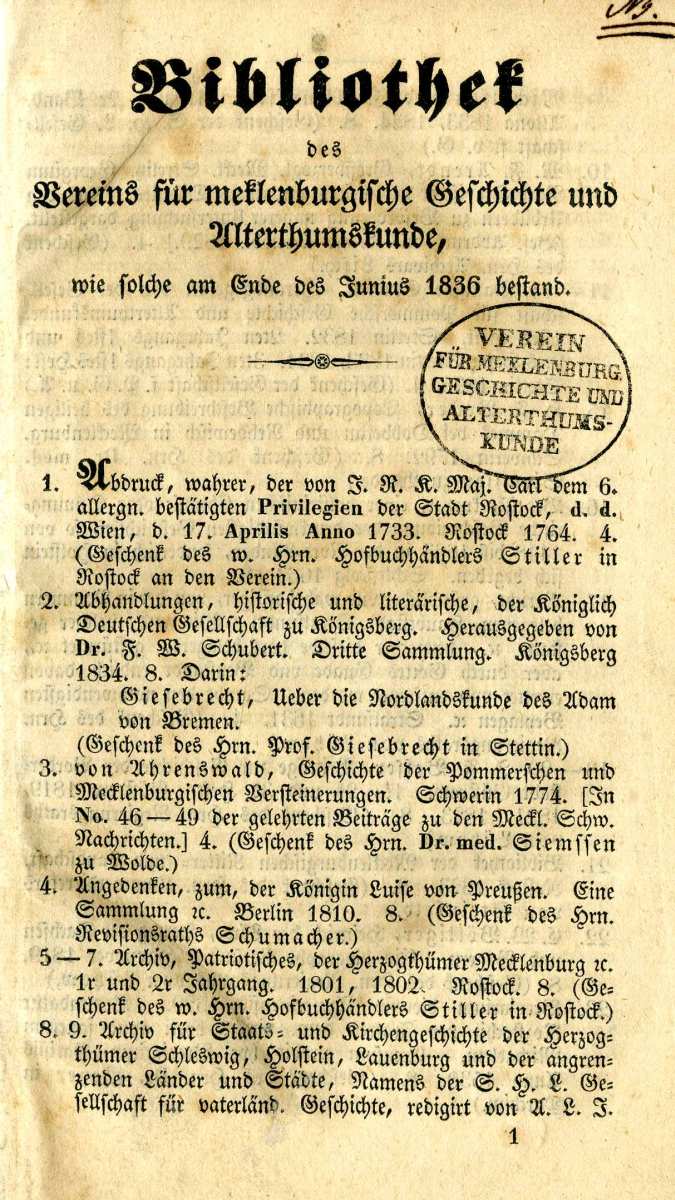 (SCHWERIN) (GLOECKER, A.F.W).
Bibliothek des Vereins für Meklenburgische Geschichte und Alterthumskunde, wie solche am Ende des Junius 1836 bestand.
The Verein für Mecklenburgische Geschichte ('Association for the history of Mecklenburg') was founded in 1835. Here we have the catalogue of its library, with over 1500 books, as it grew over the years from its foundation to 1844. This is a fascinating record of local interest books, some published contemporarily but many from the preceding centuries, donated by its member. The library grew at a healthy speed of a few hundred books each year, and all had local interest. There was also a fine collection of books printed in the county of Mecklenburg. Mecklenburg is a relatively little known region in northern Germany, with Schwerin and the ports of Wismar and Rostock as its main towns.
KENNEDY, James.
A New Description of the Pictures, Statues, Bustos, Basso-Relievos, and other Curiosities at the Earl of Pembroke's House at Wilton. In the Antiques of this Collection are contain'd the whole of Cardinal Richelieu's and Cardinal Mazarine's, and the greatest part of the Earl of Arundel's...
First edition of Kennedy's guide book to the art collections of Wilton House in Wiltshire, seat of the Earls of Pembroke. This is the first proper guide book to the Wilton House collections. This catalogue is annotated from Pembroke's own manuscript notes. Contemporaries, like Winckelmann and Horace Walpole, teased Pembroke about some of his more wild attributions. The catalogue nevertheless provides a fascinating picture of early collecting habits.