THE FOUNDATION OF STRUCTURALISM
SAUSSURE, Ferdinand de.
Cours de Linguistique générale.
Lausanne & Paris, Payot, 1916.
8vo, pp. 336 + errata-leaf; French bibliographical note to head of half-title 'tgl. Sechehaye, Ff 44, 217-241, l'ecole genevoise de linguistique générale. Schuchardt, L. Bl. 1917, 1-9'; another to first leaf of preface, making reference to Schuchardt and C. Herman, a few pencil underlinings and side-notes, mild browning; a good copy in the original printed paper wrappers, edges and joints a little worn, spine split but holding, small loss to foot of spine; signatures 'F Muller(?)' to upper wrapper and first blank, preserved in a cloth box with leather label.
£750

Approximately:
US $1024
€873
Added to your basket:
Cours de Linguistique générale.
First edition. In general the study of language in the 19th century concerns philology. While great steps were made at the beginning of that century to put the study of language on a scientific basis, the vital distinction was not made between philology and non-historical linguistics. Saussure made this distinction and gave it its classic formulation. Consequently, for all subsequent linguistics, and especially structuralism, that linguistic theory in which freedom from the influence of philology is most enjoyed, Saussure's position is that of a major thinker and of a founding father.

Saussure insisted that language is a system which can be viewed under two aspects, diachronic and synchronic. Diachrony is the mode under which the system evolves through time, and hence includes not only philology but also the more modern discipline of lexico-statistics, or glotto-chronology. Synchrony is the mode in which the system exists at a single time, a cross-section, as it were, of its diachronic development, and it is under this aspect that structuralism has developed its study of language.

Other distinctions made by Saussure, of which the influence on structuralism cannot be overstressed, are those between langue and parole, and signifiant and signifié.

Saussure's influence outside linguistics has been great. He made the call for a 'general science of signs', for which he coined the term 'semiology' (the cognate term 'semiotics' is associated mainly with the American tradition, in which writers like Peirce and Morris were developing similar ideas independently of Saussure). This general science of signs came to encompass the work of many disciplines, perhaps most notably anthropology, where Levi-Strauss began to view anthropological data as forming a system in which each part helps determine the significance of the others.

The text of the Cours de linguistique générale was prepared by two pupils of Saussure from his lectures at the University of Geneva and published posthumously.
You may also be interested in...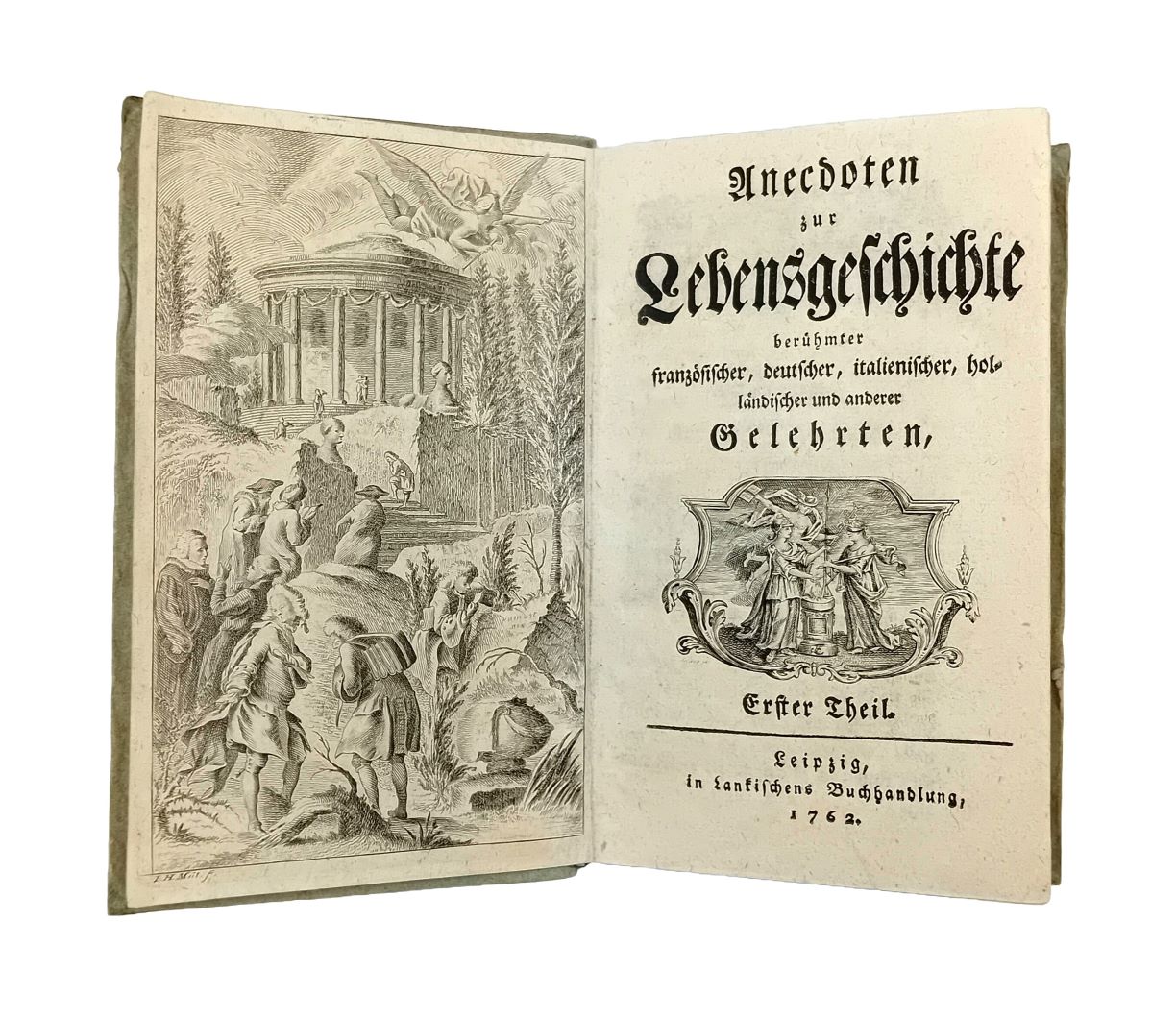 [HILLER, Johann Adam, editor].
Anecdoten zur Lebensgeschichte berühmter französischer, deutscher, italienischer, holländischer und anderer Gelehrten, erster [-zweyter] Theil.
Scarce first edition of Hiller's two-volume collection of literary, philosophical and historical anecdotes. The editor's note at the end mentions the contemporary publication of a French work of similar inspiration, and states the editor's intention to translate it and publish it as a sequel to his original collection. Thus, the sequel came out in the following two years as volumes III and IV, but with the different title Merkwürdigkeiten zur Geschichte der Gelehrten, und besonders der Streitigkeiten derselben, vom Homer an bis auf unsere Zeiten; Aus dem Franzosischen übersetzt.
A PRELUDE TO L'ESPRIT DES LOIS MONTESQUIEU, Charles de Secondat.
Histoire véritable publiée d'après un nouveau manuscrit avec une introduction et des notes par L. de Bordes de Fortage.
Second edition of Montesquieu's philosophical, quasi-oriental tale, a prelude to his great work L'Esprit des lois. Written in the 1730s and again in 1754, and influenced by Lucian and the 18th-century vogue for oriental fiction, the Histoire véritable remained unpublished until 1892. This 1902 second edition is based on a manuscript written prior to that used for the first. The Histoire is a fabulous account of the numerous animal and human incarnations experienced by its narrator: as a little dog he is persecuted by his mistress, while as an ox he is worshipped by the Egyptians; as a human his soul occupies the bodies of a hangman, a cuckolded husband, an underfed poet, a courtier, a fop, a virtuous woman, a eunuch, an African chief, a king's fool, among many others. 'The different reincarnations are so many opportunities to expose human turpitude from the inside and to underscore, from the vantage point of a single conscience, retrospectively enlightened, the corruption and wickedness of men ... Montesquieu's originality is to create, based on conventional processes of narrative fiction at the time, a philosophical tale inducing meditation about the conditions of virtue and happiness ... The Histoire véritable would also raise, in the story's framework, questions to which L'Esprit des lois would try to respond: how to reconcile relativism and norms of universal justice, articulate uniformity and diversity, find constancy in change? To this degree, the work would be, as Alberto Postigliola put it, an "epistemological prelude" to its author's major work' (Carole Dornier in Dictionnaire Montesquieu).