SAVARY, Jean.
La theorie et la pratique des nombres. Methodiquement proposes dans l'usage des financiers.
Paris, [Jean Bessin] for the author, 1644.
4to, pp. [8], 292; decorative headpieces and initials; lightly toned with occasional browning, a little unobtrusive dampstaining to first and last leaves, small stain to quire B, a couple of marginal annotations, marginal calculation to p.177; a very good copy in early eighteenth-century sprinkled calf, double gilt fillet, panelled spine gilt with central pointillé floriate ornaments; expertly rebacked and corners renewed; 18th C ownership inscriptions of Jean Moreau to the pastedowns.
£6000

Approximately:
US $8244
€7030
Added to your basket:
La theorie et la pratique des nombres. Methodiquement proposes dans l'usage des financiers.
First edition. A rare practical mercantile arithmetic handbook for financiers and tax farmers. The work, beginning with the mathematical 'alphabet' of 10 numbers, covers basic arithmetic, as well as more complicated quadratic roots, rules, discounts, change and exchange, all illustrated with numerous examples.

The Savary's were an important noble mercantile family during the 17th and 18th centuries. Jean's cousin, Jacques Savary (1622-1690), brought the family name into wider prominence in 1675 with the publication of Le parfait négociant…, which proved extremely popular, the final edition being printed in 1800. His son Jacques Savary des Brulons (1657-1716) began the Dictionnaire universel de commerce, d'histoire naturelle, d'arts et metiers, in 1686 but the work was completed after his death by his elder brother the Abbé Louis Philémon Savary (1654-1727) in 1723. The Dictionnaire… was the first commercial dictionary ever produced and further cemented the Savary's as experts in mercantile and commercial affairs.

Rare, OCLC finds only two copies, both in France.
You may also be interested in...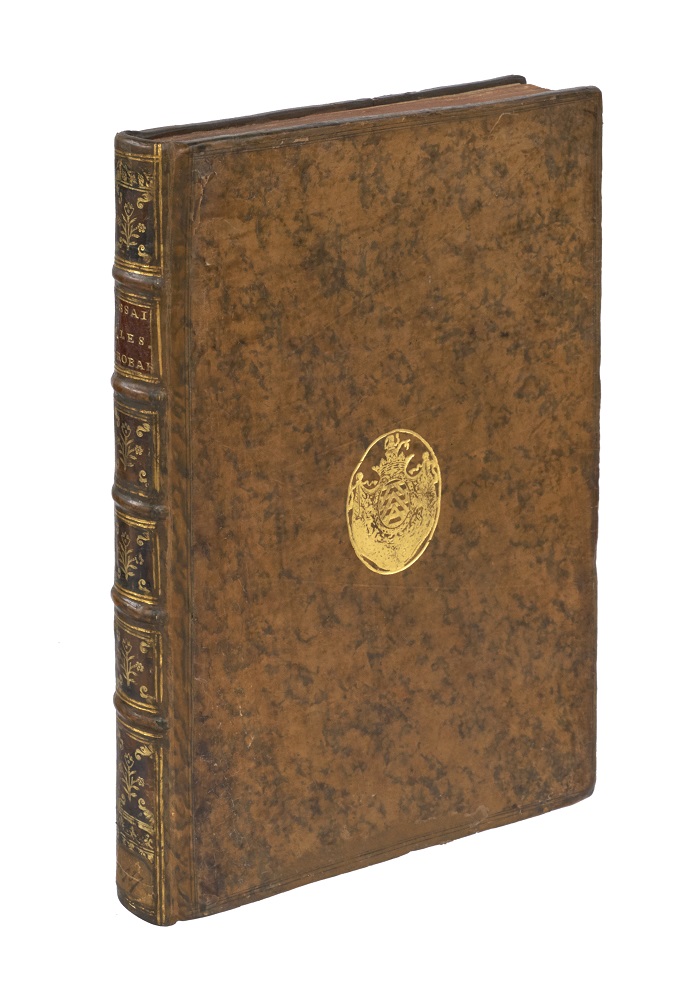 A CLASSIC OF STATISTICAL SCIENCE DEPARCIEUX, Antoine.
Essai sur les probabilités de la durée de la vie humaine; d'où l'on déduit la manière de déterminer les rentes viagères, tant simples qu'en tontines: précédé d'une courte explication sur les rentes à terme, ou annuités; et accompagné d'un grand nombre de tables.
A large, crisp and illustrious copy of the first edition of a classic of statistical science: it is the first to define expectation of life – which Deparcieux calls 'la vie moyenne' – and the first to contain life tables for males and females. 'The first French work in the actuarial field ... After publication of this Essai, expectation of life came into general use as a descriptive statistic. Deparcieux scaled his mortality data to a radix of 1000 at age 3, calculated the survivors at every five years and interpolated the intermediate values ... [His table] was espoused by the French life insurance companies and used almost until the end of the nineteenth century for premium calculations where payments were made on survival' (History of Actuarial Science, ed. Steven Haberman & Trevor Sibbett, London 1995, p. 243).
SMITH, Adam.
Undersøgelse om National-Verstands Natur og Aarsag … Af det Engelske oversat og med nogle Anmærkninger oplyst af F. Dræbye. Første Deel [–Hertil er føiet Gouvernør Pownals Brev til Forfatteren i hvilket nogle af de i dette Vœrk fremsatte Lœresœtninger prøves. Anden Deel].
First edition in Danish of the Wealth of Nations, published together with a translation of Thomas Pownall's critical Letter … to Adam Smith (1776). The translation was prepared from the 1776 first edition by Frants Draebye. Smith acknowledged it in two letters of 1780, the first to Andreas Holt, Commissioner of the Danish Board of Trade and Economy, to whom he wrote 'It gives me great pleasure to hear that Mr Dreby has done me the distinguished honour of translating my Book into the Danish language…' (Correspondence, letter 208), the second to Peter Anker, Consul General of Denmark in Great Britain (ibid., letter 209), and sent three copies of the second edition with the letters.