SAYER, Robert.
A Catalogue of new and useful Maps, curious & entertaining Prints, Books of Architecture, great Variety of Drawing Books … Copy Books in all the Branches of Penmanship, and the best of each Kind, Printed for Rob: Sayer, at the Golden Buck, near Serjeants Inn, Fleet Street, London. Where Merchants, Gentlemen and Shopkeepers, &c may be supplied on the best Terms.
[London, Sayer, 1766 or earlier].
Engraving (178 x 98 mm), trimmed to edge of printed surface, possibly used as a trade card, a little faint brown spotting to top.
£525

Approximately:
US $736
€591
An attractive piece of ephemera, advertising Robert Sayer's publishing and print-selling business. It shows at the top left corner a double-page spread from one of Robert Morris' books on architecture, possibly Select Architecture or Architecture Improved, both published by Sayer in 1755. Below are prints after Van Dyke and Mercier and part of a map of England.

Robert Sayer was trading at the Golden Buck on Fleet Street from December 1748; in around 1766 the street was numbered, and his imprint thereafter generally reads 'No. 53 in Fleet Street'. The present plate was used as a frontispiece or additional title-page for Sayer's New and enlarged Catalogue for 1766 (as illustrated in Antony Griffiths' Checklist), but may have been originally produced before this date, for an earlier catalogue, as a stand-alone advertisement or as a trade-card – Morris, for example, was not topical, the last edition published by Sayer having appeared in 1759.

ESTC and OCLC locate Newberry and Library of Congress only for the 1766 Catalogue (the first Sayer catalogue in either database, though there is a unique volume of catalogues for 1753/1755 at the Rijksmuseum). Anthony Griffiths, 'A Checklist of Catalogues of British Print Publishers, c. 1650-1830', Print Quarterly, I:1, March 1984, lists the British Museum copy, and illustrates the present plate on p. 10.

You may also be interested in...
KENNEDY, James.
A New Description of the Pictures, Statues, Bustos, Basso-Relievos, and other Curiosities at the Earl of Pembroke's House at Wilton. In the Antiques of this Collection are contain'd the whole of Cardinal Richelieu's and Cardinal Mazarine's, and the greatest part of the Earl of Arundel's...
First edition of Kennedy's guide book to the art collections of Wilton House in Wiltshire, seat of the Earls of Pembroke. This is the first proper guide book to the Wilton House collections. This catalogue is annotated from Pembroke's own manuscript notes. Contemporaries, like Winckelmann and Horace Walpole, teased Pembroke about some of his more wild attributions. The catalogue nevertheless provides a fascinating picture of early collecting habits.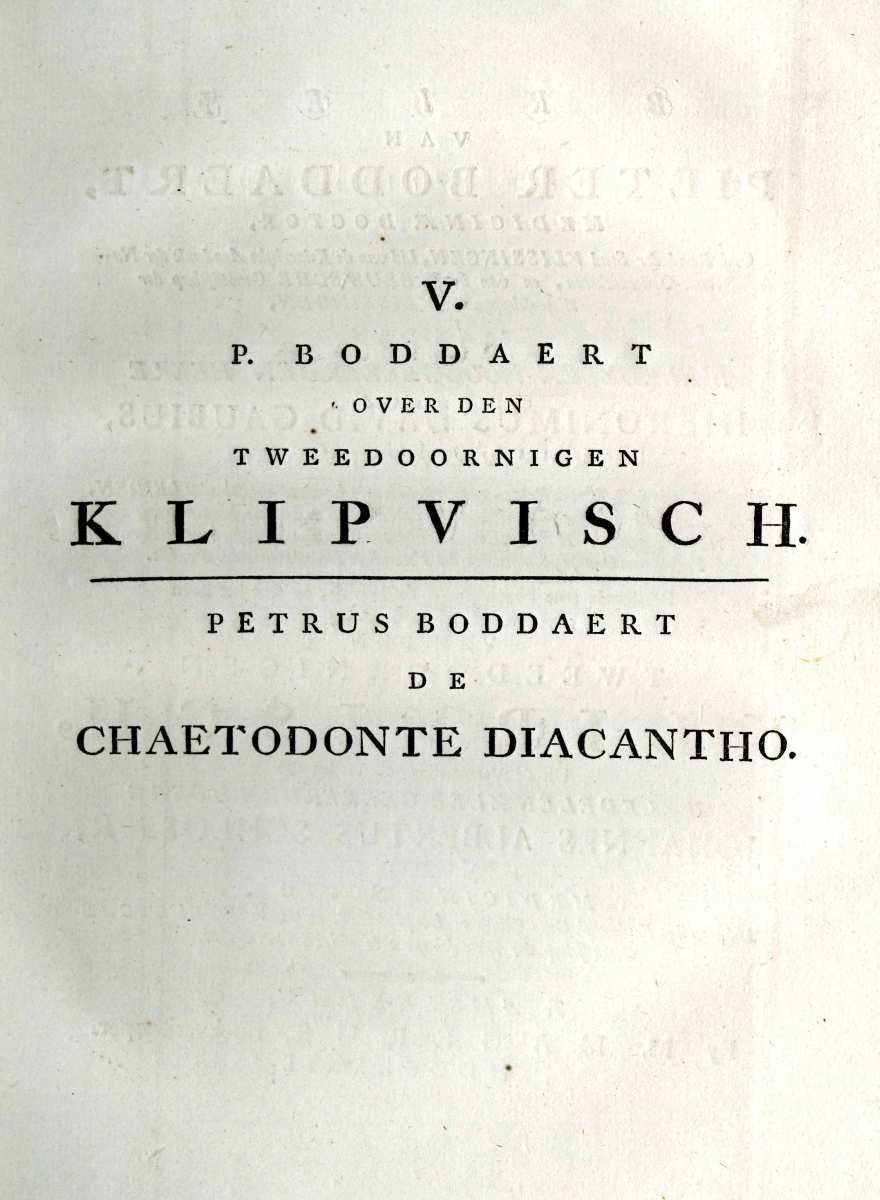 [SCHLOSSER, Johann Albert]. BODDAERT, Pieter.
Epistola ad … Hier. Dav. Gaubium … De chaetodonte diacantho, descripto atque accuratissima icone illustrata ex museo … Johannis Alberti Schlosseri …
First and only edition of Boddaert's description of the Royal Angelfish found in the Schlosser natural history cabinet. This is the first monograph on the Royal Angelfish (and its first illustration), a now common species of coral fish in the Pacific and Indian Ocean.